[By Sheryl]
I had heard so much about Elure that by the time I got my hands on a tube of this skin lightening cream, I was trembling with anticipation and unconcealed delight.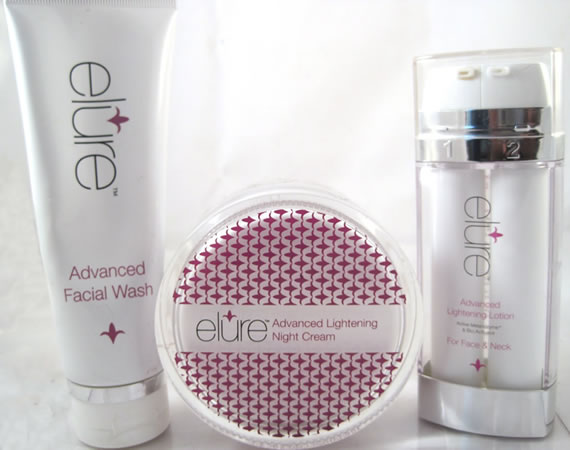 Here is some background on Elure:
Elure is the brainchild of Syneron Medical Ltd. (Nasdaq: ELOS), an innovator in the development, marketing and sales of elos™ combined-energy medical aesthetic devices. Essentially, Syneron is a laser company and Elure is its first foray into cosmeceuticals.
What is Elure?
According to the literature I could find on brochures and online,  elure™ Advanced Dermal Whitening product line is the first scientifically proven enzymatic skin whitening treatment that utilizes a unique scientific discovery of a naturally occurring bio-active substance called Melanozyme™. Melanozyme acts to immediately target and disintegrate the melanin to diminish dark colored pigment in the skin safely, with virtually no side effects. Unlike many other whitening products on the market, the elure product line does not contain Hydroquinone, which has been reported to cause side effects such as skin redness and burning sensations.
What is the active ingredient?
Melanozyme ™ is Lignin peroxidase, a safe & unique enzyme for use as a topical cosmetic treatment for lightening skin. The enzyme lignin peroxidase (LIP) is derived from the fungus Phanerochaete chrysosporium. The fungus is fermented under controlled sterility conditions to yield the purified active LIP enzyme. This proprietary production process of lignin peroxidase, trademarked Melanozyme™ by Syneron, is formulated into both a lotion and a cream to treat patients who desire skin lightening.
The test:
Day 1
Elure came in a silver tube and the consistency felt more gel like than a cream. This was a plus point for me as my skin tended to be oily in the summer. I dutifully applied a pea sized amount of Elure on the right side of my cheek where I had some melasma. The good thing about the product is that it does not sting, unlike some others containing AHA. The skin felt comfortable and smooth after application, without any trace of oily residue or unpleasant fragrance.
Day 2
I can't say I have noticed any difference with Elure yet so I am just going to persevere. I was not told by my dermatologist as to when I can expect results so I am planning on using this for at least 2 weeks before checking in again. I am using a SPF 30 in the mornings to prevent further pigmentation in the meantime.
Day 14
It is 14 days ever since I started Elure. My pigment is slightly lighter but not significantly so. I am a little disappointed as I had the impression the difference was going to be dramatic. I had read online somewhere that there was supposed to be immediate lightening effects which I did not experience. In comparison to the rest of skin lightening creams I have tried, this would probably be comparable to a hydroquinone 2%. In terms of skin sensitivity, I would say the product held up fairly well and would be suitable for most skin types except the super sensitive ones.
Would I continue with the product? I would probably finish the tube I was given but I am not expecting miracles. I had initially put off laser treatments in the hope that Elure would be the answer to fairer, pigment free skin but now I am contemplating embarking on more drastic options to get the complexions of my dreams.
Xoxo
You might also like: