Model Features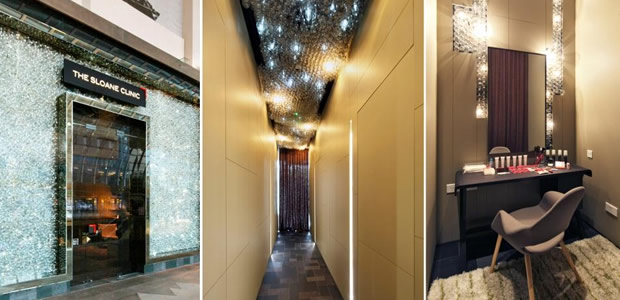 Restore youth, rescue enlarged masseter muscles and reshape square jawlines with with THE SLOANE CLINIC'S trio of facial slimming programmes
Gone are the days of extensive surgeries, long recovery periods and late nights slaving over Photoshop with the hopes of creating more chiselled features. Calling upon the muscle relaxing powers of Botulinum toxin type A, or better known as Botox, The Sloane Clinic has launched a triumvirate of non-invasive treatments that promise to help you achieve a slimmer and more contoured face effectively – in less than an hour.
PROBLEM SOLVING
The most common facial problem countless women seek to alleviate is the strong, square jawline, which is affected by three main factors. First, and most obvious, is the natural prominent square-shaped face one is born with; next, excessive chewing or teeth grinding that enlarges jaw muscle;
and lastly, the inevitable ageing process where the face sags while cheeks deflate and narrow, resulting in a gradually widening jawline. Unsurprisingly, most Asian women seek an ideal heart-shaped face, the complete opposite of the strong, square jawline.
Coined the "Triangle of Youth", the traditional convention of beauty dictates that the widest part of the face are the cheekbones, which then taper down to the apex of the chin, for a soft and feminine yet sharp and contoured face.
Formulated to deliver these very results, The Sloane Clinic's new facial slimming programmes – Slim Touch, Slim Shape and Slim Sculpt employ a Botox Masseters technique, where Botox is injected into the masseters or chewing muscles. This then induces a muscle weakening effect, which not only smoothens expression lines but also instigates eventual atrophy or loss of muscle size, leading to instantly decreased facial width through an effective, safe and non-invasive procedure. These treatments truly surpass all other forms of jaw reduction methods, including painful surgeries where a small piece of one's jawbone is sawed off just for a slimmer face.
PERFECT SOLUTIONS
Each facial slimming treatment only takes a few minutes. The Botox itself takes effect in three to four days, while maximum results reach their most optimal in a month. Visible results can be seen after just one treatment, while the second treatment comes a month later, and touch-ups are required every five to six months. Whether to pare pounds off or reshape and rescue square jaws, the Slim Touch and Slim Shape treatments are most ideal for those with moderate square jawline and when accentuation is the goal. Comprising two to three sessions of Botox Masseters, each of these programmes is painless and requires no downtime. And for those looking to shave years off their face, the Slim Sculpt restores one's youth with a combination of three slimming sessions of Botox Masseters and a single deeplifting Ulthera Jaw treatment that stimulates collagen production to help lift and tighten skin along the jawline, not only producing V-shaped definition to the jawline, but also providing a gravity-defying, non-surgical facelift. Ulthera is an FDA-approved skin tightening treatment using ultrasound technology.
THE SLOANE CLINIC
01-68 The Shoppes at Marina Bay Sands
2 Bayfront Avenue.
Tel: 6688 7377
You might also like: