[By Pamela Chandra]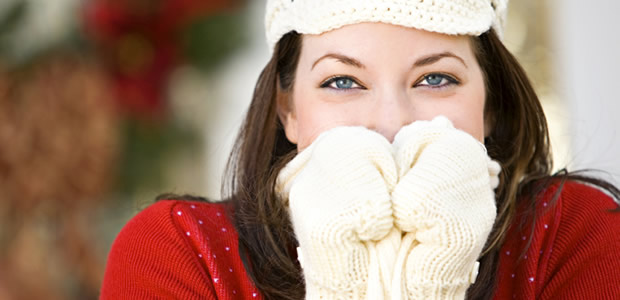 This festive season is laden with good cheer and hidden calories. Here's how to enjoy the festivities without gaining fat.
For the eleven months counting up to Christmas, we are dutifully counting every calorie to fit into that skin tight Herve leger dress. Unfortunately, when it is time for Christmas, our will-power mysteriously vanishes and we stuff ourselves with sinful calories, only to find eleven months of discipline unravelled in an instant of folly.
If there is one time of the year when we give ourselves permission to relax our diets, it's the festive season. When we are winding down the working year and gearing up for the holiday season we tend to let good habits fall by the wayside. After all, there are parties to attend, cocktails to sip, hors d'oeuvres to nibble and warm summer temperatures to relax in.
Experts say that while this is not time of the year the time to lose weight, we should make it a time to at least maintain it.  The trick is to exercise restraint, but let yourself have some of the nice little things that come around at Christmas, because if you don't you will feel deprived and unhappy and that's not how you are meant to feel at Christmas.
There is scientific proof that holidays are not so good for the waistline. Research conducted by the Human Nutrition Research Centre in the US found that among the entire population, weight gain during the six-week holiday season accounted for 51 percent of annual weight gain.
Nutritionists agree that we are just as predisposed to holiday weight gain because when we wind down for the year, we also tend to wind back diets and exercise regimes. However, if you know you are likely to over-indulge and exercise less over the holiday/festive season, then be aware of it and try to put in strategies to counteract the ill effects of these.
Here are some tips to survive the festive binge:
MOTIVATION
When we are busy celebrating the year's end, buying presents and preparing for Christmas Day, it is hard to maintain those regular trips to the gym or 30-minute morning walks. Many people are guilty of stopping their exercise routines they are probably too busy partying and then sleeping it off the next day.
To stay motivated, experts suggest people schedule a week off from their usual exercise program, perhaps between Christmas and New Year, while maintaining their normal work-out sessions before and after this time. That way it will be easier to maintain motivation because you know it is only a few weeks before you get a break.
Alternatively, if you have some parties coming up where you think you might over-indulge, schedule some extra exercise sessions in the days before and/or after. If there is dance music on at a party or function, kick up your heels and get jiggling. This does two things — it expends some energy and keeps you away from the food and drinks table.
Simple measures such as parking the car further away and walking to a party, or spending the weekends playing in the pool and enjoying some backyard cricket with friends and family can keep your activity levels up. Look for opportunities to be more active while still relaxing and enjoying the silly season.
DON'T OVER-INDULGE
Easier said than done, you say. However, if you can limit the days when you are overeating and overindulging — to just Christmas and the day you finish work for the year perhaps — that can be a good start.
Here are some simple strategies to help keep you from overindulging:
Chew gum at a party so that you are less likely to feel the need to munch on something from the food table;
Have a healthy snack before you go to a party or function. Filling foods such as sandwiches or a bowl of cereal are a good idea;
Often we arrive a party thirsty and drink the first drink fast. Quench your thirst with a glass of water instead of a high calorie alcoholic or soft drink.
Start with two glasses of ice cold water before a meal. It will fill you up and cold water is known to help you burn calories as well
If you are entertaining, keep your goals in mind and offer a good variety of healthy foods;
Encourage guests to take left-overs home so you are not tempted to over-indulge the following day;
Enjoy one or two small treats so you don't feel deprived, but don't go back for third and fourth servings;
If you overfill your plate you are more likely to eat a much larger portion than usual, so go easy;
Position yourself far away from the food and drinks table so you are less likely to pick;
Take into account your feeling of fullness. Don't keep nibbling just because it is there. If you are entertaining, don't put too much food out at once.
Pace yourself. Eat slower than usual. It takes some time for the brain to send the signal that you are full. The faster you eat, the more likely you will overeat even if you are already stuffed.
One of the big weight gain culprits over the festive season is alcohol. Think of a party as a chance to catch up with friends as opposed to a chance to scoff party food and 'get stuck into the. Simple ways to avoid over-indulging on alcohol include:
Sip water along with alcoholic drinks. Aim to get a glass of water for every 2 alcoholic mixers.
Try low-fat mixers such as soda or mineral water. Be aware that tonic water is high in calories like most other soft-drinks;
Ask for half-nips of spirits;
The larger, modern-style wine glasses at restaurants and bars are much bigger than the 100ml that represent one standard glass of wine. Ensure you are not drinking more than you think;
Replace alcoholic drinks with tomato juice or a Claytons and soda;
Iced tea or ginger beer can be refreshing alternatives to beer and wine on a hot summer day.
ALTERNATIVES
While we don't have to eat healthy foods 100 percent of the time to maintain our weight, it is vital we are selective and choose the better alternatives most of the time. Here are some alternative foods for those many parties, and for Christmas day:
Instead of:
French onion dip, try tomato salsa
Chips and crackers, try vegetable sticks or pretzels
Spring rolls, try barbeque prawns or mini-kebabs
Turkey with all the trimmings, try seafood platter with whole barbecued fish
Plum pudding, try low-fat vanilla ice-cream mixed with dried fruit
Cakes and desserts, try fruit platter, with yoghurt or low-fat ice-cream
Finally, have bowls of cut fruit or almonds lying around as you are likely to munch when drinking. If healthy alternatives are within easy reach, you are less likely to fill yourself with empty calories.
With these tips in mind, go forth and spread some festive cheer!
You might also like: