Temptu AIRbrush Makeup System
USD$225 (Sephora.com)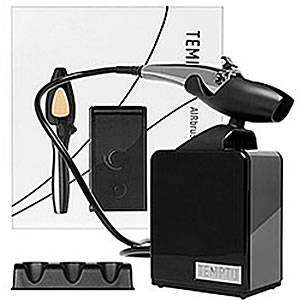 What it is:
This AIR pod™ system is an airbrush device that applies foundation, bronzers and blushers on your skin via a spray. It is touted to deliver precise, professional results. The system allows you to snap on and off the various Makeup AIR pods (USD$30-$55,  Sephora.com) —including foundations, blushes, and more—so you can hopefully create luminous looks to rival professional makeup artists.
What else you need to know:
The TEMPTU® AIRbrush Makeup System includes all the tools you need to get started: The AIRbrush, a lightweight Air Compressor, an instruction manual, and the essential How-To-AIRbrush DVD to show you how to perfect and enhance your complexion.
This system can only be used with TEMPTU AIR pod™ makeup. AIR pod™ makeup sold separately and is not included in this system box. TEMPTU® AIRbrush Makeup System includes a one-year warranty and product registration. The different shades available are shown below:
My experience:
I was lucky enough to get this from a friend who is a freelance makeup artist and gadget freak. However I had to buy the foundation pods myself. I had wanted this for a while, but couldn't justify the USD$225 plus USD$55 for 2 foundation pods. But since I got the device for free, I figured the foundation pods at USD$55 were worth the splurge.
The first time I tried the airbrush on my skin, I thought the makeup looked too cakey and artificial. Also, it seemed to zoom in on my fine liens like a heat seeking missile. I was about to ditch this in my drawer with the rest of my retired beauty gizmos. However, my friend was adamant that in his hands, the results were unbelievable so I persevered and took it for a second test drive a few days later. Bu not before I had gone online to Youtube to watch some clips of how others amateurs used the system.
Sooo glad I did! This is quite amazing. It provides nice even coverage that looks flawless and natural (on me). The device does take some getting used to but once you get the hang of it, you can really control the kind of coverage your skin needs.
I like that you can build between layers for more coverage as that gives me versatility for both night and day. The makeup can get oily looking by mid-day, but if you have a quick blot of your skin and a light dusting of face powder, I find the coverage still excellent till evening. That's perfect for someone like me who work long hours and need to look immaculate till after the sun sets. And truth be told, I have yet to find ANY product that helps my oily skin in that area any way.
One word of caution though, this does transfer to clothes and comes off with an inadvertent scratch here and there. If it is your first attempt with the airbrush, wear an old tee that you can afford to ditch. If you are worried about it getting onto your clothes, avoid white blouses that are dry clean only as it may end up becoming a costly experience.
The blush application is very subtle and even, but beware of the highlighters, I have Gold, and it can look a bit too shimmery for work especially if you aren't careful! The trick is to keep moving in circular motions and keep your distance at least 4 inches away. It does take practice, but worth it if you want flawless looking, lasting coverage.
The only problem with the foundation pods is that you cannot custom blend your colours like how I usually do with my foundation shades. If you are lucky to find your perfect shade in a pod, you will love this product 100%. But for the rest of us who are in between shades, it can be a little frustrating to get natural coverage. So if there is an area for improvement, I would suggest allowing us to blend the colours in the pods ourselves or to combine two different pods for the perfect shade.
I still think the device is rather costly at USD$225 but this is one gift you would not want to refuse.
You might also like: