[By Natasha Collins]
With the looming holiday season upon us, late night martinis and 4 hour snoozes are inevitable sins for many. To fight the lack of sleep as well as dehydrated skin from alcohol-fuelled parties, I jumped at the chance to test drive 5 cult eye creams available on the market today. Are they as fantastic as their product packaging promises or are they merely empty promises in a jar?
Skinceuticals Eye Balm  USD$80
Touted to be a synergistic combination of highly effective, yet gentle phytochemicals to rehabilitate mature, aging skin around the delicate eye area, this eye balm certainly has a creamy, rich feel.  It is a godsend for dehydrated and dry skin types though it can be a little rich for humid climates or those with oily skins. I tried it in the morning and found it a little too heavy under makeup but when used before bed, it helped plump up my skin and replenish moisture loss quite effectively.
Rating: 7/10
Dr. Sebagh Eye Primer Lift           US$85
I had heard so much about Dr Sebagh that I was totally looking forward to testing out his eye primer lift. The Eye Primer Lift is a light eye contour gel that is touted to immediately tighten and lift eye area skin. On application, the eye gel was fast absorbing and left my skin feeling quite soft and smooth. It was great under makeup as it did not leave a greasy after feel. I used it religiously for about 10 days but didn't notice any visible improvements to my dark eye circles or fine lines. Sadly, while this product is good as a pick-me-up for my tired eyes, it doesn't seem to do anything for me in term of long term eye benefits.
Rating: 6/10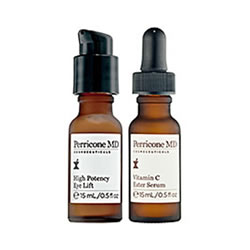 Eye Lift Synergy USD$95
This is a set of two products that each addresses the visible signs of aging in the eye area. I loved the idea that Dr Perricone's products are formulated without parabens.  I like to think I am applying "wholesome" ingredients onto my skin every night. I loved the light texture of the vitamin c serum, and the high potency eye serum glides on smoothly without being too greasy. It could be a little stinging on the eyes if you are not careful so be sure to keep the product away from the eyes. I thought I could see visible improvements in the fine lines around my undereye area after a few days of use but the idea of using two products instead of one, while refreshing at first became rather tedious after a week.
Rating: 8/10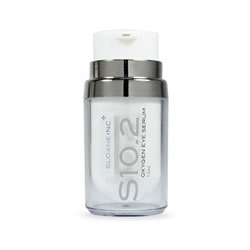 Sloane Inc. Oxygen Eye serum   USD$68
Described as "an energy drink for your eyes", I was excited to try this eye gel, hoping that this would be the answer to my tired peepers and dark eye rings. At the first try, I thought the texture of the eye gel was rather light, in fact it felt kind of watery to me so I was sceptical about its efficacy. However, I was pleasantly surprised to note that the skin did feel suppler and hydrated even after just one application. After 2 weeks of religious use, I can definitely see a visible improvement in my undereye circles. While my dark eye rings were not completely gone (I've resigned myself to the fact they can never be erased), the shadows were impressively lightened and my fine lines were somewhat reduced.
Rating: 9/10
Kate Sommerville Line Release Under Eye Repair Cream  USD$125
At USD$125 a pop, this is the most expensive cult brand of the lot, so I had a lot of high hopes for this product, touted as "a high-performance eye cream". The texture of the eye cream was creamy and smooth, and it does not sting my eyes upon application, which is especially important as I wear contact lenses at times. The eye cream was well absorbed and the fragrance was not overpowering. After ten days of nightly use, I thought my eye skin felt softer and smoother. While the product held up reasonably well to scrutiny, the effects just do not justify the price so it's unlikely to be something I would continue on my own budget.
Rating: 8.5/10
You might also like: