[By Jessica Neo]
Green tea has long been the beverage of choice for the Japanese. However, scientific research has shown that there is real health benefits associated with drinking green tea.
For example, in 1994 the Journal of the National Cancer Institute published the results of an epidemiological study indicating that drinking green tea reduced the risk of oesophageal cancer in Chinese men and women by nearly sixty percent. University of Purdue researchers recently concluded that a compound in green tea inhibits the growth of cancer cells.
There is also research indicating that drinking green tea lowers total cholesterol levels, as well as improving the ratio of good (HDL) cholesterol to bad (LDL) cholesterol.
Apart from the profound impact on our health, green tea can also improve the way we look. Find out why we should be stocking up on this miracle elixir if we want to look good & feel great.
1. Promotes weight  loss
New evidence is emerging that green tea can even help dieters. In November, 1999, the American Journal of Clinical Nutrition published the results of a study at the University of Geneva in Switzerland. Researchers found that men who were given a combination of caffeine and green tea extract burned more calories than those given only caffeine or a placebo.
2. Prevents tooth decay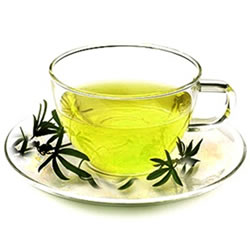 Green tea can even help prevent tooth decay! Just as its bacteria-destroying abilities can help prevent food poisoning, it can also kill the bacteria that cause dental plaque. Meanwhile, skin preparations containing green tea – from deodorants to creams – are starting to appear on the market.
Green tea may well be a treat for your taste buds. But new research is suggesting that it benefits the rest of your oral cavity as well. Green tea contains compounds that appear to control inflammation and fight bacterial infection. This drink is also rich in antioxidants, which have many health properties.
3. Better breath
Green tea has been associated with better-smelling breath. Why? Because it kills the microbes that make our mouths smell bad. The University of British Columbia's Faculty of Dentistry measured the level of smelly compounds in people's mouths after they were given green-tea powder or another substance that supposedly helps with bad breath. Green tea outperformed mints, chewing gum and even parsley-seed oil in this study.
4.  Prevents acne
Green tea benefits acne in a number of different ways. Its antibacterial properties fight acne-causing bacteria while the anti-inflammatory benefits of green tea reduce the swelling and redness. Antioxidants neutralize free radicals which damage the skin and make it more susceptible to acne also help to balance hormone levels to help prevent future breakouts from happening.
5.  Slows the aging process to prevent wrinkles.
Green Tea's powerful  antioxidants prevent cell oxidation which can make you look older than you really are. Studies are mixed on this particular green tea benefit as new research has come to light which suggests the full benefits can only be had by applying green tea topically to your skin. However, many people have found that potent green tea extracts do have a positive effect on their skin, leaving it softer, more supply and younger looking. So if you are unsure, the best bet is to drink green tea and look for skincare with green tea as a topical ingredient as well.
You might also like: