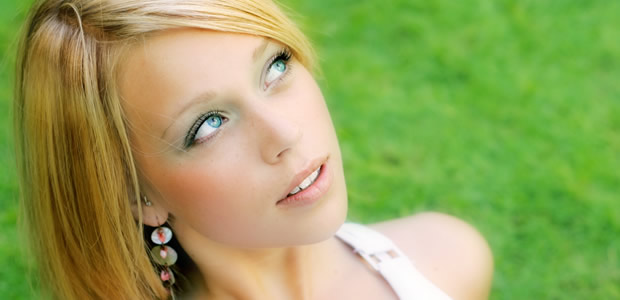 [By Charlene Choi]
What can we do to ensure our looks make the cut in life without undergoing the cut?
Time and tide waits for no man. The same can be said about our youth. As we welcome the dragon year, I can't help but notice with dismay how I have aged (sagged, drooped, flopped) over the past twelve months. I have never considered myself vain nor superficial but as I start the New Year, I cannot help but long for the youthful visage that I once possessed.
With a touch of trepidation and a tingle of ironic anticipation, I embarked on my search for the most novel (read: painless) ways to look younger sans scalpel. While I may hanker for my youthful looks, I draw the line at going under the knife, and so set my sights exclusively on cosmetic fixes that could guarantee me youth without the risks and downtime of a surgeon's blade.
If you, like me, feel like you may need more than just a facial these days, then read on as I share my findings on the most novel ways to shave years off your face safely yet effectively.
(1) Ultrasound to tighten sagging skin
Ultherapy™ is a FDA approved, novel skin tightening procedure that uses medical ultrasound to lift and tone sagging skins. This no downtime 60 minute procedure is done at the doctor's office and involves the use of an ultrasound applicator being placed on the surface of the skin while ultrasound energy is being delivered to the deeper (saggier) layers of skin. Skin of the face, jawline and neck can be treated and patients who have received this procedure report visible tightening effects which include lifting of the brow line to reduce droopiness on the eyelids, smoothing of crows' feet, improvements in the nasolabial folds, jowls and even double chin.
Sounds too good to be true? Well before you jump in for your Ulthera session, you should know that Ulthera can be slightly uncomfortable for some patients with a few patients describing the sensation of the ultrasound pulses as "ant bites" to "hot pin pricks". Nonetheless (and most tellingly of all), almost all agreed that the procedure delivered visible improvements in skin tightening and most of the patients treated said they will definitely undergo the procedure again!
"Patients typically see improvements in skin firmness and tone immediately after the procedure. However, results will continue to improve for up to three months after the procedure with optimal results being seen about 1-2 months post treatment" says Dr Kenneth Lee, medical director of The Sloane Clinic.
Pain: ***
Lifting: ****
Complexion benefits: **       
(2) Restylane® Hydrolift
We have all heard about fillers. Traditionally, fillers are substances that have been used to plump up wrinkles and lines. In recent years, innovative ways to enhance your beauty using fillers have been introduced. Popularized by Korean celebs who desired both lifted, contoured faces sans scalpel as well as dewy, luminous skins, the Restylane® Hydrolift is specially designed to deliver these multiple benefits using natural hyaluronic acid.
With Restylane® Hydrolift, natural hyaluronic acid is carefully placed in under the skin of the lower face and cheeks using a novel injection technique to give tired saggy faces a subtle lift while replenishing lost hyaluronic acid stores instantly and restoring skin moisture to youthful levels. Studies have shown that Restylane® also stimulates your body's own production of collagen, explaining why over the next 2-3 weeks, you will notice further lifting of your facial contour, together with more radiant, luminous skin.
"The people who benefit most from Restylane Hydrolift are those with mild to moderate sagging, facial lines and an overall lackluster complexion. They will usually find an overall improvement in skin tone and texture" says Dr Chua Han Boon from The Sloane Clinic.
The downside about Restylane Hydrolift is that because the procedure is administered by tiny injections, small pin prick marks may be visible for about a day. Occasionally, small bruises at the site of injections are possible though this can be minimized with precautions such as alcohol avoidance. The real upside of Restylane Hydrolift is that apart from the natural lifting effect of the skin, it also plumps out the skin surface to give complexions a dewy, supple finish that is often seen amongst the younger set with the coveted glow of youth.
Pain: **
Lifting: ***
Complexion improvements: ****
(3) Radiofrequency with a difference
ePRIME was touted to be the lifting treatment for the new year. It is a minimally invasive RF  (radiofrequency) aesthetic device designed for the treatment of aging skin. ePRIME inserts 5 pairs of tiny needles 1-2 mm into the skin, these needles will then deliver bipolar radiofrequency waves to the deep tissues. This system bypasses the problem of not being able to reach deeper tissues from the skin surface by using the bipolar needles which are inserted into the targeted tissues. Radiofrequency delivered to the deep tissues then result in specific injury to dermal collagen causes the body's naturally occurring cascade of healing responses, ultimately resulting in collagen stimulation and skin tightening. In theory, this device seems to be the one that can effectively treat at great depths which should also result in greater results. However, the downside is the prolonged downtime as a result of using the handpiece with needles. Patients who have tried this treatment have reported that tumescent anaesthesia was needed as the procedure was uncomfortable, hence there can be resulting swelling, redness and possible bruising for a week or more.
This system still holds great promise but may need further fine-tuning to make it attractive for the masses that may not be able to tolerate the pain and downtime of such a treatment.
Pain: *****
Lifting: ****
Complexion benefits: *
(4) Blood to rejuvenate skin
This vampish sounding treatment also nicknamed "Vampire facelift" may sound far-fetched but is actually stepped in science. Known as PRP or Platelet Rich Plasma, this treatment involves using your own blood to rejuvenate your skin. Talk about being self-sufficient! A small amount of blood is taken from the patient and then specially prepared to produce PRP or platelet rich plasma. The PRP which is derived from the patient's own blood is then carefully injected into targeted areas such as the sides of eyes, nasolabial lines and other facial areas exhibiting signs of aging.
The downside of this treatment is that as injections are required, pin prick marks and bruising of the skin is possible. The upside is that as patients uses PRP derived from their own blood, allergic reactions are almost nil. Patients who have undergone this procedure report brightening of the skin and softening of facial lines.
Pain: **
Lifting:**
Complexion benefits: **
* Selected as Article of the Month Jan 2012*
You might also like: