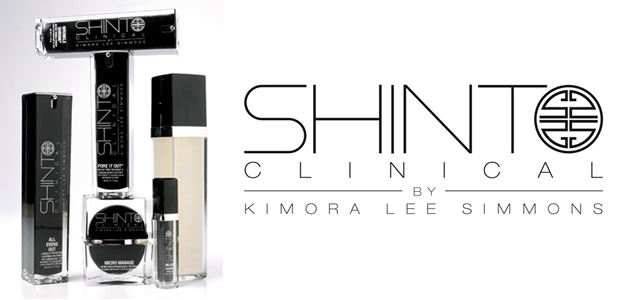 [By Collete Lim]
Kimora Lee Simmons, mother of three and wife of Djimon Hounsou has put her name on six fragrances with thoughts of a seventh. Recently, this versatile model cum entrepreneur has dabbled in the color cosmetics market, stepping into the skin care business with a worldly attitude.
For her debut, Simmons has developed a nine-item treatment line called Shinto Clinical, which is designed to encompass cultural elements of the East and the West with a dash of humor thrown in. Products names range from tongue-in-cheek "Pore me out" to a toner called "Watch your tone".
With a list of exotic ingredients such as fish oil, pearl powder, omegas, beta glucan, mushroom and Wakame kelp extract, Simmons worked with New York dermatologist Eric Schweiger in the line's two-year development process, and she proudly emphasizes her hands-on involvement — including devoting episodes of her syndicated cable TV show, "Life in the Fab Lane," to different aspects of the project, including formula development, photo shoots and the model search.
The engine of the different formulas are Omegapearl-18, an antiage concoction pearl powder; Wakame kelp; beta-glucan mushroom, and Omega 3, 6 and 9. The nine products in the line include an antiage moisturizer, priced USD$65; an antiwrinkle serum, also USD$65; an eyelash enhancer, USD$68; a pore minimizer, USD$45; a microdermabrasion cream, USD$59; and a skin lightening product for USD$68. An antiage cleanser and a toner are each priced at USD$32 apiece. A USD$65 anticellulite cream, Hold It Tight, will be launched later in the year. The target audience is women aged 25 to 45 years of age.
The line will make its debut on QVC on Feb. 24 and the retail rollout will start in late February and early March, consisting initially of Nordstrom and Fred Segal plus the Shopping Channel in Canada.
Watch this space.
You might also like: