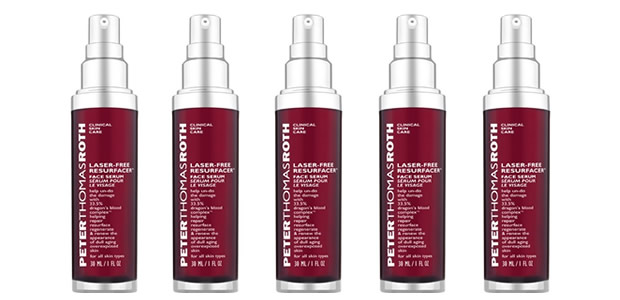 [By Claire Cheng]
I am tempted to jump on the bandwagon of laser resurfacing to attain the complexion of my dreams. Everywhere I turn, I see porcelain-skinned models on billboards and magazines staring back at me. However, my phobia of doctors and technology has largely held me back. Enter: Peter Thomas Roth's new serum, aptly called "Laser-Free Resurfacer".
My heart skipped a beat as I was asked to take this serum for a test drive. I read the inserts and this is what I gleaned from all the beauty jargon written. What it is: An advanced serum that helps repair, resurface, regenerate, and renew skin "from the first application"!
What it is formulated to do
This serum is touted to enable your complexion to achieve laser-like results without undergoing lasers. The secret ingredient that helps to undo skin damage and recapture youth is the 33.5% Dragon's Blood™ Complex, touted to help lessen the noticeable signs of aging that result from time, sun, and environmental damage. For Lord of the Rings fans, you will be disappointed to know that Dragon's Blood™ Complex is not really the bodily fluid of a mythical flying creature but a patent pending concentrate featuring a naturally red extract from the Amazon's Croton Lechleri tree proven to help accelerate skin damage repair.
As with all of Peter Thomas Roth's products, they have undergone research and testing to give us laypeople hard data on what to expect. According to their research results, in just four weeks, this product helps boost elastin by 61%, diminishes wrinkles and lines by 56%, and increases pro-collagen by 84%. Dull, aging, overexposed skin is repaired and renewed. (Yippee!)
After reading all of the above, my heart was pounding as I started my first trial of this "dragon blood" complex. I was desperate for some much needed radiance in my lacklustre skin and wouldn't have minded even ingredients such as horse's poo or cat's pee as long as they promise me the fountain of youth, so "dragon blood" is actually very acceptable to me.
My results
I used this product religiously for a month and this is what I think of it. Well no, not exactly the fountain of youth, but pretty darn close! I wanted to see what a month's worth of product use would produce. I am pleasantly surprised! My skin has a radiance I only used to see after collagen facials, and my brown spots have faded somewhat.
I think this would be a great option for ladies who want a multi-tasking radiance booster for their skins. For those with more severe cosmetic issues such as pigmentations or blemishes, I don't think this would quite replace a visit to the doctor's just yet. However, for laser phobes like me, this product did deliver what it promised, even though it wasn't as visible from the first application as advertised. I would definitely continue this serum until I squeeze every last drop from this precious scarlet bottle. I wouldn't want to waste a single drop of "dragon blood", would you?
You might also like: