[By Dana Lim]
Lipsticks are to women what cars are to men. They lift our spirits and make us feel powerful and attractive.
It is well known that in times of recession, lipstick sales actually rise as women seek solace in simple pleasures like beautifying their puckers. Men have also been known to be drawn to red lips as they bestow a sense of sensuality and attractiveness on the wearer.
However, some women are known to wear their lipsticks with style while others simply look gaudy or made up. Here are some tricks to finding the perfect lipstick for your skin tone. Lipsticks are meant to accentuate your lips; a perfect lipstick shade will make you look like you have kissable lips while a wrong shade will look like… well, a wrong shade of lipstick.
If you want your lips to remind your lover of summertime kisses rather than Joey the clown, simply follow some of our tips on how to find the perfect lipstick for you.
#1 What looks good in the tube may not look good on you
This is so true for anyone who has had the misfortune to purchase an amazing shade of lipstick online only to find that it looks awful on your skin. What happened? Firstly, lip colour should match your skin tone not clash with it. Secondly, lip colour can change slightly upon application with the resulting shade being a far cry from what you imagined. If there is one tip you should take home with, that is to try the shade of lipstick on your lips, or at least on the back of your hand to get the closest idea of what the final result will look like.
#2 Dark lips need dark shades
All of us wish we are endowed with light pink lips but the truth is that with age, smoking and sun damage, the skin of our lips may also darken with time. Remember the baby pink lipstick you used to wear in school? Well, this may no longer work if your lips have darkened. You should never wear a lip shade that is lighter than the shade of your lips. Trying to camouflage darker lips won't work because lipsticks are not meant to be opaque war paint. Their slightly translucent texture is made to enhance lips and not obscure it.
If your lips are dark, and you don't want to wear a deep shade, try going for a colour close to your skin tone but with a hint of pink. We like Kat Von D's Painted Love in Cathedral, a dark deep nudish shade.
#3 Red lips don't need competition from the rest of the face
If you absolutely want to go for red lips, pick a shade of red that suits your skin tone, and downplay the rest of your makeup especially your eyes and cheeks. So if you want smoky eyes, choose a nude shade but if you want red lips, go with a minimal eye makeup. You can't do both and expect to come out tops.
It is not true that red is not for everyone. Nowadays, there are a variety of red lipsticks that can suit almost all skin types. The trick is to find the right shade of red for you. The secret to choosing the right red lip colour is in the undertones. Pink-skinned girls should opt for cherry red. Those with olive skin can wear fire-engine red. Dark skin looks great with deep reds.
If you are very fair (lucky you), you will probably be able to carry off a stunning red like YSL's Rouge Volupte in red Muse.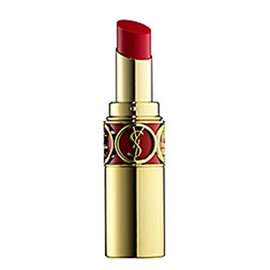 If you have olive skin, then go for a deeper, darker shade with hints of brown that can look stunning on darker skin types. Try Guerlain Kiss Kiss lipstick in Excess de rouge.
#4 What looks good on your bare face is the answer
If I had to teach someone just one thing about lip colour it would be this: Find a lipstick that looks good on your face when you are wearing absolutely no makeup. That would be the shade that complements your skin tone. In the long run, this lipstick will last the distance as it will match almost all the different outfits and makeup that you rotate through.
#5 The one lipstick we all need to have
Whatever your favourite colour is, all of you need to have one lipstick that you can fall back on.  While bright reds and shocking pinks may be stunning for an occasional cocktail party, you will be thankful to own a day-to-day lipstick that will suit your skin for almost all occasions. The most flattering lip tones will be one or two shades darker than your natural lip colour. The one lipstick all of you need in your beauty chest is this one. Pick one out today and your lips will always have a trustworthy shade to fall back on.
#6 Application can change the way a lipstick looks
Don't want to go all out with red lipstick? Create a red lip stain with a little trick I got. Smooth lip balm over lips, dab red lipstick on finger, then smudge over lips with her finger, leaving more colour on the centre of the lips and less towards lip corners. The result is a gorgeous yet natural lip stain for day and casual outings.
If you are embracing a more dramatic look for the evening, use a lip brush when applying strong colours. You need a mirror and expert application so you don't paint the outside edges of your mouth. To keep lipstick from wearing off so fast, fill in lips with liner before applying lipstick. This acts as a colour base, so when the lipstick wears off you still have colour.
You might also like: