[By Jessie Chan]
Contrary to popular belief, not all women need another box of chocolates (read: calorie laden) or bouquet of fresh roses. Real women long for gifts that are wearable, usable and most of all, current and trendy.
For all men who are at tempted to pick up that box of pre-packed chocolates at the local supermarket for your loved ones, don't. Read on to find out how to truly impress your date with these top five most wanted valentine's gift ideas of all time.
Miu Miu Suede shoulder bag £716.90
This ladylike peach sling is one of the hottest bag trends this season. It comes with a strap and works well as a shoulder bag. Or simply detach the strap and use this pretty piece as a clutch.
Dahlia Bra by Agent Provocateure £295.00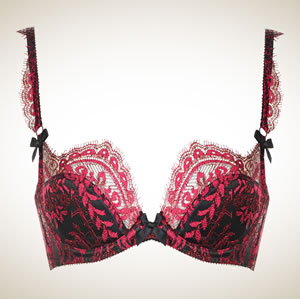 Exquisitely beautiful and lovingly crafted in the softest black silk, the mesmerizing Dahlia is adorned with a delicate layer of sumptuous black French lace, shot with striking bordeaux Lurex. A captivating and romantic range.
The Sloane Diet Detox Kit  USD$158
When stars need to squeeze into something curve-hugging before cruising the carpet, they bank on this 7 day detox fix. What better way to detox from all the Valentine's Day goodies than to embark on a deep cleansing, body recharging week long detox. Spring into the season with a svelte silhouette and extra energy thanks to this body-saving quickie. Contains box of Detox vitamins, 7 Clean vitamins sachets, 4 Optifast.
Tokidoki Scent Stick Trio – Adios, Ciao Ciao, Siberia  USD$28
Three tokidoki characters and their criminally cute personalities come to life with this set of solid fragrances. Each perfume is held inside a retractable pencil container that fits easily in your pocket, backpack, or purse. For an aromatic touch of tokidoki style, just grab a scent stick, twist it up, and put it on your wrists or neck. Bring a smile to your loved ones with these adorable scent sticks.
SWATCH Lovely Mine & Catch My Heart Watches USD$60 each
Swatch collectors rejoice, these lovely watches suit those who are young and heart and love funky timepieces to match their personas. Swatch watches are versatile and will appeal to even the most practical of partners.
You might also like: