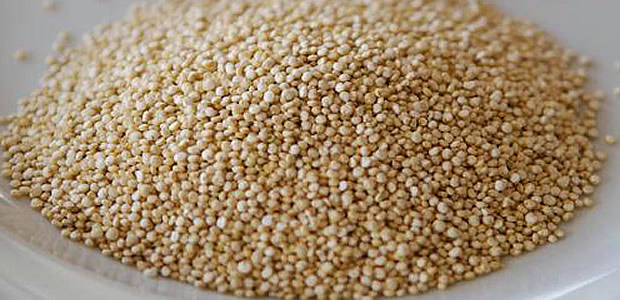 [By Sandra Tan]
I have always been a brown rice eater, and I was thrilled to discover Quinoa. This superfood is just simply awesome and can revamp your diet in miraculous ways. If you are looking for a nutritionally rich substitute to white rice and pasta, quinoa is the answer.
Here are nine facts you should know about quinoa. Read on and see if it will change your mind about this little known grain.
1. Yummilicious
Some superfoods may have all the health benefits in the world but score poorly on the taste test. Seriously, who will have a shot of wheatgrass for breakfast everyday? The thing about quinoa is that I was pleasantly surprised to find out that it doesnt taste like Styrofoam . Slightly nutty and grainy, they're something I could keep eating and eating.
2. It's high in protein
A big positive for vegetarians as I've learned recently. It's also pretty good on iron and fibre, which gets the nutritionists excited. For those of you looking to lose some weight on a low carb diet, quinoa is the substitute you have been looking for.
3. It's gluten free
I have always been mildly gluten intolerant, so quinoa was perfect for someone like me. In fact, I have rolled quinoa flakes for breakfast as well.
4. It comes in different colours
Just like grapes, quinoa comes in different varieties. The most common is white, but there are also red and black. I've only ever come across the white variety.
5. It comes in different forms
Just like corn, it can be puffed or rolled into flakes or you can buy it whole.
6. It looks like a grain but is actually a seed
7. It has an interesting texture
The thing I love about quinoa is its texture. Something a little like barley with its chewiness, it also has a light fluffiness akin to well-prepared couscous.
8. It's better if you cook it
One of my first experiment with quinoa I just rinsed it in boiling water, tossed it in dressing and used it in a salad. It was edible but a little weird. Now I cook it in a rice cooker and it comes out fluffy and perfect.
9. You can also eat the leaves
I have not tried it myself but I read somewhere that the leaves are edible.
Here is one of my all-time favourite Quinoa recipes. It is easy to whip together and the plus pointis that it is only 76 calories! Now how can you fault a dish like that?
Black Bean & Quinoa comfort dish
Ingredients
1 teaspoon vegetable oil
1 onion, chopped
3 cloves garlic, peeled and chopped
3/4 cup uncooked quinoa
1 1/2 cups vegetable broth
1 teaspoon ground cumin
1/4 teaspoon cayenne pepper
salt and pepper to taste
1 cup frozen corn kernels
2 (15 ounce) cans black beans, rinsed and drained
1/2 cup chopped fresh cilantro
Directions
Heat the oil in a medium saucepan over medium heat. Stir in the onion and garlic, and saute until lightly browned.
Mix quinoa into the saucepan and cover with vegetable broth. Season with cumin, cayenne pepper, salt, and pepper. Bring the mixture to a boil. Cover, reduce heat, and simmer 20 minutes.
Stir frozen corn into the saucepan, and continue to simmer about 5 minutes until heated through. Mix in the black beans and cilantro.
You might also like: