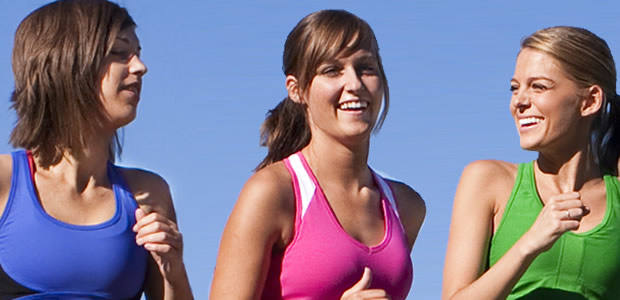 [By Marilyn Wee]
In case you are having the wrong idea, we are talking about exercise buddies to motivate you in your quest for a leaner physique. If you're in the market for dropping some weight, you may want to grab a pal who's also looking to toss his or her spare tire.
In research published in the Journal of Consulting and Clinical Psychology in 2005, doctors at Brown Medical School and Dartmouth University found that people who had an exercise buddy who successfully lost weight were more successful at losing, too!
Running buddies
Check out your local health clubs for running workshops. Those are great places to meet running enthusiasts. Same goes with cycling. Local bike shops usually have weekly group meetups, as well as designated meeting points where cyclists can gather for group rides, says Hoff.
Yoga buddies
Check out yoga workshops at your health clubs to make friends with fellow yogis while stretching out those stiff muscles. Another option is to gather a few colleagues or friends, then get a private yoga trainer to come to your place. Lynn, a 45 year old receptionist was instrumental in organizing a weekly yoga class at her local condominium by gathering similarly interested neighbours for yoga group session. Now, she not only manages to keep fit with yoga at a fraction of the price compared to what she used to pay at her health club, she says her relations with her neighbours have also greatly improved.
Diet buddies
There's no getting around it: The road to weight loss can be a bumpy one. But much like life's other journeys, the going can be smoother when you have someone to share the trip. That's where a "diet buddy" comes in — a partner who not only shares your weight loss and workout goals, but can help you navigate a kinder, gentler path to "sveltes-ville". Many experts now say buddying up can make the difference between failure and success with any weight loss plan.
Experts believe that people fail not necessarily because they're following a bad weight loss plan, but because they lack a good support system. Some psychologists agree.
How & Where
If there isn't a team offered in your sport of interest, start one up yourself and advertise it on your gym's message board. So what happens if you don't belong to a gym? Try utilizing sites such as ZogSports.com and FindAnExercisePartner.com; both of these tailor to cities across the country and allow you to search (and post) within your region. Get started and get fit!
You might also like: