In a study done by New South Wales University in Sydney Australia, researchers tracked men's eye movements to determine which body areas they focused on when they first looked at a woman, the premise being that while a man can lie, his eyes can't lie. Results showed that initial visual fixation occurring within the first 0.2 seconds focused on the breasts and waists. These two areas received more focus than other body parts such as face and legs! Men also rated women with a smaller waist as more attractive.
With so much focus on a smaller waist and a slimmer physique, it is no wonder that women are flocking to have their niggly bits sucked, prodded and banished from the face of the earth. With a plethora of treatments out there, here are some body sculpting treatments that stand out purely because it is based on science, not fiction. Achieving a leaner, more fabulous body doesn't have to be based on witchcraft and prayers, using a FDA approved method will ensure that you attain the figure of your dreams safely yet effectively.
Vaser Liposuction
Many people have heard the word 'vaser' but surprisingly many don't know much about it. Here is the lowdown on why vaser liposuction represents the new generation of body sculpting cosmetic procedure and why many in-the-know feels it triumphs traditional liposuction on a few fronts.
VASER Liposuction, also known as 'Liposelection', is an advanced body contouring procedure that as its namesake suggests, selectively removes unwanted body fat using ultrasound technology. As an alternative to traditional liposuction, VASER liposuction uses state-of-the-art ultrasound technology designed to gently reshape your body. What distinguishes the VASER liposuction procedure is the ability to differentiate targeted fat from other important tissues, such as nerves, blood vessels and connective tissue. Innovative VASER technology breaks up fat while preserving other important tissues to promote smooth results and rapid healing.
VASER liposuction can be performed under local anaesthesia with or without sedation for several reasons. Some doctors prefer the former to general anaesthesia for several reasons. "When general anesthesia is used for liposuction, there is often more pain after liposuction. This is because surgeons who use general anesthesia usually use less tumescent local anesthesia. There is also the unpleasant effects of general aesthetsia such as drowsiness and nausea for the patients to deal with" says Dr Tan Ying Chien, consultant plastic surgeon at The Sloane Clinic Plastic Surgery Centre.
"We prefer the use of smaller liposuction cannulas (microcannulae) which requires a little more time to complete the surgery but we find that this has the benefit of less postoperative soreness, and allows smoother results to be obtained. Because the incisions are smaller, they are also aesthetically more pleasing for the patients."
What actually happens during a Vaser liposuction procedure?
Just like in traditional liposuction, the area to be treated is filled with a special saline solution (tumescent solution). Next, a small probe transmits sound energy to break apart fatty tissue on contact, whilst preserving other important structures. Finally the liquefied fat is removed through a gentle suction process designed to minimise damage to surrounding tissues.
1.Infiltration. The fatty layer is injected with tumescent fluid.
2. Ultrasonic energy delivery. The high frequency vibration of VASER ultrasonic probes causes the fat cells to shake apart and combine with the tumescent fluid.
3. Aspiration. Emulsified fat is easily removed via specially designed suction tubes.
4. Skin retraction. During the healing process, the skin will retract and tighten to give smooth, natural-looking results.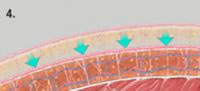 VASER liposuction is an excellent option for healthy patients who are frustrated by localized fat bulges not responsive to diet or exercise. Popular areas to be treated include hips and thighs, love handles and the tummy.
For those who want to take the plunge, Vaser liposuction can take anywhere from 1-3 hours depending on the areas treated. Patients can return home from this day surgery procedure but may experience some bruising or soreness of the treated area for up to a week.
For instant body perfection, that is a small price to pay, if you ask me!
Coolsculpting
For those with mortal fear of the surgeon's blade, do not fret. There is a 'cool' way to banish those unwanted fats without the blade.
Happily for us, FDA gave the green light for a non-invasive body sculpting treatment that uses cold to break down fat cells called Coolsculpting in 2010. Coolscupting is a cutting-edge, no-downtime fat reduction procedure that utilises the scientific principle of "Cryolipolysis" to freeze fat cells. Every session of coolsculpting will break down 20-25% of the fat cells found in the treated area. Your body will then eliminate these broken down fat cells naturally over the course of a few weeks. Sounds like magic? Well, almost. Most patients who have tried it have reported a 20-25% reduction in the fat bulge just after one session, with patients who have undergone 3 or more sessions reporting as much as 50% reduction in the treated areas.
The benefit of Coolscultping is that it allows the individual to sculpt the body gradually into the shape he or she desires. Many ladies opt to have the front of their tummies flattened, followed by contouring of their flanks to reduce their waist line and to give them a slimmer waist.
Taking 60 minutes per session, many patients slot this therapy in during their lunch hour. The treatment process is comfortable and patients are able to read or even work on their laptop during treatment. As this procedure has no downtime, patients do not need to take time off work or social activities. They are also able to exercise immediately after.
The best candidates for Zeltiq CoolSculpting are already in relatively good shape, but have some fat bulges present that are resistant to exercise and dieting. Coolsculpting is a perfect procedure for patient looking for fat removal and fat reduction without wanting to undergo a surgical procedure like liposuction.
Coolsculpting is performed under doctor's supervision at The Sloane Clinic MBS branch. For more details, go to www.sloaneclinic.com.
You might also like: