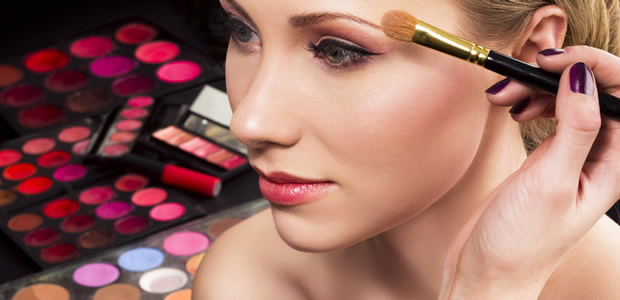 [By Georgia Yip]
With the wide plethora of makeup goodies to tempt the beauty addict in us each day, we help you decipher the maze of beauty treats to help you get the look you want using just good old basics…
Eyes on the Line
The trick is to look for a creamy formula that doesn't tug on skin.  To apply, gently pull your lid taut and begin lining from the inner corner, continuing along the entire lash line to the outermost corner.  Never stop lining halfway, it'll just make your eyes look small.  My trick to making eyes look bigger is to line both upper and lower lash lines.
Wow with Brows

For an instant eye lift book in for a brow shape and tint. This is a quick fix that will make such a difference.
Luscious Lashes
Always curl your lashes to maximise mascara application- use a good quality lash curler and blast it with the hair dryer for a few seconds before to make the curl last all day and for a fast result; also make sure to curl 3 times for each eye. First at the lash base, then half way up and finally curl the tip – this will give you a very natural and smooth curl- nothing opens up the eyes and elongates lashes better. If you have (like me) straight lashes- always use waterproof mascara- they hold the curl and lift the lashes much better than non waterproof (for Asian lashes this is the only thing that works).
Brushes Vs Fingers
Fingers are great for things like cream shadows, smoothing over creases in the face – really being able to feel the products but brushes triumphs when it comes to powdered eye and cheek makeup, there is nothing that can replace the precision work a brush allows.
Eyes Vs Base
When working with dark eyeshadows apply these before your foundation so any fallen pigment won't ruin the base. Also, apply your mascara before your base as this can also knock excess pigments onto your base. Remove all fallen pigments with a cotton bud dipped in a cleansing water, and then apply your base.
A Firm Foundation
When choosing the right shade of foundation, it is important to match your chest to your face.  You should aim to match the two otherwise your face will be one shade and chest another. If your chest has caught the sun and has more colour then warm the skin on your face with a little bronzer applied to where the sun naturally hits to give a natural glow.

Picture Perfect
When finding the right foundation, have a photo of yourself taken to see how the shades, luminosity and pigments look in photos. That is one of the best test of a good shade that will hold up to scrutiny even on camera.
Freshen Up
For a quick fix to freshen up your make up – rub moisturiser into the palms of your hands and then pat it over your make up; your skin will look instantly dewy and bright!
Brush with Beauty
To get started you need just three make-up brushes – a smallish rounded dense eyeshadow brush that you can use to apply and blend your eye shadow. A medium sized flat blusher brush to apply your blusher and bronzer. And a larger fluffier brush to apply or remove excess powder.
Fake a Glow
A great tip for an all over healthy glow is to mix a drop of your summer foundation in with your moisturiser and voila! An instant glow. I often apply this technique to the legs as well, using a body lotion and it works a treat.
Total Conceal
Concealer used for the eye area should have more of a creamy texture with enough slip to make it blend effectively and be sure to use an eye cream in conjunction with the application of your concealer so that it does not look dry or cakey. Concealer used to cover scars or blemishes should be a little heavier and have a slightly drier feel to them. This will ensure longevity on the skin and provide the right texture for that specific area.
Eye Spy
When applying a light-reflecting under-eye concealer apply in a triangle instead of a semi circle to avoid a panda eye affect! Start from the inner corner of the eye and brush the concealer down to the middle of the cheek and back up to the outer corner. Next, blend the product within the triangle shape to conceal shadows. The effect will be more natural and will not look like you have concealed anything.
Powder Puff Girls
Set your make-up with powder, even your eye make up.
Blush Flush
The right blush is the colour that your cheeks naturally turn when you exercise or blush. It's important to find a colour that makes you look instantly healthy. The right blush should practically blend itself- otherwise you've chosen a colour that's too dark or too bright.
Brighten Up
A really good brightening trick is also to put the peach or pink in the center of the lid on top of your eye makeup, as well as the apple of the cheeks! Very healthy, brightening and has a great summery effect on the whole face.
The Bright Stuff
With highlighter the key is to go two shades lighter than your skin tone. Look for one with a hint of gold or pale pink if you have olive skin. If you are pale go for pearly white or white gold for maximum allure. Apply under your eyebrows, across the top of your cheekbones, on your cupid's bow and a touch at the very inner corner of your eyes to brighten.
Mix it Up
Mix a drop of highlighter into your foundation rather than applying each product separately. This will not only save time but will give an extremely flattering all over illuminating glow to your skin.
Bronzed Beauty
To stop bronzing powders from appearing muddy or streaky on the face, first lightly dust a sheer translucent loose powder all over, this will ensure a smooth, even, longer lasting golden glow.
Lasting Lips

Use a pencil that matches the natural colour of your lip line to completely fill in the lips.  This base holds the colour in place, then layer your lipstick on top. Blotting lipstick with your fingers presses colour into the lips and creates a stain that will last. Finish with powder blush in a similar shade to your lipstick patted on top to help hold it in place.
Full Lips
If you have time, define your lips with a bit of concealer first to highlight your lips, it will make the colour you choose pop more and enhance your lip shape.
Colour Perfection
'To find the perfect pink lipstick to suit you, apply three vertical stripes of pinks on the lips, the one that is the closest match to your gums is the shade for you. For red lipstick do the same – three stripes – then smile the shade that makes your teeth appear whiter, is the red for you.'
You might also like: