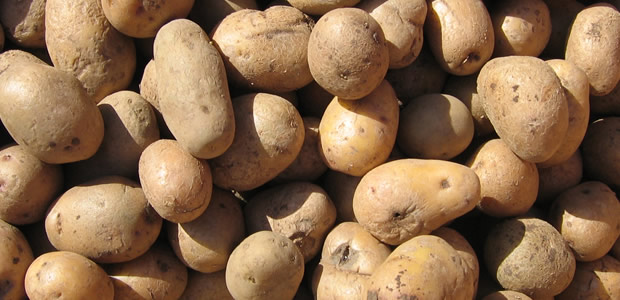 [By Jenna Said]
Recent austerity measures in Europe have led us to rethink our beauty regime. Interestingly, there is no shortage of beauty fixes that can be derived from simple groceries sitting in our kitchen. For beauty on a budget, look no further than your humble spud. Do not be surprised, potatoes are not only good to eat they are also blessed with a myriad of beauty benefits. Let us share how you can revamp your complexion with the humble potato.

Banish Dark eye circles
Banish dark eye rings easily by using potatoes juice or potatoes directly. Cut some slices of raw potatoes and use them as a natural under eye brightener. Apply slices of potatoes over your eyes for 15 to 20 minutes. Then wash with warm water in the end. Do this regularly and your dark circles will vanish. You have nothing to lose except dark eye circles.
Restore Grey Hair
Here's how you can brew your own hair tonic. Peel your potatoes, keeping only the potato peelings for your hair treatment. Place the potato peelings in a pan with enough water to just cover the peelings, bring to the boil. Strain the mixture, keeping the water from the pan in a tumbler or glass. Wash your hair as normal but rinse your hair with your potato peelings water. This works by darkening your grey hair back to its natural colour. Follow this religiously for every alternate hair wash for optimal results.
Wrinkles
You may be surprised to know that potato is considered as a very effective anti-ageing beauty aid. To ward of wrinkles and slow down the hands of time, try washing your face with potato juice. What's best? It gives your skin a nice glow as well!
Facial Blemishes
If blemishes are the bane of your existence, battle them using the wholesome goodness of potato juice. Use potato juice as your daily facial rinse. It will help fight off nasty zits that leave your skin looked flawed and blemished.
Sunburn
If being under the sun has left you with a nasty burn, try this skin soothing home remedy. Apply grated potato or potato juice to the affected areas. This potato mix will soothe skin and speed skin healing.
Face Whitening
For those of you who covet a smoother, fairer complexion, look no further. This homemade potato mask can brighten complexion and lighten unwanted spots. Apply a grated raw potato as a mask by rubbing the potato on your skin. Leave the mask on for 20 minutes and then rinse off with lukewarm water. What's more, potatoes are natural astringents, helping to absorb the excessive oil from your face, and giving your skin a natural radiance.
You might also like: