[By Claudia Lin]
You know the old adage: you are only as old as you think? It's actually true that ageing is all in your mind. Look around you and you'll begin to see a beauty revolution in its making. Women are no longer looking their age!
Who says you have to look your age in the first place? Age is after all a number. There are many ways you can slow down the effects of time as well as reverse some telltale signs of age. And why not? Women are increasingly empowered to look and feel their best.
We all know there are several factors influencing how quickly our skin ages, ranging from genetic factors, your natural skin type, as well as external factors such as exposure to sunlight, environmental factors and whether you smoke or not. While we can't do much about our genetics, we can do plenty about the other external factors that lead to ageing. The trick is to start early; prevention is better than cure.
The vibrant 20s
With the acne-prone stage of adolescence behind them, women in their 20s can look forward to a more radiant and well-toned skin. However, this is not the time to be complacent as skin cell renewal starts to drop, dead skin cells are not as easily shed and external factors are starting to have an impact, leaving your skin slightly duller. Non-invasive aesthetic procedures can help to improve the health and texture of skin, reduce the appearance of acne scars, sun damage and other skin problems that can appear during adolescence. This is the best time to start a skincare regime and maintenance which will lead to the foundation of younger looking skin in future.
Major skin woes: Acne
Solution: Start with a good beauty regime that includes a good makeup remover and a foaming cleanser. Try products containing effective anti-acne fighters such as benzoyl peroxide, salicylic acid and retinoid to keep your skin clear and your comedones at bay. We like Epicuren's medicated acne gel for its no nonsense formulation.
If your zits are stubborn, go for a thorough cleansing with a professional. No squeezing or extractions please! We love Clean & Clear program (SGD$900) at The Sloane Clinic which is a program of eight effective deep exfoliation, skin-clarifying facials to boost skin clarity without extractions.
More info – click here
Major skin woes: Dull skin
Solution: Dead skin cells do lend a dull, lacklustre appearance to complexions. Women in their 20s may undergo periods of hormonal flux, late nights and emotional turmoil that lead them to neglect their skin. The good news is that young skin is responsive to simple treatments, so start early to keep skin soft and supple. Try Microdermabrasion to exfoliate dead cells and keep skin sparkling clean and bright. Microdermabrasion uses a fine stream of inert microscopic crystals against the skin to gently exfoliate the epidermal layer and promote a thicker healthier dermis while smoothing and refreshing the skin.
The active 30s
By the time you get to your 30s skin cell turnover has slowed, yet your life has not. On top of juggling life, work and kids, environmental damage from pollution, smoke and sunlight starts to take their toll on the dermis, causing collagen fibres to loosen, skin becomes less firm and may feel drier and your first wrinkles on the forehead, crow's feet may start to appear.
Major skin woes: Crow's feet.
Solution: there is nothing that gives a woman's age away more than lines at the corner of the eyes. If you suffer from crow's feet, we have good and bad news for you. The bad news is that we have not found an cream effective enough to eliminate these pesky lines. The good news is that Botox can easily solve this problem for you. Botox when done by experienced doctors can lead to diminishing of these wrinkles and lines with little side effects and downtime. In fact, many women say people around them do not realise they have had Botox done at all!
More info – click here
Major skin woes: Squaring of the face due to teeth grinding
Solution: Women in their 30s face a myriad of stressors in their daily life. One common symptom of stress is teeth grinding. Some women may not even be conscious of their teeth grinding habit, as they will do it in their sleep. However, most will notice the eventual effects on their face as their jaw muscles enlarge and lend their face a squarish appearance. This masculine square face appearance can detract from the beauty of a female face. Botox again is the versatile beauty arsenal employed to treat teeth grinding and simultaneously slim down the face.
Major skin woes: Nasolabial lines
Solution: The nasolabial line is the prominent line that extends from the nose to the corner of the mouth. Its appearance makes a person look older and sadder. This is due to a loss of collagen in the face. Natural hyaluronic acid filler injection such as Restylane or Juvederm can be used to fill in the lines, replenishing the lost hyaluronic acid in the skin and restoring the face's youthful contours, and suppleness.
The resilient 40s
This is the time when collagen fibre decrease in number, stiffen and break apart. Elastic fibres lose some of their elasticity, the result is skin becomes more fragile, causing crevices, furrows and wrinkles to form. Skin feels dry due to a reduction in oil production. In addition, loss of fat in the subcutaneous layer leaves skin more fragile, whereas the dermis will continue to lose its elasticity, causing a loss of facial contour. Accumulated sun exposure further leads to blotchiness and dark spots.
Major skin woes: Frown lines and worry lines
Solution: Years of worrying for the kids and the family have finally taken their toll, in the form of deeply etched lines on the forehead and between the brows. Erase these depressing lines with Botox. Be careful not to overdo Botox in this area as it can lead to a stiff expression. Communicate well with your doctor about what you would like your result to be, and less is more in this area. You want to look younger and not stiffer.
Major skin woes: sagging skin
Solution: there is no escaping this one. Sooner or later, you are bound to notice saggy bits creeping up to your previously taut visage. If surgery is not something you want to consider, then opt for some non-invasive help.
We like: The Sloane Clinic's 3D Facelift program ($10,040) which combines the effects of Ulthera (ultrasound) and Thermage (radiofrequency) to provide intense lifting and youth enhancing effects, giving you a non-surgical facelift effect. Ulthera treats deep layers of collagen to give the skin a deep and intense lift, fighting the effects of gravity and age effectively. Thermage works wonders to smoothen, strengthen and tighten the collagen fibres in the middle and superficial layers to give your visage the firmness and radiance of youth. Results are firmer, tighter, smoother skin texture and a more defined facial contour that can last to more than a year in a single treatment.
More info – click here
Major skin woes: brown spots
Solution: Don't fret over brown patches. They can appear due to UV exposure as well as hormonal changes. Whatever the cause, protect your skin with a good sunscreen.
We like:  Shiseido's UV protection cream SPF 3% for its soft, non-greasy texture and its efficient sun protection. It shields both UVA and UVB, something you should look for in every sunscreen.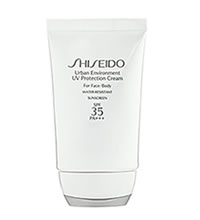 You can also fight brown spots with an effective skin lightener. We like: Dr Murad's rapid age spot and pigment lightening serum! It has a powerhouse of ingredients such as hydroquinone and hexapeptide-2, known for its effective, no-nonsense anti-pigment properties.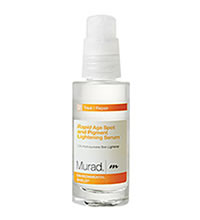 You might also like: