[By Lydia Greene]
#1 Nars Beach Lover USD$49
What it is:
A five-piece travel-size gift set for eyes, lips, and cheeks.
What it does:

This set includes iconic NARS shades for an idyllic island glow, including a limited-edition shade of Laguna lip gloss.
What it contains:
– 2 x 0.085 oz Blush Duo in Hungry Heart, Orgasm (gold ivory/ peachy pink with golden shimmer)
– 0.07 oz Soft Touch Shadow Pencil in Skorpios (iridescent copper)
– 0.14 oz Lip Gloss in Laguna (bronze)
– 0.57 oz Illuminator in Laguna (brown with golden shimmer)
#2 Sephora Sunkissed Glow Essentials USD$22

What it is:

A bronzer and body mist duet for a summery, head-to-toe glow. What it does:
Look beautifully radiant all over with this two-piece set for face and body. Sweep the Aruba-inspired bronzing powder over your cheeks for a gorgeous complexion and a sunny, even skintone. The self-tanning mist instantly illuminates skin and the easy-to-apply spray bottle ensures streak-free results. The formula includes glycerin, smoothing peptides, and argan oil to moisturize skin and provide you with a healthy and hydrated, sunkissed look.
What it contains:

- 5 oz Tinted Self-Tanning Body Mist

- 0.3 oz Bronzer in Aruba-Tan
#3 BareMinerals Wanderlust Tropics Collection

What it is:

A six-piece color collection plus a paisley-print cosmetic bag. What it does:
Get whisked away on a tropical adventure awash in vibrant color. This eye-catching collection combines opaque brights and shimmering hues inspired by a hot Caribbean night on the town. With glistening coral and violet eyes, lips of sheer fuchsia, and a sunkissed complexion, you'll easily be mistaken for a local exotic beauty.
What it contains:
– 0.1 oz Prime Time™ Primer Shadow in Coral Reef
– 0.02 oz Wild Orchid Eyecolor
– 0.04 oz Round The Clock Waterproof Eyeliner in 6 PM
– 0.07 oz Faux Tan Matte All-Over Face Color
– 0.02 oz Tropical Radiance All-Over Face Color
– 0.08 oz Double-Ended Natural Lipgloss in Papaya Smoothie and Pink Guava
– Paisley-print zippered cosmetic bag
#4 Lorac Wild For TANtalizer® Collection USD$39

What it is:
A limited-edition set of summer must-haves
What it does:
Unleash your wild side with Lorac's Wild For Tantalizer Collection! This limited-edition set contains all the warm-weather must-haves including an eye shadow quad with shimmering gold and bronze eye shadows, a limited-edition animal-print face bronzer, TANtalizer Lips With Benefits Gloss in a super sexy peach-bronze shade, and an exotic canvas bag with animal-print details.
What it contains:
– 0.37 oz Wild For TANtalizer Bronzing Powder
– 4 x 0.08 oz Wild For TANtalizer Eye Shadow Palette
– 0.19 oz TANtalizer Lips With Beneifts Gloss in Raoul
– Canvas makeup bag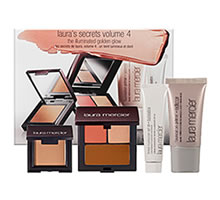 #5 Laura's Secrets Volume 4 The Illuminated Golden Glow USD$68
What it is:

A limited-edition four-piece set for giving the skin a healthy, radiant, golden glow.
What it does:
Create beautifully bronzed summer skin with this collection that includes a booklet on Laura Mercier's own tips and tricks for achieving a sunkissed glow.
What it contains:
– 1 oz Foundation Primer-Radiance
– 0.5 oz Tinted Moisturizer SPF 20
– 0.27 oz Bonne Mine Trio (2 x 0.07 oz Cheek Veil in Pink and Pearl Glow, 0.14 oz Bronze Veil)
– 0.13 oz Bronzing Pressed Powder in Dune Bronze
#6 MODELCO TAN MOUSSE 180 ML USD$36.00
What it is:
The self tan moisturizing formula in TAN MOUSSE leaves skin feeling nourished & silky soft, whilst the innovative fragrance technology locks out any chemical odors, so there's no tell-tale 'fake-tan smell' – instead skin is left with an irresistible Caramel scent.
What it does:
Tan Mousse contains an instant bronzer so you can see where you are applying it, is quick-drying, non-sticky & won't rub off onto clothing.
What it contains:
TAN MOUSSE contains 6% DHA (the highest amount of tanning agent we've ever used!) & Caramel Extract for its unrivaled natural colour. Forget spray tanning and traditional tanning lotion, TAN MOUSSE is super-easy to apply whipped-cream texture formulation that melts into the skin quickly & effortlessly, spreading evenly for streak-free results, every-time.
#7 Stila One Step Bronze USD$36
What it is:

A swirl of three bronzers that gives skin an instant sunkissed glow.
What it does:
Energized with Stila's exclusive Youth Revival Bio-Available Mineral Complex™ One Step Bronze reads and reacts to the skin's needs and immediately goes to work to improve skintone, even out the complexion, and smooth the appearance of fine line and wrinkles. The oil-free, triple-helix formula contains three illuminating bronzers that work in tandem to bronze, illuminate, and create a gorgeous glow.
#8 Josie Maran Beautiful Bronze Kit USD$36
What it is:

A five-piece kit for achieving a gorgeous glow the natural way.
What it does:
This set comes with everything you need to create a radiant bronze all year round. The revolutionary bronzer imparts a beautiful and natural sunkissed glow while helping reverse the signs of sun damage with vitamin C and Bearberry extract. The daily moisturizer blocks harmful rays and is perfect for face, neck, and dècolletè. The volume-boosting mascara naturally plumps and curls for maximum lash drama and the lip gloss imparts a glamorous high-shine factor.
#9 Benefit Legally Bronze $USD38

What it is:

A kit containing all the products needed to create a gorgeous bronzed look.
What it does:
Bronzed & beautiful—Gild-y as charged! This mini-makeover kit has everything you need to look bronzed to perfection.


What it contains:

- 0.45 oz High Beam (luminescent complexion enhancer)
– 0.28 oz Hoola (bronzing powder)
– 0.08 oz Gilded (tangerine gold highlighter)

- 0.19 oz BADgal Brown (deep brown mascara for mile-high lashes)
#10 New American Beauty Art Print Set USD$175

What it is:
A collection of limited-edition prints by Kat Von D and a four-piece set of her core beauty products.
What it does:

Bold and beautiful, this set of special prints by Kat Von D was inspired by her vision of the true elements of beauty: altruism, wisdom, strength, and independence. Each piece features iconography that mirrors the work produced in Kat's world-famous, West Hollywood tattoo shop, High Voltage Tattoo, and the art created for her beauty line. This art set comes accompanied by four of Kat's beauty essentials, including a sassy eye shadow palette, candy-apple red lipstick, her signature Tattoo liner, and a rollerball of her sultry fragrance, Sinner. 

The collection as a whole represents Kat's depiction of the "New American Beauty," who she defines as those unafraid to express themselves as individuals and exemplify beauty that surpasses today's superficial definition.
What it contains:
– 5 x New American Beauty Art Show prints in New American Beauty, Altruism, Wisdom, Strength, Independence (New American Beauty: 16.25 x 20″; all others: 12.125 x 18.125″)
– True Romance Eyeshadow Palette (8 x 0.005 eye shadow in Saint in Heavens, Enjoy The Silence, <3, Downtown, Sunny, Pray For Me, Bookworm, Caravaggio)
– 0.11 oz Foiled Love Lipstick in Adora
– 0.33 oz Eau de Parfum Rollerball in Sinner
– 0.55 oz Tattoo Liner in Trooper
You might also like: