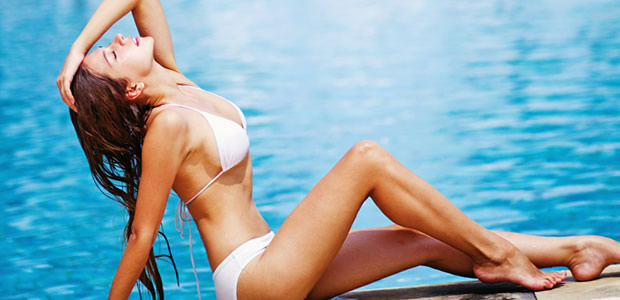 [By Gemma King]
Studies have shown that, when it comes to fighting wrinkles, sunscreen is the most potent weapon, more powerful than Retin-A and antioxidants alone. The problem: according to a new survey by the American Academy of Dermatology, only one in seven Americans wear sunscreen daily. Despite its ability to protect skin, the topical shield has a reputation for being oily and pore-clogging. We test out some of the smartest sunscreen products to help you save face without compromising on style and comfort.
Here are some simple steps you should take when choosing your perfect sunscreen. Consider this:
Check ingredients. Oxybenzone may interfere with hormones in the body, and nanoscale zinc and titanium oxides have been linked to potential reproductive and developmental effects. In skin, retinyl palmitate converts readily to retinoids, associated with a risk of birth defects in people using retinoid-containing acne medications. Pregnant women may want to avoid products with retinyl palmitate, noted in the Ratings.
Spray carefully. The FDA has said it is exploring the risks of inhaling spray sunscreens. Avoid using sprays on children, and spray sunscreen onto your hands to apply it to your face.
Use enough. Use 2 to 3 tablespoons of lotion on most of your body, or spray as much as can be rubbed in, then repeat. Reapply every 2 hours and after swimming or sweating.
Bottom line. Any sunscreen you use should ideally be water resistant, with an SPF of at least 30. Above 30, you get little extra protection. See our story on getting the best sunscreen for babies and kids for more information about choosing products for them and how to apply sunscreen properly.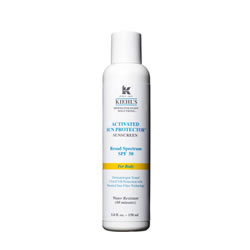 Best Eco & Skin friendly sun warrior
Kiehl's new Activated Sun Protector Sunscreen Broad Spectrum SPF 50 might be labeled for body use, but it's actually great for the face too! According to the company, the oil-free, paraben-free sun block is non-comedogenic and won't clog pores; it also has anti-aging goji berry, vitamin E, and einkorn wheat.
Best youth-enhancing formula
Olay Total Effects Tone Correcting UV Moisturizer landed in stores this spring and promises to even skin tone with its tinted, niacinamide-packed formula. (Niacinamide, or vitamin B3, reduces redness and improves elasticity.)
Best Makeup + Sun Protector
Physicians Formula Mineral Wear Talc-Free Mineral Airbrushing Pressed Powder SPF 30 gives skin a flawless finish and infuses it with loads of anti-aging plant extracts.
Best Natural Skin Duster
Bare Escentuals bareMinerals SPF 30 Natural Sunscreen is a mineral powder sunscreen for the face and body that comes in a portable, leak-proof brush. Made to be a weightless, breathable formula that won't clog pores or cause breakouts. The Micronized Titanium Dioxide mineral physically shields against UVA/UVB rays to help prevent premature skin aging and sun damage. Plus, it's infused with healthy vitamins, Aloe Vera Extract, and antioxidants to nourish and soothe sun-exposed skin.
Best No-Nonsense Oil-free Spray
This broad-spectrum protection against UVA/UVB rays is not only waterproof upon application, it is also hypoallergenic, non-greasy, paraben free, which means it is suitable even for uber sensitive skins.
Twist-and-lock cap means no leaking when packing for your trips, just throw it in your luggage and go!
Best Sunscreen for Water Sports
This SPF 50 sun warrior is specially formulated to be applied on wet or dry skin! No more toweling dry before a fresh application of sunscreen, now you can spray and go in between dips in the ocean. Protects against UVA/UVB, and is sweatproof and waterproof. Continuous spray mechanism makes application a breeze.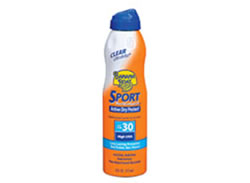 All-round Sun Protector
One of the top scorers on Consumer reports, Banana Boat® UltraMist™ Sport SPF 50 Sunscreen goes on clear for quick-drying, rub-free coverage with one touch. The advanced formula has AvoTriplex™ technology for photostable, high UVA & UVB protection that won't break down under the sun.
You might also like: