[By Alice Greene]
Nail art is a simple and effective way to let your creativity go wild and get yourself a set of embellished nails with little effort. With a wide variety of nail art stickers and accessories out there, you can easily give yourself a DIY manicure that looks like a million dollars for under $10.
Armed with this challenge, we scouted shops and the internet for our top nail art picks. We love:

Sephora by OPI
USD$5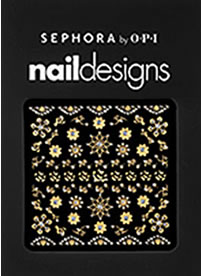 Choose from this collection of nail art stickers to jazz up your fingertips and toes. Designs range from holographic and bejeweled effects to decals, crystals, rhinestones, stars, hearts, and more! Our favourite is this gold floral motif that goes well with a bronzy or nude shade that complements a sunkissed tan.
Pro 3-D Nail Decals Precious Petals

USD$3.99
This 3D nail art with a vintage feel goes well with natural, gel or acrylic nails. It complements designs with a girly vintage feel and is perfect for weddings and other romantic settings. It evokes a sense of old age glamour and nostalgia when paired with pastel shades.
Nail Tattoo Stickers
$2.49
These made-in-Germany nail tattoo stickers are a godsend for those who wants a salon finih without the hassle. Its relatively economical pricing means you don't have to worry about screwing up. The stickers go on easily and comes in different shades from mysterious black to gorgeous lilac. Our fav is this cherry blossom inspired oriental design that stands out on fair skins.
Nail Tattoo Stickers
$2.49
We couldn't resist featuring the  same brand twice as we loved the funky tongue-in-cheek design of their latest offering. If you love nail art yet detest floral designs, then this one may be right up your alley!
Watch this space for more gems for your nails!
You might also like: