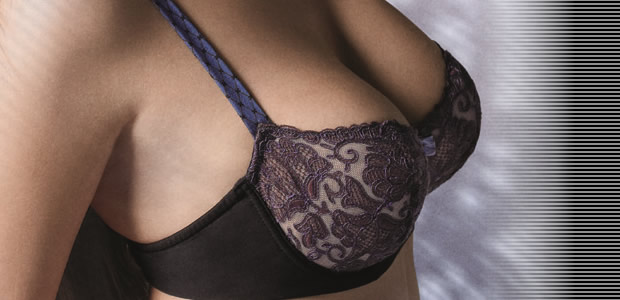 [By Michelle King]
Men really do love breasts, especially big, sizeable ones. When it comes to this part of the female anatomy, size really does matter. Some may think it's juvenile to obsess so much over a pair of fat filled appendages, but there are many stories out there which support the collective theory that breasts are just plain awesome.
In 2008 the Vietnamese government was seriously considering banning all females whose chests measured less than 28 inches from riding their motorbikes on public roads. Allegedly this was a bid from the Ministry of Health aimed at making sure that the people behind the handlebars remain healthy, but it's quite obvious that they were just trying to pressure the women into getting boob jobs (or so we speculate).
In fact, history is littered with interesting facts about breasts and brasseries, here are a selection for you to ponder over:
Fun Facts
Speaking of breast obsession from East Asia, the inventor of the first non-invasive breast augmentation procedure that probably works, hails from Japan. For a number of years now Dr. Hideto Tomabechi has been preoccupied with 2 things: sounds and breasts, and not always in that order. In 2008 he combined his 2 passions into the "Rock Melon" – a ringtone which supposedly causes titties to gain in size if you just listen to it.
Dr. Tomabechi has designed the "Rock Melon" sound to carry with it a subliminal cry of an infant child, which allegedly works on a woman's brain causing it to instinctively switch to motherhood mode, making her chest jugs fill with milk. After listening to the tone 20 times a day for a couple of days, one of the good doctor's test subjects reported her breasts grew in size by almost an entire inch!
The only question in every hot-blooded male's mind is: why aren't we feeding this sound through every loudspeaker in the country?
A degree in Bra Studies at the Hong Kong Polytechnic University teaches you how to design and build a bra.
The late French porn star Lolo Ferrari has the world's largest breast implants. During her lifetime, she had more than 22 surgeries to create her 73 inches round breasts! The Guinness Book of Records recorded that each of her breasts weighed 6.2 pounds and contained three liters' of saline. Her original bust size was a 37 inches.
Push-up bras received significant attention in 2000 when actress Julia Roberts (Erin Brockovich) enhanced her bust with an Ultimo push-up bra containing liquid silicone gel.
Common Braless celebrities – Singer Miley Cyrus has been noted for appearing in public on frequent occasions without a bra, and even announced via Twitter that she does not wear one. Other celebrities noted include Britney Spears, Lindsay Lohan, Mischa Barton, Meg Ryan, Paris Hilton, Lady Gaga, and actress Tara Reid.
In 2006, the average American woman owned six bras, one of which was a strapless bra, and one in a color other than white. Consumers spend around $16 billion annually on bras.
Victoria's Secret was sued in 2009 for defective underwear containing formaldehyde that caused severe rashes on women who wore them.
The world's biggest strapless bra, described as a 'triumph of textile' by its makers, stands at a prodigious size 42K – comparable to a dress size 26. The bra claims to accommodate the bosoms of some of Britain's women. It is an entire three sizes smaller than the biggest strapped bra on the market which comes in a size 48N – created by Rigby & Peller, the Queen's underwear retailer.
With that in mind, the notion that breasts are vital to a woman's sensuality is undisputed. To maximize these assets, it is vital that you house them in a good-fitting bra. It is amazing how many women do not know how to size themselves for a good bra. Here are some tips to ensure you do your assets proud.
Here's how to find your correct bra size:
1) Measuring the band size
Measure the length (inches) around your chest beneath breasts snugly with arms down
With a proper fit, you should be able to comfortably insert 1 finger under the band on each side, front and back. If the band rides up in the back, it means the bra band is too large.
2) Determining the cup size
The cups should not force the breasts toward the sides or the center. The center portion of the bra should lie flat against the chest wall between the breasts. The underarm area should lie smooth without cutting into the flesh.
3) Trying on the bra
Put arms through the straps and lean forward to ensure your bust falls into the cups. Fasten the bra on the largest set of hooks and eyes – it should fit on the biggest adjustment.
Still leaning forward, take hold of the underwire and adjust them to ensure that your whole breast is enclosed. The underwire must lie flat against your rib cage. Slip your hand into each side of the cup and lift each breast towards the centre. The accurate cup size should be completely filled up with no wrinkling of the fabric or any space in the cups or any bulging.
Ensure that the straps are adjusted appropriately so that they stay in place and do not cut into your skin. You should be able to place two fingers under the strap.
The band should be firm enough for the bra to be supportive without weighing heavily on the shoulder straps. You should be able to run your fingers around the band, but no more than a fist.
You might also like: