[By Jane Wong]
Plagued by gaping, open pores the size of craters? Now, science has mercifully come up with effective beauty solutions to give you "closure" to your "porous" woes. While our pore size is genetically determined, there is something we can do to fight our genetic imperfections. This beauty arsenal of pore-reducing fixes is all you need if you covet a smooth, poreless visage.
Botox
Botox has long been mistaken to serve wrinkles and lines only. The fact is that Botox when done as a Mesobotox procedure can reduce oil production ad minimize pores. Mesobotox is a technique where dilute doses of Botox are applied in teeny, weeny pricks across the skin of your face. It works wonders to put an end to oily skin, thereby reducing the overall appearance of the pores.
Ouch factor: 3/5
Longevity: one session will give you skin lifting and complexion mattifying results lasting 3-4 months. For the super-oily, consider two sessions to get the problem in check.
Laser Peels
Laser peels were popularized by Korean beauties who coveted smoother skins. A carbon mask is applied to the skin, infiltrating the pores like secret agents in a drug raid. The laser energy then activates the carbon mask to shrink pores by encouraging collagen growth and maximal skin renewal.
Ouch factor: 2/5, the popping sound of the carbon mask can be slightly  disconcerting so get those cotton ear plugs ready.
Longevity: Best results after a series of 3-6 sessions, depending on how hopelessly "porous" you are.
Chemical Peels
A return to the good old days. Chemical Peels surged in popularity before the advent of lasers, and was the gold standard for minimizing pores, lightening pigmentation and solving a myriad of other beauty flaws. For those who shun the expense of lasers yet harbor a fear of all things sharp, chemical peels do have a lot to offer. A good swab of glycolic acid or Jessner Peel will exfoliate a healthy layer of unwanted dead cells, mopping up surface sebum, encouraging disobedient pores to close.
Ouch factor: 2/5, slightly stingy so get a fan ready.
Longevity: 1-4 weeks. You will be flaky for a few days after and your skin will glow about a week after the peel, so schedule all hot dates accordingly.
Fraxel Restore
For the no-nonsense, result-oriented gal, look no further than Fraxel Restore. This technological marvel uses fractional laser beams that surpasses both the chemical peel and laser peel to deeply renew your skin. Surface imperfections from marks, spots and pores are erased in one fell swoop. The only price is the downtime of facial flushing that may keep you out of action for 3-5 days after. But judging from the outstanding results, this could be a small price to pay.
Ouch factor: 4/5, there is some prickly sensation involved, ask for heavy duty numbing cream to ease the discomfort.
Longevity: One session does produce some pretty good results but nothing beats a series of 5 sessions to permanently wipe out acne scars and other skin imperfections.
Mattifying Makeup
So you want smoother skin, but you don't want to step into a doctor's office.  Don't despair, there are a few tricks up our sleeve that could help you fake a flawless complexion from the comforts of your home. Choose mattifying skincare that will reduce sebum production and fill in skin surface unevenness.  Follow up with a makeup primer to ensure that your makeup glides on smoothly, key to a flawless looking complexion. Top it off with oil-abosrbing makeup such as oil-free foundation and loose powder to give your skin the best chance to shine without the "shine". Our top picks:
Sloane Inc Multivitamin Booster
This silky wonder gel is enriched with antioxidants and vitamins to ensure your complexion stays healthy and fresh. Illuminating skin primers act as an invisible veil for the skin — lifting, toning and sealing in moisture while protecting skin against pollution and free radical damage.  This is the perfect skin treatment cum skin primer before foundation and makeup.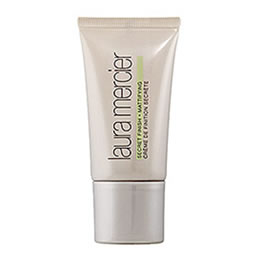 Laura Mercier Secret Finish Mattifying
Primarily for touch-ups throughout the day over makeup, this innovative formula 'soaks up' facial oil and mattifies the skin on contact. The lightweight gel removes shine for hours, leaving a translucent, matte finish. It's gentle enough to use over or under any foundation, making it perfect for any touch ups during the day, rain or shine!
Makeup Forever Duo Mat powder Foundation
Provides a shine-free finish that covers blemishes and other imperfections and perfectly evens out the skin tone, this mattifying wonder provides a flawless finish that is photo perfect from every angle.
You might also like: