[By Ashley Keller]
At 18, all celebrities look like a bundle of energy regardless of their lifestyles, at the top of their game with the world at their feet. Fast forward a few years, and things seem to fall apart for some while the star continues to shine brightly for others. Why has time been kinder to one than the other? What plays a bigger role when it comes to one's looks? Genes or lifestyle? History has shown that even if one was genetically blessed with drop dead gorgeous looks, that's no guarantee of a graceful ageing process. It seems that our lifestyle 'crimes' will catch up with us sooner or later, and for some of us who live life in the fast lane, sooner rather than later.
We look at pairs of celebrities of the same age and get our beauty panel of expert makeup artist Julia M and aesthetic doctor of The Sloane Clinic, Dr Kee Yong Seng, to help us decipher what separates one celebrity from the other in the ageing race.
Chris Rocks vs Charlie Sheen – 47
Chris Rock was born 7 Feb 1965 which makes him 47 this year, the same age as his fellow actor Charlie Sheen.
Julia M: In this case, it is not so much about what Chris Rock did right to stay youthful-looking but what Charlie Sheen did to destroy his looks in a hurry. A history of alcohol and drug abuse has certainly taken its toll on the appearance of this once boyish looking actor. This just shows that whatever genes you may have been blessed with is no defense against the toll of hard partying, alcohol and drugs. All of us pay the price of our sins, and usually on our face.
Dr Kee YS: Being darker skinned is a defense against ageing in itself. Darker skinned individuals have an inherent protection against UV rays and tend to age slower. Fairer skinned individuals should always wear sunscreen daily to ensure their skins are well protected. Charlie Sheen does look older than his years because of his facials lines and general laxity of the skin. However, he does have a boyish charm about him and will do best with minimal cosmetic enhancements that will allow him to retain his expressive charm. I would recommend Ulthera non-invasive skin tightening to lift and firm his facial skin, yet allowing him to look natural.
Hilary Duff vs Florence Welch – 25
Florence Welch and Hilary Duff are both 25 but with very different complexions. One is a blonde while the other a redhead. Does our hair colour have anything to do with how we age?
Julia M: Both ladies are still relatively young but it is already clear that Hilary may have a headstart on retaining her youthful radiance over Florence.
Kee YS: Redheads are prone to freckling and sun damage so sun protection is again vital. I think both ladies still look very attractive in their own ways, but granted that they are still in their twenties. However, you can already see Hilary looking more youthful than Florence who may be mistaken for someone on her late twenties or early thirties. This is in part due to her strong square jawline which gives her a masculine, slightly older appearance. Botox of her masseters (jaw muscles) will help soften her look considerably, slimming her overall facial shape and giving her a more feminine facial shape.
Brigette Bardot 77 vs Joan Collins 79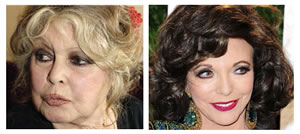 Looking at the photos, it's hard to imagine Joan Collins as the older of the pair especially since the latter has never enjoyed the international 'sex kitten' status of the former decades ago. How the tides have shifted…
Julia M: Brigette has definitely let herself go over the years. She is a walking example of how transient youth and beauty can be, how it can slip away so easily without maintenance and care. It's a lesson to all ladies not to neglect their appearance even when they are young. A good skincare regime, sunscreen and preventive aesthetic treatments such as lasers are the least you can do if you are serious about preserving your looks.
Kee YS: Joan Collins looks fabulous, though on closer inspection and without her makeup on, it may be obvious she may have done a little too much with her face. Nevertheless, she looks stunning for a 79 year old and certainly puts many younger women to shame. Brigette shows obvious signs of skin sagging and cumulative sun damage. The wrinkles around her mouth may be a sign of someone who smoked; this adds years to her already ageing appearance. A touch of fillers to her lips and light Botox to her peri-oral lines may instantly rejuvenate her appearance.
* Julia M is a freelance makeup artist based in Kuala Lumpur Malaysia.
* Dr Kee Yong Seng is an aesthetic doctor with the renowned The Sloane Clinic chain of clinics. He practices in the bangsar branch of The Sloane Clinic in KL, Malaysia. More information can be found at www.sloaneclinic.com
You might also like: