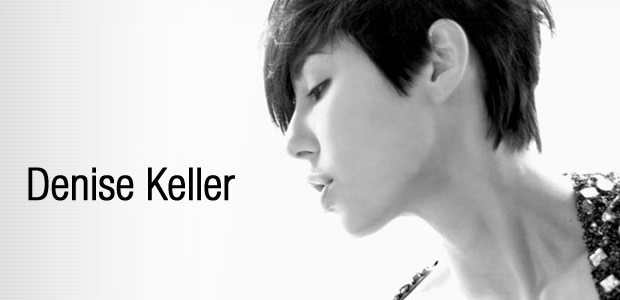 [By Tania Allson]
Don't you just wish you had the body (and lifestyles) of the rich and famous. Effortlessly slim and impossible toned, these A-listers seem to radiate health, youth and vitality wherever they go.
Camera-trick or just pure hard work? We catch up with celebrity TV host, Denise Keller who jet sets around the world on a madcap filming schedule and beg her to impart some body slimming secrets to us.
Tania: I know this may sound impossible to your readers but is there one body part you dislike the most?
Denise: Every woman tries to hide some kind of unsightly body part with her   clothes. "Wear black, it makes you slimmer!" they say, but the truth is, every morning, you wake up to find it staring right back at you in the mirror. I can relate to that everyday. All I have to do is turn around and tell myself 'droopalicious' is OK, like some kind of mantra to get through my day. What was once perky is now droopy. Yes, my butt doesn't look or feel 20yrs anymore. Neither do my inner thighs.
Tania: That is just crazy! You look perfect to us! Seriously, what sort of exercise regime do we have to follow to get a body like yours?
Denise: I exercise everyday and run for an hour at least to get my heart pumping. I do this because I love to go out for great dinners with friends and family. So I never really hold back on my diet, which means I need to work even harder at my body. Sometimes, when I'm really motivated on weekends, I do a full cardio session with weight training and conclude it with a good cat stretch on the mat. Yoga keeps me focused in my job. I love to exercise when my schedule permits but I rarely have a regular schedule on the road!
Tania: Oh my god! An hour of cardio? I am not even sure I could sit for an hour! But what if you are on the road and unable to hit the gym, what are some tricks you employ to stay in shape?
Denise: I travel sometimes with resistance bands. They come in all strengths and lengths. They don't take up too much space in my suitcase and they're really easy to use to tone biceps, triceps and other parts I may need to pep up before a shoot or an event.
I also find it quite useful to use pool towels to do my yoga stretches in my room. They're as long as yoga mats and really useful when you work up a good sweat.
Tania: You're inspiring me; I'm ready to hit the gym after this! Besides working out, tell us the truth, are you on any impossibly restrictive diet we hear so many celebs are on?
Denise: The only dietary restrictions I hold is to avoid all things white: white sugar, white pasta, white rice, white flour…I have learned that you can have carbs for fuel but being sensible with carbs gives you extra mileage. Your carbs are meant to give you fuel, but it's also meant to give you good fiber, and other nutritional value. So it's my new thing, I can't say no to pasta but I can say yes to whole-wheat pasta (laughs).
My other secret is Quinoa- it's a beautiful grain that is high in protein and very fibrous. It's super yummy in salads.
Tania: That's sounds like fabulous dietary advice that I am sure many of our readers can adhere to, thanks for that!  You know how many celebs deny going for beauty treatments… do you undergo any beauty treatments to help you stay in such fabulous shape?
Denise: I recently discovered Coolsculpting at The Sloane Clinic and I'm shockingly surprised to see results. I had never tried any body treatment before and was getting annoyed with my workouts not being as effective as they were in my 20's. I had tried pretty much everything to bust fat around my inner thighs and yoga stretches to tighten my buttocks, but nothing worked.
Tania: Coolsculpting? And that is a non-invasive treatment that allows you to pop in and out of the clinic without downtime? My first follow-up question would be: is it painful? And my second would be: did it work for you?
Denise: I had 2 simple and painless sessions. Coolsculpting uses cold temperatures to freeze and break down fat cells, This extremely effective, FDA approved procedure breaks down 20% of the treated fat cells every session. Isn't that just fantastic? The suction device that traps your trouble spot was rather ticklish around the inner thigh, but after a couple of minutes I got used it and fell asleep. Each session lasted only 60 minutes. The broken down fat cells is then removed by your body's own metabolism over the next few weeks. I first saw the results after a month at the swimming pool. I was pleasantly surprised to see the unflattering areas tighten so much. It was almost gone! I would definitely do it again.
Tania: Only two sessions? That sounds almost too good to be true, yet looking at you, I cannot help but believe that Coolsculpting most certainly worked for you. So would you recommend this to our readers?
Denise: My first advice would always be: hit the gym, get some regular workouts and watch what you eat. But if you want an added edge on top of that, then yes, consider non-invasive body slimming treatments like Coolsculpting. Always visit a doctor for advice, and always do your homework. Coolsculpting by Zeltiq is an FDA approved treatment that can reduce 20% of fat in every session. It worked for me but it may not be suitable for you.
So speak to your health professional before making any decision, every person has a different body type and will need different therapies. For me, I visit Dr. Low Chai Ling at the Sloane Clinic, she has been my aesthetic doctor for over 7 years and she has always taken care of all my beauty needs. Similarly, you should have your own doctor give you qualified medical aesthetic advice before you embark on any treatment.
Tania: Fantastic advice, if I say so myself. Before I let you go, please give us one tip to stay body beautiful like you.
Denise: If you are lucky like me to have a wonderful doctor at a reputable clinic like The Sloane Clinic to keep me beautiful, then you are already on the right track. The way I look at it: looking good is hard work. So why not get the best help I can find? That is why I let my aesthetic doctor at The Sloane Clinic do the work for me so I don't have to worry. I pop in once every few months for a quick consult, and do whatever I need to do to stay at the top of my game.
If you do not have a good doctor to turn to, then I suggest you do your homework, find out about options online and ask friends for recommendations. What you should not do to slim down is embark on fad diets which may harm your health and well-being in the long run.
Tania: Thank you for taking the time to impart these pearls of wisdom. We really appreciate it.
If you have a question for Denise Keller, please email us at info@readysetbeauty.com
You might also like: