Finding the perfect pair of sunglasses can be as daunting a task as finding that perfect bathing suit. First, the fit has to be proper in order for them to provide adequate coverage and protection for your eyes. Second, and far more important to me, they have to look good and match your personal sense of style.
How many times can you recall tracking down and gone all excited over that gorgeous pair of shades that Victoria Beckham sported on the cover of 'HELLO' only to realize that you can't pull off the look when you put them on? As much as you try to let your inner 'Posh Spice' do the reasoning, they just don't fit. At all. Talk about an ultimate letdown. The bottom-line lies in the fact that our face shape really dictates what style of frames look good on us, and more importantly, which ones don't.
Unfortunately, face shape is also one of those things that you don't like to own up to. It's all good when yours fit the description of an 'oval' or 'heart' shape. But who wouldn't cringe when being labeled as a 'square' face? Well if you are really bent on getting some sunglasses that fit, you will have to jump that hurdle or risk accentuating your strong angular jaws with square shaped glasses which is not a good look at all.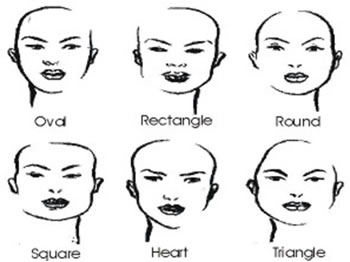 Diamond
A face is classified as diamond shape when the jaw line and forehead are narrow with the cheekbones being the widest part of the face. To compliment the wide or high cheekbones, choose oval shape or rimless glasses. Frames should be softly curved and keep them within the span of your cheekbones. Sleek, narrower ones work well by helping to widen the rest of your face.
Heart 
You might have a heart-shaped face if your jaw line is narrow and both your cheekbones and forehead are wide. When picking out sunglasses, you can go all the way out and choose those that really draw attention to your eyes. Frames with a straight top line such as classic Ray Ban aviators are great to balance out the symmetry of your face and fit you best. Up the glam quotient by choosing reflective mirrored lens.
Round  
Take heart that a round face does not equate a fat face! A round shaped face is one where the length approximates the width.  Keep in mind the goal is to find a pair of sunglasses that will help elongate the face visually and make it appear thinner. Try on frames that are equal or slightly wider than the widest part of the face. Choose from angular shapes that help to break up the overall shape. An excellent choice will be a reinterpretation of cat's eyes glasses popular in the 1950s. Avoid John Lennon kind of round glasses although they are big on trend for Louis Vuitton A/W 2012/3 collection as such shapes emphasize the roundness of the face.
Oval
Count yourself lucky if the length of your face is one and a half times the width. The oval-shaped face is widely acknowledged to be a classic beauty across all ethnic groups. Chances are you will look good in just about any style of frame of sunglasses; perhaps only limited by your personal taste and budget. Have fun with fashion forward choices that will make others green with envy. Use what you are blessed with to your advantage to bring out the best in you.
Oblong
An oblong or rectangular shape is when the face is longer than it is wide but the ratio is not 1.5:1 as that of the oval-shaped face. Try to look for frames that are on the wide side. Wraparound styles with horizontal lines tend to flatter the oblong face. Roundish frames are also suitable as they help to balance up a narrow chin or a high forehead.
Square
Often considered unflattering and too masculine looking, a square-shaped face is when the width of your face is about equal to the length. This is similar to a round face but with more angular features. Logically, one with a square face should stay away from square shaped frames. Opt for rounded and curvy styles that aim to reduce the strong, harsh angles of the face.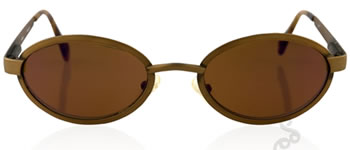 Choosing sunglasses is exciting and the above tips serve only as a guide but are not hard and fast rules. We can still attempt to put on that pair of 'summer- must- have' even when the style is incongruent to our face shape by making changes to our hairstyle, make-up and the jewelry we paired them with. It is now even possible to take things a step further by softening the lines of a square jaw and to achieve an enviable face shape with Botox injections administered to the masseter (jaw) muscles. Well, as the saying goes, "If you can't win them, join them!".
You might also like: