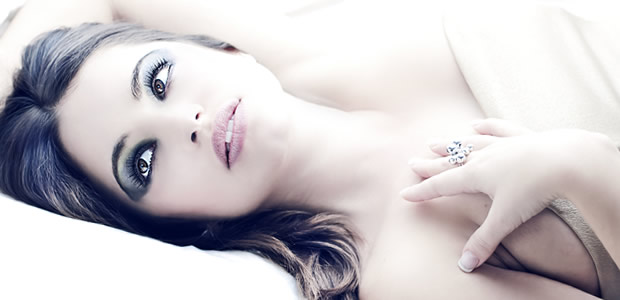 [By  Jillian Lee]
Everyone wants to put on their best face, and yours begins with your complexion. A blemish free face that's clear and dewy is the gold standard for beauty across all ethnicity. It's the fresh glow of healthy skin that's attractive; not the oily, greasy look associated with excess sebum production. Unfortunately, some of us just don't outgrow oily skin and leave that behind with the braces and bad fashion sense from our adolescent years. Getting rid of oily skin and shiny T-zone is not an easy thing to do and everyone who has it can attest to this.  So what's the secret behind that coveted clean and clear complexion?
Wash & Tone
Choosing the correct cleanser for the face is the first step to treat oily skin. Use a gel product rather than  soap or a creamy one if you are looking for good oil control. A creamy face wash tend to leave behind a residual film on the face giving it an even oilier appearance.
On the other hand, soap is way too harsh and tends to strip away all the essential oil from the face; causing flaking and itch with worsening of any existing acne spots. An active ingredient to look out for in your cleanser will be salicylic acid. Salicylic acid aims to loosen the binding of cells so that they don't clump together and block the pores. Remember not to wash your face more than twice a day. Overzealous washing will dry out your skin which will react naturally by producing even more oil.
It can also result in micro breaks in the skin surface barrier providing an opportunity for bacteria to seed, leading to inflammation and acne. After washing, prolong the oil free period by dabbing on an alcohol free toner which will help close the pores without drying the skin. An economical and highly effective option I recommend is witch hazel; although a star product and my personal favorite will be Sloane Inc's Aloe Cucumber Toner from Sloaneshop.com.
Defend & Protect
A huge mistake that people plagued with oily skin tend to make is to avoid sun protection, arguing that sunscreen tend to give the skin a sticky feel and makes it impossible to breath . Though it's partially true that people with oily skin tend to develop lesser wrinkles in life, they still need proper protection from the harm of UV rays.
Another common mistake is to shun moisturizer altogether; believing that it will trigger spots. "Even oily skin needs hydrating, especially if you're using oil-control products." says beauty therapist, Miss Noelle Tan from The Sloane Clinic at Marina Bay Sands. "It is important not to skip your moisturizer but choose one that's light and non-comedogenic so that it will hydrate your skin without clogging up your pores."
Noelle's professional recommendation:  Sloane Inc's Fruit Enzyme Renewal, Epicurean Acidophilus Probiotic Facial Cream both available from Sloaneshop.com.
Conceal & Minimize
Especially during the hotter months of the year, always keep blotting paper within reach to blot away the shine during the course of the day. Invest in one that will effectively absorb the sheen without ruining your makeup.  Invest in proper oil free cosmetics so read your labels religiously and when in doubt, always double check with an experienced sales staff that you can trust. "A trick to eliminate the shine on your skin is to use a translucent powder sparingly over your base. By using a make-up sponge, you can lightly dab on foundation with more control. Try putting it only on areas you need to conceal instead of painting a thick coat all round," suggests freelance make-up expert, Mr. Randall Richardson. "This will help even out any imperfections or discoloration without streaking. Remember, 'less is more' is cardinal when it comes to makeup for women with oily skin."
Randall's professional choice for oily skin: T. LeClerc loose powder in Translucide, Sloane Inc's BB cream (anti acne) and Sloane Inc's Sheer Mineral Powder.
Treat & Heal
Developing oily skin in adulthood can be due to underlying medical conditions that are not uncovered. An obese woman with increased facial and body hair, oily skin and menstrual irregularities might be suffering from Polycystic Ovarian Disease.
Oily skin can also be secondary to prescriptive medication such as oral steroids given to control arthritis. When in doubt, always seek proper medical attention.  Recent development in the field of Aesthetic Medicine and Dermatology has brought forth many ways to combat oily skin. "Injecting small amount of Botox intra-dermally into the skin can help close pores and balance out sebum secretion." says Dr. Toby Hui from The Sloane Clinic.
"Another excellent treatment is with the Smoothbeam 1450nm diode laser system which emits light at a wavelength that generates heat in and around the sebaceous glands; altering their structure and thereby reducing the over production of sebum."
Eat & Sleep
Food with high glycemic index(GI) can aggravate oily skin and acne. Avoiding food like white bread and doughnuts that are high in refined carbohydrates, while limiting animal and hydrogenated fats, can improve your skin condition. Make sure you drink enough water to keep you well hydrated and do pile up on your fibre intake from wholegrains and fresh fruits and vegetables.
Studies have shown that stress and lack of sleep can raise the level of inflammatory markers in your body and when the skin is concerned, this can lead to dehydration, infection and blemishes. So sleeping well and eating right might just be the cornerstones to that clean and clear visage that you wish for.
You might also like: