[By Alli Ro]
BEST ANTI-AGING BENEFIT
Anastasia ILLUMIN8 With Youthful Synergy™ Complex Bronzer USD$29
A hydrating bronzer powder that addresses aging concerns that gives skin an instant sunkissed glow without the sun. This clinically and consumer-tested bronzing powder hydrates the skin and helps to reduce the appearance of fine lines and wrinkles. Youthful Synergy™ Complex features: brown algae, a key ingredient that smoothes, firms, hydrates, and revitalizes the appearance of skin; diamond core powder, which diffuses shadows and minimizes the appearance of pores and wrinkles; sea whip extract that soothes skin; macadamia derivative, a natural hydrator capable of holding up to 300% more water; and vitamins A, B, C, E, and F. Balkan Botanical® Infusion, exclusive to Anastasia Beverly Hills, is an antioxidant-rich complex containing marshmallow leaf extract, lemon balm, bilberry extract, and green tea to soothe, soften, and hydrate skin.
Tester feedback: "A nice matte shade that gave skin a healthy glow!"
BEST FOR HINT OF SHIMMER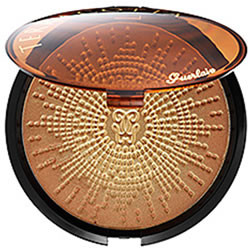 Guerlain Terra Soleia Tan-Enhancing Bronzer Face and Décolleté USD$69
A limited-edition bronzing powder that's a must-have for achieving sunkissed skin.

 This complexion-enhancing bronzing powder comes in a universal shade, suitable for all skin colours. Mixed with iridescent golden particles, the formula delivers a naturally luminous tan–sans sun! Apply Terra Soleia to face, shoulders, neck and décolleté to enhance any tan with a subtle golden shimmery effect.
Tester feedback: "Works wonders on even the palest complexions to impart iridescent pop of colour and a sexy sheen."
BEST MATTE FINISH
Lancome STAR BRONZER NATURAL MATTE Long Lasting Bronzing Powder USD$35
A lightweight, long-lasting, matte bronzing powder.

 What it does: 
This sheer and silky powder delivers a natural sun-kissed matte complexion for any season. The unique blend of mineral pigments and absorbent microspheres ensures a long-lasting smoothness and a perfect matte finish for your skin. Its smooth and comfortable texture blends effortlessly and evenly into the skin. The result is a perfectly matte yet natural-looking bronzed complexion that stays fresh and color-true throughout the day.
Tester Feedback: "This is great for applying along cheekbones, temples and jawline with an angled brush to accentuate your features."
BEST FOR HYDRATION
Smashbox Halo Hydrating Perfecting Bronzer USD$39
A revolutionary formula that imparts a gorgeous, universally flattering sunkissed glow. This advanced formulation of gold, 48 minerals, and a powerful peptide work together to perfect skin and get you glowing! And unlike most powders that are dry and cakey, Halo Bronzer's patented hydration system delivers all-day moisture for a radiant, healthy complexion. Twist the shaver to get perfect amount of powder you need for a single application and apply to the cheekbones, forehead, and to the bridge of nose and chin for a radiant bronze glow.
Tester Feedback: "Looks great even with little or no makeup on—just a swipe of mascara and lip gloss."
BEST FOR ACTIVE WEAR
Hourglass Superficial Waterproof Bronzer USD$45
An extended-wear, waterproof bronzer that withstands high humidity and extreme moisture. 
It seamlessly blends onto skin to create a natural bronze color. Oil free and long wearing, Superficial is the go-to bronzer for swimming, outdoor activities, and the summer heat.
Tester feedback: "Skin looks sun-kissed, never muddgy or dull even after a day of fun at the beach!"
BEST BUDGET BRONZER
RIMMEL LONDON Natural Bronzer USD$7.25
A no-nonsense matte finish multi purpose bronzer that glides onto skin. Simpy perfect for adding a bronzy hue onto the face or body. Non-oily formula ensures that skin looks healthy without shine.
Tester feedback: "Great as an all over powder for a sunkissed look or use on cheeks as a bronzy blusher."
You might also like: