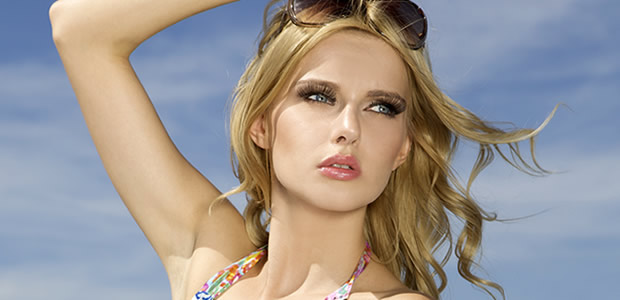 [By Sandra Soh]
Yes, you heard me right. I'm talking about a 'Pitticure', not a 'Pedicure'. It's time to put some effort into the care of our oft-neglected armpits considering the fact that a Unilever survey published in The Wall Street Journal in 2010 reported a staggering 93% of women consider their armpits unattractive. In other words, to add on to the lifelong war we women wage against crows' feet, flabby arms and chipped nail polish; it seems that there is a new body part coming under scrutiny— the armpit.
A 'Pitticure' will need to tackle the 3 main components to a pair of beautiful armpits— namely the hair, sweat and skin. In the same fore-mentioned survey, it was reported that the dark discoloration of the underarms is what bother the affected women most. A dark underarm can be described as a condition where the skin under the arms has a darker hue compared to the rest of the body. This is a common beauty ailment that causes a lot of embarrassment and awkwardness; not just the condition itself but also the very fact of bringing it up and seeking treatment for it. Consequently, many women opt to suffer in silence. In order to get rid of dark underarms, it is important to understand its common causes. First and foremost, one got to rule out hereditary and medical causes of a medical condition that presents with hyper-pigmentation of the armpits known as 'acanthosis nigricans'. When in doubt, always seek professional attention and advice. However, in the majority of cases, dark underarms can be narrowed down to one of more of the following common beauty pitfalls.
SHAVING
Shaving is the single most common culprit of dark armpits. So if you one of those who clean your armpits by shaving; my advice is to dump that shaver and stop this cleaning method right away. Underarms become dark due to the growth of thick hair under the skin and shaving makes your hair growth thick which leads to dark armpits. Cosmetically, waxing is a better option to underarms grooming as it helps to remove the hair from the roots and not just getting rid of hair shafts as in shaving. When there is no hair left under the skin, the underarms look neat and clean. However, local skin irritation secondary to waxing strips is fairly common. A far more superior method of hair removal will be with IPL (Intense Pulsed Light) or Laser therapy. In my opinion, this is by far the best beauty investment I had made this year. Laser and IPL hair removal are the most advanced, most effective, and safest treatments for permanent hair reduction of both lighter and darker skinned individuals. The number of sessions you require for best results will depend on the density, thickness and color of your hair. Most patients would need an average of 4 to 6 treatments, at approximately 4 to 8 weeks' intervals.
"Be suspicious of deals offering cheap treatments as there's always the risk of burn with lasers and IPL when left in inexperienced hands that are not well trained."  Cautions Dr. Chua Han Boon of The Sloane Clinic. "As no two individuals are the same, the treatment protocol for hair removal should vary accordingly."  Dr. Chua continued his explanation. "I'm inclined to use a variety of FDA-approved hair removal lasers and lights that are suited for different skin and hair types to deliver the most beneficial and most comfortable treatments to my patients and always with safety in mind."
EXFOLIATE
Improper cleaning will lead to build up of dead skin that make armpits look dark and dirty. It is essential to scrub your underarms at least twice a week religiously to prevent building up of dead skin. While taking your shower devote some extra time to clean your underarms properly. Exfoliating them with a good scrub such as the Microdermabrasion cream available from sloaneshop.com is a sure way to rid yourself of dead skin, leaving those pits silky and clean.
DEODORANTS
Frequent and prolonged use of harsh or strong deodorants and antiperspirants is well known to result in skin irritation and darkening of the underarms. Therefore simply minimize using them and use only when you really need to. Always make it a habit to wash your armpits thoroughly to get rid of all the chemicals and skin irritants from deodorants at the end of the day. Similarly, avoid excessive use of antiperspirant roll-on and opt for an anti-fungal powder instead. Whenever possible, always choose a product that's alcohol free. If you are depleting the ozone layer with overzealous spraying of deodorants to mask your body odour secondary to hyperhidrosis or excessive sweating; Botox might be the answer to your beauty woe. Besides being used extensively to treat crows' feet and frown lines, unknown to many, Botox can be injected under the arms to paralyze the sweat glands to combat hyperhidrosis.
"Stopping the excessive sweating will also help prevent the moist, acidic conditions that lead to rancid body odour and skin irritation that causes darkening of armpits." Explains Dr. Chua Han Boon from The Sloane Clinic. "This is a fairly simple and highly effective procedure that addresses the root of the problem that leads to hyperpigmentation of the underarms."
Now that you have removed the hair and sorted out the sweat, it's time to tackle the skin. You can try using a pumice stone on a regular basis to exfoliate away the built up of dead skin. Alternatively, cut a lemon in half and rub it in your underarms in a circular motion thoroughly. Besides helping to kill the bacteria from the underarms, the citric acid from lemons is a natural bleaching agent that will help to lighten the darkened skin of the underarms. A faster and more effective way to lighten the unsightly pigmentation of underarms is with Laser therapy. Depending on the extent of your pigmentation and the treatment level, you may need anywhere between 2 to 6 sessions for good, visible results.
"It is fairly common for me to first treat the unwanted hair with the GentleYag or GentleLase laser system followed by the pigmentation of the underarms with the RevLite Q switch laser within the same setting." Says Dr. Chua. "The majority of those treated find this to be highly effective and time saving with long lasting results."
You might also like: