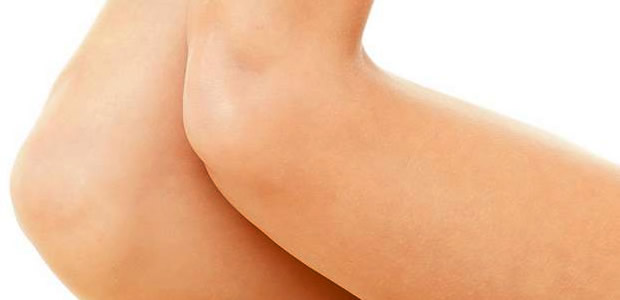 [By Alison Morgan]
It may come as a surprise to many but a survey carried out by a researcher from the University of Southern California in 2010 came up with some unexpected findings. When women were asked to rate their own body parts from most to least liked, knees scraped the bottom of the list, followed only by the waist. Seemingly incredulous at first glance, this is somewhat expected on second thoughts— that in our ever-increasingly body-conscious society, women continue to pick apart those areas of their bodies that they deem sub-stellar. Lesser cared for body parts such as armpits, ankles and knees are now under the radar of the aesthetic spotlight.
Although knees may not be anywhere near the top of anyone list of sexy body parts, once a woman considers hers unattractive,  it will affect the way she dresses and the way she feels about herself; sometimes  in a way that we could only imagine. Before we subject our individual body parts to scrutiny, we need to realize that our bodies are perfect and beautiful just the way they are. Our knees, in particular, may be lacking in the beauty department but more than make up for that with their function. They allow us to go through a wide range of motions such as running, jumping, climbing and squatting.
Can you imagine how physically impaired we would be without them? So what's the judging criteria to pass off a pair of knees as being beautiful?
Generally speaking, most people define beautiful knees in terms of what they are not. "Nice knees are not too skinny, not too chubby and not too saggy," says Jennifer S., a freelance fashion stylist based in Los Angeles with her own fashion blog. So what can one do in order not to lead a life void of sassy mini-skirts and flirty shorts?
Lose Some Weight
I know this is hard but we should start by taking a good look at ourselves in a full length mirror. You may just be in need of losing fat in general, not just from your knees. Adopt a healthy diet that's low in simple carbohydrates and fat and increase your intake of fruits, vegetables and lean meat. Plan an exercise routine that incorporates both cardiovascular workout and strength training. There are no specific exercises to target the knees but you can, and you should train your entire body as this will increase your metabolism; translating into faster body fat lost including those accumulated around your chubby knees.
With expanding technology in the medical field, it is now possible to remove pockets of fat around the knees surgically. "Although possible, to perform minimally invasive focal liposuction on 'non-traditional' sites such as the knees require both experience and skills," says plastic surgeon  Dr. Tan Ying Chien from The Sloane Clinic. "The fatty tissue around the knee also play an important role in supporting the muscles on the front of the thigh and taking too much fat out of this area might cause the front of the thigh to sag downwards."
Clean and Scrub
Using a lemon-and-sea-salt mixture is a great and inexpensive way to soften your knees. A gentle exfoliation of accumulated dead skin with a pumice stone will keep your knees looking nice and clean.  This can be a little tricky if the increased pigmentation across the knees is the result of long standing, repetitive micro-trauma to the skin of the knees. In such cases, besides the obvious move to remove all sources of trauma, regular application of a topical bleaching cream such as 'Instant Pigment Corrector' follow by a good body moisturizer like 'In The Nude Body Milk' might work wonders. Both of these highly beneficial products are available from sloaneshop.com.  Laser treatment is another viable option for stubborn knee pigmentation and may take anywhere between 2 to 6 sessions for good, visible results, depending on the severity of the condition and the intensity of treatment.
"Time and again, we do come across patients seeking help for scars over the knees," says Dr. Chua Han Boon, a senior aesthetics physician from The Sloane Clinic. "The appearance of these scars can be improved with non- ablative fractionated lasers such as Fraxel. Further improvement of sunken scars can be achieved with concurrent hyaluronic acid (HA) fillers injection."
'Knee-Lift'
Are you aware that the body parts that give away a woman's real age are her neck, hands and knees? As one gets older, there's a reason why our hemline gets lower; and this is not out of sheer modesty!  Saggy skin is one of the pet peeve of aging and our knees seem to suffer the brunt of this together with cartilage and bony deterioration.  Thankfully, recent medical advancement in the field of Aesthetics Medicine had made 'knee-lifts' possible.  The Body Thermage system employing radiofrequency waves can now be applied to saggy skin over the knees to cause collagen stimulation and remodeling with resultant skin tightening. The best results can be witnessed 8 to 12 weeks after treatment and can last up to 18 months.
Bear in mind though that no matter what your knees look like, all women can look good in a flirty short skirt. Just make sure it's not too tight, so that it can move gracefully with your legs when you walk. Now strap on your pair of favorite heels and with the right attitude; you are all set to paint the town red.
You might also like: