[By Ally Neil]
We've all heard the saying "beauty is more than just skin deep" before.  Now science has found that this is indeed true! There are many other deeper aesthetic imperfections that could otherwise mar a beautiful face, and they may not necessarily reside in the skin. Here we uncover the top five beauty pitfalls that make us fall short of our ideal look.
1. CROOKED TEETH
There is nothing more uninviting than a set of crooked teeth marring an otherwise perfect smile. If you are hoping for some mistletoe time this Christmas, it's time to look this beauty flaw in the 'mouth'. No amount of cosmetic can gloss over this beauty imperfection. Short of staying perpetually grim faced, consider teeth straightening procedures at your local dental offices.
Beauty Aid: Invisalign
Invisalign is the latest invisible braces that is all the rage. It enables most adults to progressively straighten out crooked teeth without the inconvenience (not to mention unsightly appearance) of traditional braces. When worn, Invisalign is almost undetectable to the naked eye so no one knows you are wearing braces at all! For those who have been procrastinating the visit to the dentist, Invisalign could help you make your next step easier.
What you need to know:
You should not be eating when you are wearing Invisalign, which means you will have to remove them before each meal.
2. SPARSE LASHES AND BROWS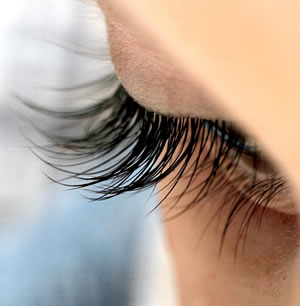 It is inevitable that our eyelashes and brows become sparser with age, Unfortunately for some, this hair loss process is accelerated with genetics, even trauma such as eyelash perming or eyelash extensions. After years of crimping, gluing, tugging and pulling at our delicate hair follicles lining our eyes and brows, the time has come for us to face the fact that we need some serious help to restore our eyelashes and eyebrows to their former glory days.
Beauty Aid: Latisse®
Latisse® was initially marketed as a medicine for an eye condition when it was found to have an interesting side effect— it made the eyelashes grow long, thicker and darker! What's more? Lashes that grew as a result of Latisee® are more likely to curl upwards, framing the eyes in an attractive way. Now Allergan, the makers of Latisse® are marketing this as an eyelash rejuvenator.  Patients see results as soon as 8 weeks of daily use (simply paint onto the base of the eyelashes). There have been no trials as to their effect on the brows but some patients have tried it with positive results.
What you need to know:
Some people have been known to be sensitive to Latisse and reported redness of the eyes as a side effect.
3. CELLULITE
You see a hot babe on the beach. As she turns around, the rays of the setting sun catches the dimpling of her upper thigh. Cellulite is a woman's greatest bane. Unfortunately, it is more the result of genes than exercise, so if you have it, there is no way you can sweat it away.
Beauty Aid: Thermage®
Thermage is a monopolar radiofrequency treatment that can help improve the appearance of cellulite on your body. It helps to break up the fibrous bands resulting in the appearance of cellulite as well as tighten overlying skin to give you a smoother and firmer appearance. Best of all, Thermage ® is non-invasive so it has no downtime and minimal risks.
What you need to know:
Thermage® is not a cheap treatment with treatments for cellulite starting from USD$4000.
4. STRETCH MARKS
Women who have been through weight fluctuations or pregnancies will share this beauty concern— stretch marks. Unfortunately, they transform even the tautest body to an older (not to mention less delicious) looking one. Many companies tout stretch mark creams but despite their promises, consumers have not reported much success using topicals.
Beauty Aid: Fraxel Restore laser
Fraxel restore, is a fractional skin renewal laser that is actually FDA approved for use on the body. Not all lasers are actually FDA approved for use on the body as the body skin typically has a slower healing time compared to the face! Results with Fraxel Restore have been promising with patients seeing improvements in 5-8 sessions.
What you need to know:
It may be impossible to eradicate the appearance of stretch marks but improvements in their appearance may be possible. The best way is still prevention: avoid sudden weight fluctuations and always moisturize your skin to keep them supple.
5. FLABBY BITS
Even models have it! As we age, despite the strictest exercise routines or diet regimens, we are bound to have some flabby bits that defy all our efforts. Short of starving ourselves to the point of emaciation, consider a non-invasive body sculpting treatment to target these unsightly body bulges.
Beauty Aid: Coolsculpting®
Women love their curves but only if they are in the right places. Coolsculpting® is one of the most popular body sculpting treatment using cryolipolysis (fancy term for cold energy to break down fat cells) to help you achieve the figure of your dreams. Each 60-minute session is said to break down 20% of the fat cells of the treated area.
What you need to know:
As a result of the vacuum suction of the handpiece, some people have experienced mild bruising of the treated area. Results will be apparent in 4-6 weeks after the treatment as fat cells are drained out of the body by the body's natural metabolism.
You might also like: