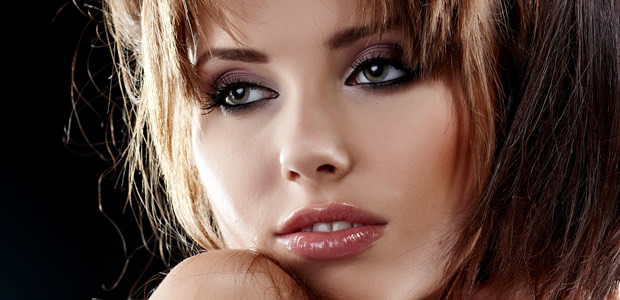 [By Evanne Lauren]
CURL YOUR LASHES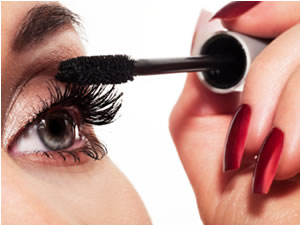 Learning to curl your eyelashes is the quickest and easiest way to make your lashes look fuller and thicker, thus enhancing your eyes. Some of us were born with a natural curl to our lashes, but for those of us who were born with straight or limp eyelashes, reaching for an eyelash curler is a necessity.
How To: Start at the base of your lashes and make sure to get all lashes in the curler making sure not to get any skin in the eyelash curler. Hold for 3 seconds- no longer or it will crimp the lashes instead of curling them. Curl the lashes in 3 segments- at the base, middle of the lash, then the tip of the lash to get that natural curl. To separate the lashes, use your favorite mascara or a brow brush.
Pro Tip: "I know a lot of people recommend warming the eyelash curler with a blow dryer; however, I don't suggest this because you run the risk of having the hot metal next to your eye where it can cause damage. Instead, purchasing a good eyelash curler that works well and it will give you great lashes without the risk." (Ashley Simmons, freelance makeup artist)
2. BOTOX YOUR FROWN LINES
Never wear your displeasure on your face if you want to appear fresh and youthful. Unfortunately, frowning is an unconscious habit; most of us don't even realize we are tensing our brows. The problem is that to the outside world, habitual frowners look unhappy, worried and inevitably older.
How To: Botulinum toxin (Botox) is administered as tiny injections into these disagreeable culprits, resulting in a smoothening of the lines and a relaxation of the forehead furrows. Results are apparent 7 days after the injections and last 3-5 months.
Pro Tip: "Combining Botox of the frown lines with Botox of the crow's feet will yield a more natural result as eyes look bigger and more rejuvenated" (Dr Toby Hui, The Sloane Clinic).
3. LOSE 2KG
Nothing makes a lady shine more than a slim and trim physique. Sometimes cutting back on the excesses, and upping your activity level is the best way to lift our spirits and health.
How To: The best way to conquer your set point is to speed up your metabolism with regular exercise – at least 30 minutes of cardio, five days a week. It also helps to increase the amount of good fats (such as monounsaturated) and lean protein (think fish and poultry) in your diet – these foods can accelerate your metabolism.
Pro Tip: "To grow more muscle and keep your metabolic rate high, you have to damage the muscles a little by challenging your body with a different workout. If you're a treadmill rat, get on the elliptical or bike. If you're hell-bent on the treadmill, up the intensity (by adjusting the speed or incline) every other minute, or work up to a longer run by adding half a kilometre every couple of weeks. In the weight room, forget those 15 reps you usually do with 2.5kg weights. Decrease the number of reps and increase the weight, using one you can lift only five to eight times." (Forsythe, fitness trainer)
4. BRIGHTEN YOUR COMPLEXION
Obvious foundation streaks, noticeable pores, redness around the nose — these are all makeup blunders on par with a glaringly large flake of black pepper stuck between your teeth. Celebrity makeup artists say these makeup faux pas can be avoided by adding one simple step to your morning routine: applying primer!
How to: We love Smashbox Photo Finish Foundation primer SPF 15 USD$42. Readers call it the "best primer on the market," because it "makes my skin feel so soft. My foundation went on very smoothly, evenly, and lasted much longer than it does alone." Another says, "I've used this primer for over a year now … and can't live without it. My makeup stays on all day and night. And, it also minimizes my pores, which is a plus." One woman says, "It keeps your face in place. I got this for my wedding, and tested it by running errands on a 90+ degree day when I knew I'd be sweaty — normally prime conditions for a makeup meltdown. But it lasted all day and didn't get greasy!"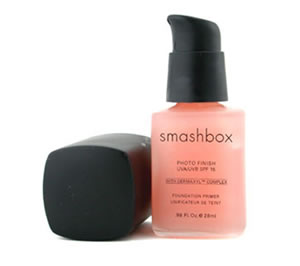 Pro Tip: "Not to prime is a crime! It's been my career-long mantra as it helps finesse your foundation, helping your skin to stay flawless for longer." (Valerie Kelson, Makeup artist).
5. CONCEAL YOUR FLAWS
A flawless complexion not only amps your beauty quotient, it also makes you look more youthful. If you are not genetically blessed with a blemish-free visage, stock up on some concealer tips to give the impression of gorgeous skin.
How to: Moisturize your skin to hydrate it and prevent it from over drying. Use a moisturizer which is destined exactly for your skin type. Choose a concealer which would match best the color of the spot you wish to conceal. Usually you can find concealers colored in 3 different colors, green, yellow and lavender. Yellow tone concealer works best in concealing dark, bluish colored bruises, dark circles and reddish spots. Lavender colored concealer can help neutralize yellowish skin coloration and dark under eye circles. It's a concealer which works well on tanned skin. Green colored concealers work really well in neutralizing red colored blemishes, rosacea, and red colored pimples. Apply the proper concealer on the blemish to conceal it, using your fingers, a brush or a foundation sponge.
Pro tip: "Apply the concealer in a circular motion and make sure you blend well the edges with the rest of the surrounding skin to make the transition less visible. Then apply the foundation in a downward motion making sure not to rub too much in the area where the concealer was applied. Set the foundation with loose powder and you are all set". (Mabel Chia, makeup blogger)
6. SLIM YOUR JAWLINE
Korean celebs are all the rage in recent years as they dazzle our screens with their picture-perfect features and slim, sculpted faces. A slimmer jawline radiates femininity and youth, and is thus highly coveted amongst Asians.
How to: Botox for the jaw muscles (also known as masseter muscles) will reduce their bulk and slim the jawline. Results are apparent 1 month after the treatment and may last for 5-6 months.
Pro tip: "I love to combine Botox for facial slimming with Ulthera, a skin lifting treatment to tighten saggy skin and reduce the appearance of jowls– this shaves years off a person's face and gives them a beautiful, slim, sculpted result." (Dr Low Chai Ling, The Sloane Clinic)
7. PLUMP YOUR POUT
Out are lip plumpers, lip glosses and other lippy aids. If you really want to vamp your smile, opt for a lip-replenishing treatment that lasts without making you look unnaturally "lippy".
How to: Revitalift Lips, launched by The Sloane Clinic is a series of tiny injections of a collagen-stimulating natural filler. This hyaluronic acid filler is akin to a sugar molecule and is biocompatible to natural skin. It retains moisture and replenishes lost hyaluronic acid stores in the lips, giving the lips a rejuvenated, dewy appearance without increasing the volume of the lips substantially
Pro tip: "I got Revitalift Lips before my wedding to eliminate lip lines and to freshen my dull looking lips. The results were so natural, none of my friends were none the wiser but instead commented on my supple looking pout." (Giselle, patient)
8. IMPROVE YOUR SILHOUETTE
You've got to see it to believe it. If you need a quick body lift, consider a body-shaping garment. I was a skeptic until the birth of my third child last year forced me to reconsider my wardrobe options.
How to: there are many reputable body garments out there. Amongst my favourites i Spanx because of their sleek packaging and lightweight material. If you are looking for something that can benefit skin too, consider Farmacell, made from a milk yarn that supposedly brightens skin while holding your saggy bits in. Available at The Sloane Shop.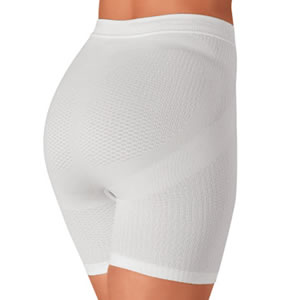 Pro tip: "Cut back on the salt in your diet, get plenty of fresh vegetables and water daily. This will help reduce any bloating and water retention which will make you look puffy and unattractive in the morning." (Denise Louis, nutritionist)
9. OPEN YOUR EYES
I chanced across a photo of my favorite celebrity, Gwyneth Paltrow and I was shocked to see that without makeup, her eyes just disappeared. Yet in photos, she has luminous eyes. So what's the secret to making your eyes pop?
How to: the trick is in the eye makeup. Put a bit of light eyeshadow right at the inside ridge of my eye, where the upper lid meets the bottom lid, near the tear duct. It's amazing how that bit of white brightens my eyes and makes them look whiter. This is a old beauty secret of makeup artists and if you look closely at photos of celebrities on red carpets you can see that tell-tale white in the inside corner of their eyes.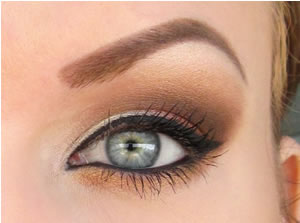 Pro tip: "For a doe-eyed, seductive look, try lining your lower lids with a creamy white eye pencil." (Paul, cosmetics expert)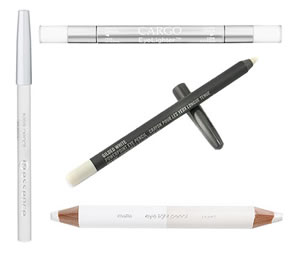 10. SCULPT YOUR FACE
Michelangelo may have molded perfection when he sculpted his famous David (those arms, those abs!), but unfortunately, we can't all be flawless, chiseled, and made of marble. Ever noticed how a bare-faced celeb never looks quite as sculpted as one on the red carpet? Using makeup to contour the face is one of celebs' best kept secret. Armed with the proper tools, and just a bit of 'cosmetological know-how', makeup magic can happen. Contouring tricks the eyes into seeing a more angular plane by using shadow to conceal and retract (hollow in), and light to accentuate, or bring out. In the cosmetic sense, you are taking matte shades that are darker than your skin tone, and creating sharp (but blended) lines of definition, essentially creating faux 'indentations' where there are none. Shadow sucks in the spots that you wish to hide.
How to: Grab a matte powder or cream blush/bronzer/foundation that is one or two shades darker than your natural skin-tone, and proceed to apply it on those designated spots of the face that you wish to appear "sucked-in" —- the sides of the nose, hollows of the cheeks, under the jaw bone, and in the crease of the eye.
To finish, use light-reflecting powders, creams, and pigments that have a shine, shimmer, or sheen to them, to highlight 'high' points—cheekbones, brow bones and nasal bridges.
Pro tip: If you are looking for a palette of powders that contains all of the shades you need to take you from soft and round to chiseled and sculpted, try Smashbox's Step-By-Step Contour Kit (USD$45, smashbox.com)
You might also like: