[By Anne Lee]
4 Paris Makeup Trends for 2013
BROW WOW
At Stella McCartney, models lacking brow definition were powdered and brushed-up to perfection. With such exceptional arches, even a lightly made up face can shine with beauty.
DISCO LIPS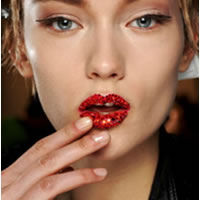 Hot on the heels of Gucci's glassy red lips in Milan, Parisian collections tapped into the glossy trend too as statement-making burgundy lips at Yves Saint Laurent were unveiled with a high-glass shine. Vamp up your lips with high-octane colour, like an unapologetic splash of electrifying red.
BRIGHT LIDS
After last season's obsession with earthy nude tones, Christian Dior's  vibrant palette of technicolour turquoise blue, green, orange and pink lids certainly brought us out of our 'earthly' reverie.
LASH FLASH
Eyes received more top-line treatment with full-set falsies fluttering down the runway at Valentino, Lanvin and Christian Dior. It's all about the eyes this season. When pairing an outrageous set of lashes, tone down the rest of the makeup to achieve a harmonious balance.
You might also like: