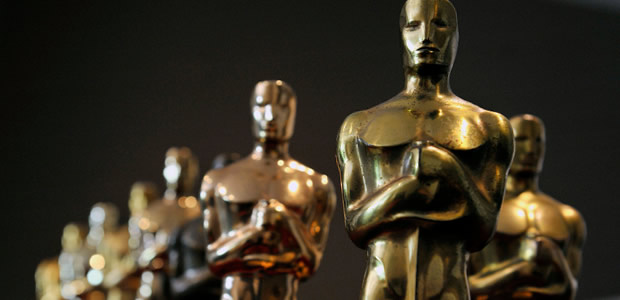 [By Evanne Lauren]
It's the time of the year to be enthralled by the celebrity charm of the stars. From Jennifer Lawrence in her ethereal Dior couture to Jane Fonda in her age-degying canary yellow gown, these red carpet beauties show us mere mortals that age is truly only a number. And that looking good is a possibility for everyone (as long as you are blessed with a fat bank balance).
Here are some beauty lessons from some of the biggest stars of the moment.
Jane Fonda
Why we love her:
At 75, Jane Fonda is the epitome of mind over matter when it comes to aging. Dismissing safer (read: older) choices for her red-carpet showdown, she embraced this sunny shade with confidence and a youthful disposition.
Beauty lesson:
There is no such thing is piling on the pounds as you age. If you are making these excuses as you hit the big 40 or 50, you are only letting yourself down. Jane Fonda is an advocate of exercise and eating well, and looking at her svelte figure this Oscars, it has served her well. There is nothing that screams "uber-hot" more than a slim and trim figure.
Beauty aid:
Not one to go under the knife, Jane Fonda just released a new exercise DVD to help women above 50 stay fit and trim. If you want an added edge, consider Coolsculpting by Zeltiq, a non-invasive fat buster using cold energy. Every 60 min session is said to reduce fat by up to 20%.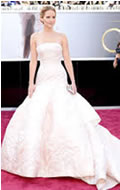 Jennifer Lawrence
Why we love her:
At only 22 years of age, Jennifer is holding her own amongst industry veterans twice her age. Despite tripping on her gown as she ascended the stage, she recovered with grace and to a standing ovation, melting the hearts of viewers all around the world.
Beauty lesson:
Smile. Your best asset is a great smile. Even the most gorgeous girls can look ugly with a sour disposition. Jennifer's carefree and sunny disposition is one of her best assets, and it shows.
Beauty aid:
To flash a great smile, you have got to have the double pairing of: luscious lips and presentable teeth. If your teeth are not standing up to scrutiny, it is time to pop down to your dentist for a good cleaning and possibly, whitening. Dentists say that twice-yearly visits are a must if you want to have great teeth. Lips thin out with age, and lipstick bleed lines further accentuate their deplorable state. Opt for a touch of "baby drop" lip fillers such as The Sloane Clinic's Revitalift for lips. This restorative lip therapy is nothing about volumizing lips, instead it is about subtly plumping out lines, and hydrating lips from within to put the sexy back into your pout.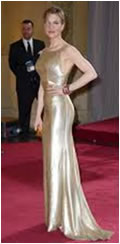 Renee Zellweger
Why we love her:
She may not be up for an Oscar this year, but the Bridget Jones star will always have a special place in our hearts. Shedding all the post-Bridget Jones fat, Renee has ditched the adorable image for 100% sex vixen. Her stunning figure makes her a statuesque standout in her golden floor length gown.
Beauty lesson:
If you are going to show your arms, make sure you rock some solid biceps like Renee.
Beauty aid:
While the rest of us mere mortals are battling flabby arms, Renee shows the way with her deliciously toned arms sans a single ounce of fat. Repetitive reps with light to medium dumb-bells are the way to go if you want to build up muscle tone at home. Other great arm toning exercises include push-ups and assisted pull-ups done on a regular basis. To get rid of flabby arms, also consider Body Thermage, a FDA approved radiofrequency treatment that tightens saggy body skin, lifting, firming and restoring body parts that are not 100% up to mark.
Halle Berry
Why we love her:
Halle Berry just looks better with age. This 46 year old, proud mother of one is looking trim and happy in her Versace gown. Her short funky hairdo has become one of Halle's trademarks, and she pulls it off because of her chiseled features and defined jawline.
Beauty lesson:
Nothing whispers "over the hill" louder than a saggy jawline or the appearance of lower face jowls. If you want to rock a short youthful hairdo like Halle, make sure you have gotten this area covered.
Beauty aid:
Ulthera is an ultrasound skin lifting technology that works wonders with lower face sagginess and other skin laxity woes such as jowls and double chins. This non-invasive FDA approved procedure takes only an hour but will shave years off your face instantly. For those who are plagued with a squarish jawline, consider Botox shots along your jaw to slim the area, and give your face an overall slimmer and more defined appearance.
You might also like: