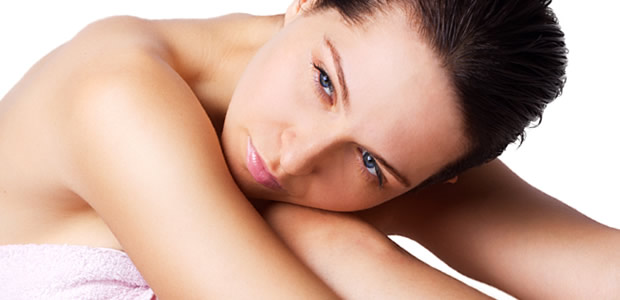 There are some questions in life that I dread being asked. The ones that take the cake include — "Are you seeing someone?", "Did you put on weight?" and "Are you feeling unwell?" Thank you very much, nosey parker. To be asked these questions is as good as saying that I'm not doing fine and it is showing. Sad to say, I'm getting asked the last question quite a fair bit lately. Life's a bit*h and nowadays if you look less than stellar, you better be prepared to get a lot of flak for it. It seems like as soon as that clock is adjusted an hour ahead for daylight saving time to mark the beginning of Spring, everyone is expected to look fresh and dewy like the first bloom of daffodils. If like me you tend to cut yourself some slack during the colder months, short of becoming a social recluse this coming Easter, it's about time to join me for a much needed boost to resurrect your tired looking skin to springtime glory with these 8 'tricks' or 'treats'.
Peel Fresh
Nothing spells Spring more than a clean and flawless mien as showcased by the models send down the runway from Chloe to Givenchy; serving luminous skin and nude lips. There's no hiding behind darkened hues of smoky, jewel colored eyes which is the craze all autumn/ winter.
Trick: Exfoliate with a good facial scrub to reveal fresh soft skin hidden under all the grub from the cold December days. Try Sloane Inc Pineapple Enzyme Scrub, a sweet smelling  power packed scrub containing the chief ingredients of Bromelain enzyme and Jojoba oil. The pineapple enzyme helps to effectively remove excess surface cells while the micro spherical jojoba beads dissolve and release their nourishing jojoba oil into the skin. This dual pronged action helps to improve skin texture and leaves it with a tender, luminous glow. "To amp up the hydration of your skin, do it with a DIY Sloane Inc Radiance Gel Wrap," advised Charlene Gui, a freelance makeup artist based in Hong Kong and Shanghai. "This fuss free mask serves as an emergency rescue kit to transform lacklustre skin radically with its infusion of vitamin C, hyaluronic acid and a whole lot of other complexion boosting ingredients to deliver super brightening action; all in 15 minutes flat!" Another insider's tip from Charlene is to mix an equal amount of your moisturizer with your foundation for a lighter, dewy look that takes you from day to night.
Treat: For some heavy duty exfoliation, consider having a Professional Chemical Peel done to restore your face to its soft, supple complexion by renewing collagen and elastin, eliminating wrinkles, reducing pores, removing acne scars and blending uneven skin tone. Unlike older formulations which cause a lot of peeling and redness, the newer generation of chemical peels is self-neutralizing with much reduced downtime and possible complications. "The naturally occurring "fruit acids" in chemical peels will help  remove dead skin cells from the skin surface and allows the healthier skin cells to come through to give you a youthful, rejuvenated glow," explains Dr. Chua Han Boon, medical consultant with The Sloane Clinic" I use a variety of different peels  to address the needs of my patients after careful assessment and analysis of their skin type and condition. The type of peel will also vary according to the amount to skin exfoliation they can tolerate. It's always safer to go slow with a mild type if it's your first chemical peel."
Pore Reduction
Open pores often lead to hypersecretion of sebum that gives an unsightly layer of grease so make up doesn't stay matt and finished. If we can get pores to shrink down in size, our complexion would definitely be less tired and more youthful looking.
Trick: Tomatoes and cucumbers are more than just tasty vegetables.  Both contain astringent properties, meaning they help tighten the skin tissue, reducing pore size in the process. Smash up the flesh of either a tomato or cucumber and mixed it with an equal portion of natural yogurt. Apply it to clean, dry skin, and let it sit for 20 minutes before removing the mask with warm, wet towel.  Repeat this process at least once a week right up to that morning when you are preparing that wonderful garden salad (with the same produce!) for your Easter brunch.
Treat: The Laser Peel is a major breakthrough in skin rejuvenation that resurfaces and replenishes the skin at the same time to cause major reduction in pore size. By utilizing gentle yet effective, deep penetrating laser energy, this procedure which is suitable for all skin types, exfoliates the rough and damaged outer layer of dead skin cells to reveal younger, softer, and fairer skin underneath. The good news is that unlike chemical peels, there is no downtime and you can put on your makeup immediately after it's done. After 4 to 6 treatments done at monthly interval, one would expect total skin rejuvenation as pore size will be significantly reduced, fine lines diminished and uneven skin tone corrected.
Red Alert
Broken capillaries tend to give the complexion a reddish or darkened hue that makes it unhealthy and tired looking. The way to get round this is to camouflage the flaws with clever make-up or treating them once and for all.
Trick: T LeClerc has a wonderful loose powder that works magic for this skin condition.  It comes in green which neutralizes the redness of the skin when used as a base. They have shades for a good variety of skin tones as well. The trick is to mix a little bit of the green with the color that matches your skin tone and this will make the redness disappear without giving your skin a green or sickly looking tinge.
Treat: The Vbeam laser is a pulsed dye laser that is approved by FDA to treat spider veins, telangiectasias (broken capillaries), red birthmarks, red acne scars, stretch marks and wrinkles. This laser has the unique ability to selectively target blood vessels without adversely affecting the surrounding tissue. It is so safe and effective that it has been used successfully for the treatment of young infants. It will effectively correct the reddish discoloration associated with rosacea and broken capillaries to give healthy, clear skin.
Spots Remover
Spots only look good on a Dalmatian and a limited edition LV carry-all by Yayoi Kusama, not on our faces. Apart from the occasional beauty moles, all spots on the face should be covered up or erased.
Trick: Concealers can either be your best friend or your worst enemy. Choosing the wrong concealer color or texture can throw your entire makeup application off course, leaving you looking older and unpolished. Knowing how to pick the correct color and texture for your skin can ultimately enhance your overall appearance and cover up all flaws. A basic rule of thumb is to choose a concealer that's yellow-based and a shade or 2 lighter than your skin tone. Don't go too light or you could end up with the dreaded raccoon look. Remember less is more when it comes to concealers or any form of make-up so to speak—unless it's Halloween.
Treat: Light and laser therapy are excellent forms of technology developed with medical and scientific backing to treat skin pigmentation more effectively and with longer lasting results. There are many available on the market so always choose those that bear the stamp of approval from FDA. Different lasers are suitable for treating different skin conditions so be wary if the provider promises to give you clear, flawless skin with a single type of treatment in a single session. If it sounds too good to be true, it's probably the case. Regarding laser treatment for unsightly spots, Dr. Chua Han Boon recommends the Divine Whitening Program specially tailored by The Sloane Clinic. "We use a step wise approach in our treatment plan to eradicate pigmentation to give better and longer lasting results," says Dr. Chua. "By harvesting the synergistic effects of a combined treatment with Pigment Laser and Vitamin Therapy, the desired clearer and fairer complexion can be achieved after 3 to 6 months."
You might also like: