[By Evanne Lauren]
As Sakura blossoms in Japan, this spring heralds a new wash of colour for our washed-out faces. Instead of trying to simulate a fauz tan with bronzers, why not embrace the first rays of sunshine with soft pastels. Bring out the feminine side in you with these flattering hues.
SIMPLICITY IN COLOURS
Cool shades of peach, lavender, or green are gorgeous because of the simplicity of colors. Instead of taking on too many different shades, work with a central colour. Take the striking "modern monochromatic" rose-colored eyes and lips.
TIP TRICK: if you are using a pastel pink shade for your lips, apply some of your lipstick as a cheek stain. Dust with translucent powder to give a faint rosy blush.
NUDE PAIRING
Off the runway—and just in time for Easter weekend—makeup maestros are pairing a swipe of singular pastel color across the lids with a muted nude beige lip. This colour combination is pure gold as it never goes wrong, and helps to tone down an otherwise overall colourful look.
Our favourite pick: Make Up Forever in Pearly Light Green USD$20
POP WITH LINER
Experiment with uncommon pastel combinations. To make your eyes pop, pair a muted lilac shadow with a deep lavender eyeliner, then finishing the look by dabbing a pale coral lipstick onto the mouth. Or experiment with pastel green eyeshadows and a dark emerald green liner. You will be surprised what they do for your eyes. Give lashes a generous slather of mascara for that alluring, sensual look.
TIP TRICK: To create an instant liner, dip the end of a thin-tip brush in water to moisten, then dip in the eyeshadow pot of your favourite shade. Carefully line lids with the wet brush for an eyeliner effect.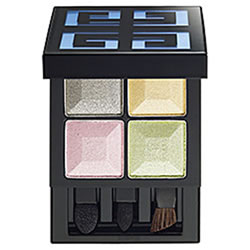 Givenchy's Le Prisme Eyeshadow Quartet to give eyes that pastel edge. USD$57
It's powerful and seductive, reminiscent of Guy Bourdin's women from his iconic photographs in the 1970s. For a slightly more unexpected variation on the theme, try swiping black mascara onto the lashes, then dusting a pale pink eye shadow onto the tips with a brush while they're still wet for an undeniably pretty, rose-dipped effect.
You might also like: