French women may not get fat but it's the Japanese women who live the longest and rarely need face-lifts. In a recent variety-game show aired by NHK, foreign travelers on the streets of Tokyo were shown images of everyday Japanese ladies and asked to guess their age. On the average, the guess ranges from 4 to 11, with an average guess of 5.3 years younger than what they are. No one actually guess anyone to be above their biological age. It would be tempting indeed to conclude that Japanese ladies have won the genetics lottery.
However, with a number of 76% of Japanese women polled wanting to look younger than their actual age compared to 8% of their Western counterpart, it is clear that much have to be attributed to habits and hard work. You don't have to be Japanese to age as well as they do. You just need to steal some of their diet, lifestyle and skin care strategies. RSB is here to teach you how to do things the Nippon Way.
Eating Bento-style
Japanese people enjoy one of the longest average life spans in the world — 86 years for women and 79 for men versus 80 and 75 respective years for Americans — with far lower rates of obesity and chronic diseases like osteoporosis and cardiovascular problems. Japanese especially Japanese women tend to have their meals in 'bento-style', small dishes jam-packed with nutrients from fish, soy, rice, vegetables and fruit. Most of them also adhere to an ancient Japanese proverb harahachibunme that says it best: "Stop eating when you are 80% full." In fact, they have obesity rates of only three percent, less than one tenth that of American women.
Fish is a staple and tofu is a close second which are both good protein sources that are low in saturated fat and high in beneficial omega 3 fatty acids and calcium. When it comes to dessert, Japanese ladies opt for fresh fruits over sweets laden with refined sugar. Japanese also consume a great amount of seaweed or algae that's packed with calcium,magnesium and fiber which can help lower blood pressure and cholesterol. Especially red algae, it's full of vitamins and minerals that promote good circulatory health. Numerous antioxidants present in red algae also help the body in destroying free radicals thus boosting the immune system and enhances good health.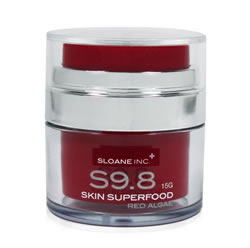 Along the same line of thought, the Sloane Inc Skin Superfood Red Algae contains Astaxanthin harvested from micro algae and is the world's most powerful antioxidant, being six thousand times stronger than Vitamin C and eight hundred times that of Vitamin E. For those serious about turning back the ageing clock, this wonder gel-liked cream with its deep penetrating, non-greasy texture will supercharge your skin radiance, restore dermal elasticity and slowdown the formation of fine lines and wrinkles.
Sip some Tea
Not just any tea but green tea. The Japanese fondness for green tea probably also helps slow the aging process. Most Japanese ladies guzzle this antioxidant-rich drink all day and prefer green tea to coffee or frizzy drinks.Although some types of green tea have more caffeine than some black teas, the drink is loaded with all sorts of powerful antioxidants that help to combat free radicals that are responsible for the breakdown of collagen in our skin which leads to wrinkling and sagging. "Our Green Tea & Ginger facial is one of the most requested treatment aim to detox and revitalize tired looking skin," says trained therapist Noelle from The Sloane Spa @The Shoppes, Marina Bay Sands. "This calming facial utilizes the benefits of seaweed extract, ginger and soothing green tea to deliver vital nutrients and purge impurities from the skin at the same time."
Shun the Sun
If you have been to Japan or any major cities in the world with Japanese tourist, you would have noticed Japanese ladies trotting around with wide brimmed hats and umbrellas on bright sunny days.  Japanese women are practically fanatical about protecting their skin from the sun. This is perhaps one of the cleverest and cheapest anti-aging tip we can learn from them. Women of all races and skin types should take a leaf from their Japanese counterpart to protect themselves from harmful ultraviolet radiation with daily sunblock, and not just when they are by the pool or beach. As any dermatologist will tell you, being in the sun also brings whatever damage you've accumulated in the past to the surface. By slathering on sun block, you're protecting yourself and trying to 'right' your 'past mistakes'.
Be Spotless
Japanese ladies are proud of their fair and flawless mien and there's a plethora of whitening products on the market targeted at them. Rightfully so, for even as wrinkles start forming on an aging face, one that is free of spots will always appear more youthful and fresher compared to one plagued with pigmentation.  'Whitening' might sounds a little off to Caucasian women but switch that to 'Brightening' and 'Tone Correction' and it's essentially the same thing as creating a clear and attractive complexion. Active ingredients to look out for include Vitamin C, Kojic Acid, Liquorice and Tretinoin as found in Retin A and Retinoids.  For more severe mottling and uneven skin discoloration, light and laser therapy might be more effective and produces longer lasting results. Patience and persistence go hand in hand when it comes to treating spots and keeping them at bay.
"The Nova 3R system is an excellent multi-tasking Swiss based technology that uses three types of light energies to give you the simultaneous effects of pigment removal, skin tightening and cell renewal," says Dr. Chua Han Boon, medical consultant with The Sloane Clinic. "Our Radiance Skin Program combines this therapy with the Innovative Facial pioneered and hugely popular in LA to gently treat and leave your skin with a supple and youthful glow."
You might also like: