[By Geraldine Lee]
Do stars always bat a hundred when it comes to fashion and style? Even when blessed with superior looks and bodies that are the subject of widespread envy among mere mortals, there's no accounting for taste. Disastrous fashion choices can turn a gorgeous face into a terrifying spectacle no amount of champagne will erase from living memory. Here are some style tips to guarantee a red carpet entrance that stuns for all the right reasons…

#1 DON'T OVERWHELM YOUR FACE
If you have a pretty face, don't detract attention from it with a distracting and overtly fussy dress.  Frills and other superfluous details should be reserved for occasions when you have a wart on your nose, and need to distract people from noticing. If you have above average looks, keep it simple and let your megawatt smile do the talking.
#2 DON'T WEAR LOOSE FITTING CLOTHING UNLESS PREGNANT
Maternity wear should be strictly reserved for pregnant ladies. If you have a svelte figure, don't hide it under billowing cloth designed to mimic curtain shades. Unless you've developed a beer belly, you are trying to hide, these loose, hanging outfits should be best left for your third trimester.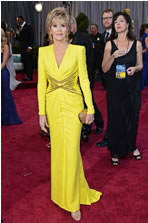 #3 DON'T EXPOSE TOO MUCH
On the red carpet, you want to exude sex appeal without appearing like a tramp. Leaving something to the imagination is way sexier than leaving it to all hang out. If you must show some cleavage, ensure you have enough coverage and support to tantalize with just a sneak peek. If you want to show your legs, then limit the exposure to below your mid thigh. Anything more is just trampy. Sometimes keeping it sweet and decent oozes way more sex appeal than teetering on the edge of a wardrobe malfunction.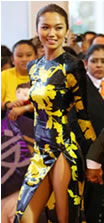 You might also like: