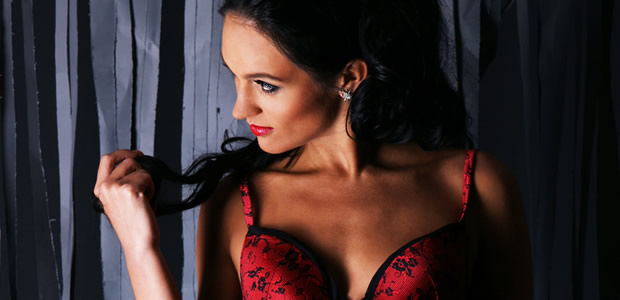 There are models and there are Victoria's Secret models.
The annual VS fashion extravaganza with the angels strutting down the glittery runway is one fashion show that I need not force the boyfriend to sit through with me. In fact, I'm pretty sure he had downloaded and watched all the snippets straight off YouTube way before the show is officially aired by CBS. I don't really fault him for that because I'm pretty sure just about every other hot-blooded testosterone charged guy wouldn't mind his boo looking like one of those picture perfect angels. In fact, I myself would very much like to have some of those taut tummies, major cleavage, cellulite free asses and endless legs. While not many of us are blessed as genetic mutants with limbs as long and skinny as the palm trees of California, it is certainly possible to translate some of those trademark hair, makeup and angelic demeanor from runway to real life. To find out how you can transform your mere mortal self into an aspiring VS angel, read on for RSB's guide to "Victoria's Secret Model Me".
Stand Tall
All Victoria's Secret models are at least 5'9. To rock the runway, height is definitely a pre-requisite but off that, it might not be that crucial. However, this does not mean that you can slouch around and lean against any other wall or pole in sight. Make sure you adopt a good posture at all time, whether you are within a crowd or on your own for practice makes perfect. Standing tall instills confidence in oneself as well as that of others in you. Besides, most body flaws can be corrected with a good posture. When standing around in conversation, always have your chin lifted, chest out and stomach in. When seated, keep those legs together and crossed. Whenever possible, stretch sideways to elongate your gams. Heels are the footwear de rigueur for Victoria's Secrets models so strap on a pair, whenever, wherever. While you are at that, make sure the heels are the highest possible that you can handle to bring you closer to Victoria's heaven.
Exercise Religiously
Every Victoria Secret's angel treats her body like a temple and if you aren't already doing so, exercise religiously like it's your second nature. You should aim for sessions that are at least 60 minutes long, 4 to 5 times a week; incorporating both cardiovascular exercises and resistance weights training into your regime. Some exercises that a few VS Models have mentioned are kick boxing, rope jumping and long distance jogging which are all great ways to seriously burn some calories. Others like Alessandro Ambrosio and a post delivery Miranda Kerr are yoga and Pilates enthusiasts and swear by these activities to sculpt their bodies to heavenly perfection. Some Victoria Secret models claim to work out 2 hours a day before a show but if you are an exercise novice, just start off at a pace that you can handle but make sure you persevere and work your way up. Find something you love doing and keeps you in shape at the same time and you will be more likely to succeed.
Often, we hear of women complaining of reaching a plateau in their routine, engaging in a disheartening losing battle against that last bit of stubborn fats around the waist, tights or arms. When previously liposuction is about the only choice available for getting rid of unwanted pockets of fats, the FDA approved Coolsculpting by Zeltig is steadily gaining popularity as a cutting edge, non invasive option to body shaping. Going by the scientific name of 'cryolipolysis', otherwise commonly known as 'fat-freezing', this method makes use of cold to diminish fat cells in the body, thus improving the body's contour. "Extensive studies has shown a physical reduction of up to 22% of fat loss in treated areas after a single session of treatment," says Dr. Chua Han Boon from The Sloane Clinic. "Further improvement in results can be achieved by combining Coolsculpting with skin tightening procedures such as Thermage. This is a non- invasive FDA approved technique that stimulates collagen regeneration and remodeling via uniform volumetric heating with a patented radiofrequency technology to give long lasting results."
Eat Healthily
"A moment on the lips, forever on the hips!" warns nutritionist and health guru, Peter E Jefferson half- jokingly. "Eating healthy will not only make you feel great but will make you look great too." The general rule is to stay away from greasy snacks, sweets, sugary drinks and processed food. Stick to fruits, vegetables, complex carbs, and drink lots of water. Always start the day with a hearty breakfast packed with lean protein and healthy carbohydrates such as old-fashioned oatmeal, egg whites, veggies, cottage cheese, muesli, yogurt and fruits. But make sure to treat yourself to a small, salty or chocolatey treat every once in a while. It's better to cheat occasionally than going overboard all at once.
"If you are aiming for some serious weight lost, never engage in fad or crash diet," says Peter. "The pounds lost will be piled back as quickly as you shed them." Instead, opt for meal replacement substitutes such as OPTIFAST. OPTIFAST is a specially prepared meal replacement drink that contains high-quality, complete nutrition but in pre-portioned and calorie-controlled servings. All you have to do is mix it with water (chilled or warm according to your preference) and drink this in place of your regular meals. Most people who are skeptical of sticking to a liquid diet will be pleasantly surprised by how fresh they actually feel while on it as undesirable toxins are eliminated from their previously uncontrolled dietary habits.
Cascading Locks
Her crowning glory of cascading curls is one of the signatures that define the VS model's look. Every angel wears her long hair in sexy and tousled waves, creating a glamorous yet effortless look on the runway. When off duty, a high ponytail or a messy bun takes over. If you don't already have hair that had passed the shoulders, start growing! The key to a head of picture perfect curls is to make sure your hair is healthy to begin with. Always condition when you shampoo and leave the conditioner in a little longer especially if the ends are dry. Split ends contribute to unsightly frizz so have them trimmed or treated professionally. If your hair is not naturally wavy, learn to curl them. There are plenty of tutorials on YouTube to teach you how to do this.
Minimal Makeup
Angels never hide themselves behind tons of make-up and you shouldn't too.  The best way to get angelic flawless skin is to eat healthy, sleep well and invest in a good skincare regime.  To begin with, cleanse, tone, moisturize and don't forget your sunblock day in day out. There are no ugly women, just lazy ones. To take your beauty to the next level, go for regular facials and Intense Pulsed Light IPL  therapy. Also known as photo-facial and photo rejuvenation, IPL is based on emitting high intensity pulses of light (not lasers) to penetrate the skin and enhance your skin with no downtime. It stimulates new collagen to form in the skin thereby reducing fine lines, minimizes pore size, lightens acne marks and increases skin elasticity. It is so gentle that it can even be done as a single session days prior to a big event to give you that fresh, youthful and dewy glow that one associates with the Victoria Secret's girls. XoXo!
You might also like: