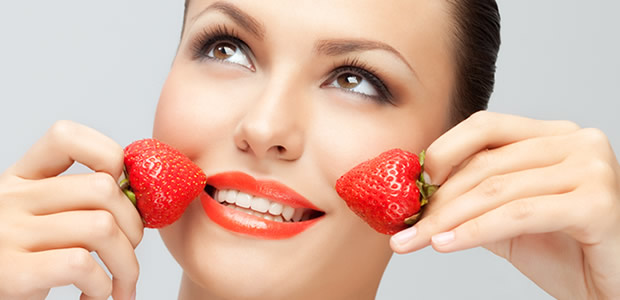 [By Tania Stevens]
Good foods bursting with nutrition and health help makes you feel and look good from the inside out. As bikini season approaches, there is a need to keep a watchful eye on our waistlines. It therefore makes sense to watch what we eat in the run up to summer.
The upside about summer is that it gives us so many healthy food choices. There's an abundance of fresh produce, including many natural beauty foods.
"Summer produce generally tends to have a high water content," says Dr Tan Wang Theng from The Sloane Clinic "That helps keep you hydrated, which minimizes wrinkles, because it's plumping up your skin."
Try these summer beauty foods that help you feel good, slim down, and have healthy skin.
1. Strawberries
Strawberries are a prime example. These sweet berries are one of the best sources of vitamin C out there, with 163% of the daily value per cup.
Try: Adding fruit to salad is very refreshing. It not only adds colour and flavor to your dish, it boosts the antioxidant content of your meal setting you on track to better health.
2. Zucchini
Zucchini is very low in calories, with only 20 calories per cup.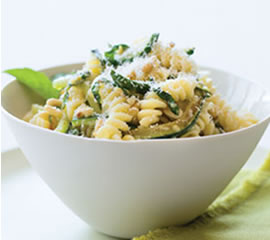 Try: Include this to create a light summer pasta. Sautés diced zucchini with garlic and onion and toss the mixture with whole-wheat angel hair pasta, soft goat cheese, and shrimp for a healthy summer lunch.
3. Red Bell Peppers
With only 46 calories and 3 grams of fiber per cup, red bell peppers are a light yet filling addition to summer meals. Bell peppers are really high in antioxidants— a whopping 317% of the daily value of vitamin C. Vitamin C is so important for collagen in our skin. We lose collagen as we age, so getting the nutrients that support it, like vitamin C, is an important anti-aging trick.
Try: Make it into a sauce! Pureed with a little olive oil, salt and pepper, soft-roasted peppers make an amazing sauce to use over grilled chicken or fish.
4. Tomatoes
Tomatoes are rich in lycopene and beta-carotene. A diet rich in those nutrients may boost your skin's natural defense against sun damage and improve its appearance, according to a 2012 study published in the American Journal of Clinical Nutrition. Tomatoes are also a good source of vitamin C. One cup delivers almost half of the daily value. Tomatoes are rich in lycopene; when tomatoes are cooked, they have even more lycopene, which offers protective benefits against UV rays. Of course, you should still wear sunscreen and avoid getting too much sun.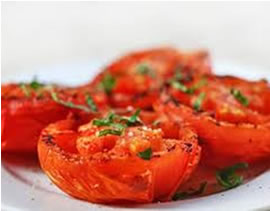 New ways to try it: Grilling tomatoes is a smart choice to up lycopene content.
5. Hibiscus Tea
Research shows it's high in antioxidants, including vitamin C and anthocyanins.
Try: Make hibiscus smoothies for hot days at the beach! Infuse a batch of strong hibiscus tea, leave to chill overnight in the fridge. Pop in ice cubes and hibiscus tea concentrate into a blender, blend until smooth. Add a dash of lime, sweeten to taste. Sit back and chill with this refreshing drink.
You might also like: