[By Evanne Lauren]
Preventative beauty & other tricks to stay young.
Gone are the days of treating wrinkles and lines as they appear. Women of today want to go a step further by preventing these tell-tale signs of aging from appearing in the first place. Are they going too far or are they simply smarter than the rest of us?
BOTOX in your 20s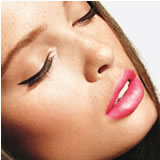 Botox is becoming increasingly popular among 20-something women as a means of preventing their youthful skin from aging. A study by ABC News found that the number of women in that age group using Botox – which temporarily paralyzes the muscles beneath the skin  – has risen 10 per cent in just one year.
While the treatment at such a young age remains a point of debate, New Jersey-based dermatologist Dr Jeanine Downie admits that starting early has the advantage of preventing wrinkles from occurring altogether.
RSB's judgment:
Botox may not be a bad thing when done subtly and expertly. The main pitfall of Botox is when a young face receives too much botox and looks frozen instead of naturally youthful. Our advice is to go for milder Botox alternatives such as Mesobotox. This low dose alternative to Botox will soften lines while leaving your facial expressions intact.
Lip Fillers in your 20s
Fillers have been revolutionizing the beauty scene for many ladies. Suddenly, socialites find they no longer have to live with unwanted facial lines and unsightly folds. The same goes for thin lips. Often the go-to-tool for the rich and famous who covet the fleshier, more luscious-looking puckers, fillers are now standard weapon of choice for young lips desiring an instant "glamification".
RSB's judgment:
Lip fillers need to be used with care. While older lips tend to lose volume and exhibit lip lines with age, younger lips usually do not display such aging changes, thus lip fillers may not be necessary. The only exception to this rule is the group of belles with naturally thin lips— they can certainly vamp up their appearance with a touch of lip fillers, transforming themselves into sex kittens with a little 'lippy' correction. On the other end of the spectrum, for those with already full lips, knowing when to stop could be key between looking like a princess or a tramp.
You might also like: