[By Evanne Lauren]
Those dark eye circles of yours not responding to simple eye creams? It's time to step up and see eye to eye with your periorbital woes.
CRINKLY
Fine lines that show up around your eyes are a result of two main issues: fcial expressions secondary to eye muscle movement as well as dehydrated skin. If you want to smoothen away these tell tale signs of aging, it is "eye"-deal to tackle the root causes of your problems. Apply a hydrating eye cream to replenish the delicate undereye skin with much-needed moisture. This helps plump out the shrunken dermis and lessens the appearance of fine lines. Not satisfied? Then take the plunge and go for Botox ® treatment of the crow's feet; this relaxes the offending muscle that causes wrinkles around your peepers and results in an instant diminishing of periorbital lines!
Tester's verdict: "I tried Lancome Renergie Lift Multi-Action Eye cream. I was skeptical initially but after about 5 days of religious application, I did notice that the super fine lines under my eyes are somewhat shallower. That is, until I break into a smile, then all my lines are visible again."
Doctor's verdict: "It sounds like you have a combination of static and dynamic lines. Static lines are lines that are visible when your face is at rest, while dynamic lines are those that appear when you make facial expressions. While hydrating the skin may help the static lines to an extent, your dynamic crow's feet can do well with a treatment with Botox which works to relax overactive eye muscles to diminish such lines" Dr Chua Han Boon, The Sloane Clinic.
HOLLOW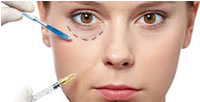 You look like you have lost weight, you look gaunt and tired and the hollows of your undereyes are exacerbating the issue. With age, your tear trough shows up as a natural depression extending from the inner corner of the eye. Dermal fillers can be used to address this concern effectively.
Tester's verdict: "I had the option of going for fillers or Revitalift for my undereye. I am a chicken when it comes to needles, so I opted for the milder procedure which is Revitalift. Only two painless pokes under each eye and I was done. I must say I am now a convert because my undereyes looked instantly revitalised when I walked out of the clinic."
Doctor's verdict: "Depending on the severity of the hollows, repeated touch up sessions may be necessary. The undereye is a delicate area and it is better to opt for a milder procedure such as Revitalift to prevent overfilling this area as well as to avoid getting the side effects of lumpiness under the eye post-filler" Dr Toby Hui, The Sloane Clinic.
SAGGING
Thermage of the undereye can smoothen crepey skin, buying you valuable time in the race against aging.
Tester's verdict: "I thought the Thermage did not give any instant results so I was quite disappointed but after a week, friends and family members commented on how refreshed and bright my eyes looked. That was when I realized that the skin around my eyes had indeed tightened up with time."
Doctor's verdict: "Thermage is more an investment type procedure than an instant fix. Most of our patients find that the skin tightening effects of Thermage improve with time. This is one procedure you should plan ahead of time if you want to impress at an important social event" Dr Kenneth Lee, The Sloane Clinic.
TIRED
Mixto skin resurfacing is fast becoming a one-stop eye revival wonder for those who would like to perk up all aspects of their eyes but doesn't mind the price tag of a few days of downtime. This fractionated CO2 laser confers a myriad of benefits from improving skin texture and colour to boosting dermal elasticity. The downtime which includes 5 days of skin browning and flaking is also a far cry from the usual 6 week downtime attributed to traditional CO2 lasers, thereby gaining new converts from skeptics all around the world.
Tester's verdict: "There was definitely downtime with this one, my skin looked swollen and reddish for the first 2 days, then it looked dry and flaky for the next two days. I was back to normal in 5 days. But when I looked at my undereye skin after the last scab had peeled off, I must say the wait was totally worth it! There isn't just one thing that was better but a whole range of improvements from skin texture, dark eye circles, fine lines and skin elasticity. If I have some time off, this is one treatment I will do again in a heartbeat."
Doctor's verdict: "Mixto skin resurfacing can improve many aspects of the undereye skin from texture to elasticity, but there is undeniable downtime. The patients need to work closely with us to care for the skin post-laser to ensure optimal skin regeneration and highest success of their skin rejuvenation process. So this is one treatment where both doctor and patient has to work together as a team" Dr Low Chai Ling, The Sloane Clinic.
You might also like: