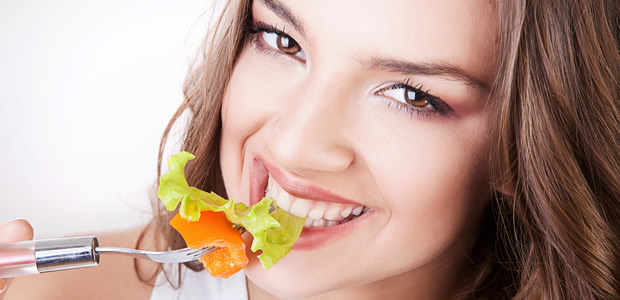 [By Lauren Thomas]
There is so much information and misinformation about the food we put into our bodies, it's no wonder why many of us are still clueless about what constitutes a good diet. A good diet should be one that is easy to stick to and will carry you through life. That eliminates almost all fad diets, crash diets, Atkin's diet and other selective diet plans.
If you stick with these 5 simple advice, we guarantee you will not go hungry, yet will find it easy to maintain your body weight and optimize your general health in the long run.
#1 GOOD 'CARB' BAD 'CARB'
Indulge your carb craving without sacrificing your waistline. Don't be misled by fad diets that make blanket pronouncements on the dangers of carbohydrates. They provide the body with fuel it needs for physical activity and for proper organ function, and they are an important part of a healthy diet. But some kinds of carbohydrates are far better than others.
The best sources of carbohydrates—whole grains (the less processed, the better), vegetables, fruits and beans—promote good health by delivering vitamins, minerals, fiber, and a host of important phytonutrients. Easily digested refined carbohydrates from white bread, white rice and other refined grains, pastries, sugared sodas, and other highly processed foods may contribute to weight gain, interfere with weight loss, and promote diabetes and heart disease.
#2 TEAM PROTEIN
Pay attention to the protein you ingest, not all proteins are made the same. Fish, poultry, and beans are your best bets. Animal protein and vegetable protein probably have the same effects on health. It's the protein package that's likely to make a  difference. A 6-ounce broiled porterhouse steak is a great source of protein—about 40 grams worth. But it also delivers about 38 grams of fat, 14 of them saturated. That's more than 60 percent of the recommended daily intake for saturated fat. The same amount of salmon gives you 34 grams of protein and 18 grams of fat, 4 of them saturated. A cup of cooked lentils has 18 grams of protein, but under 1 gram of fat.
So when choosing protein-rich foods, pay attention to what comes along with the protein. Vegetable sources of protein, such as beans, nuts, and whole grains, are excellent choices, and they offer healthy fiber, vitamins and minerals. The best animal protein choices are fish and poultry. If you are partial to red meat, stick with the leanest cuts, choose moderate portion sizes, and make it only an occasional part of your diet.
#3 GET HIGH ON GOOD FAT
It's time to end the low-fat myth. That's because the percentage of calories from fat that you eat, whether high or low, isn't really linked with disease. What really matters is the type of fat you eat.
"Good" fats—monounsaturated and polyunsaturated fats—lower disease risk.  "Bad" fats—saturated and, especially, trans fats—increase disease risk. Foods high in good fats include vegetable oils (such as olive, canola, sunflower, soy, and corn), nuts, seeds, and fish.  Foods high in bad fats include red meat, butter, cheese, and ice cream, as well as processed foods made with trans fat from partially hydrogenated oil. The key to a healthy diet is to choose foods that have more good fats than bad fats—vegetable oils instead of butter, salmon instead of steak—and that don't contain any trans fat.
"Low-fat," "reduced fat," or "fat-free" processed foods are not necessarily "healthy," nor is it automatically healthier to follow a low-fat diet. One problem with a generic lower-fat diet is that it prompts most people to stop eating fats that are good for the heart along with those that are bad for it.  And low-fat diets are often higher in refined carbohydrates and starches from foods like white rice, white bread, potatoes, and sugary drinks. Similarly, when food manufacturers take out fat, they often replace it with carbohydrates from sugar, refined grains, or starch. Our bodies digest these refined carbohydrates and starches very quickly, causing blood sugar and insulin levels to spike and then dip, which in turn leads to hunger, overeating, and weight gain. Over time, eating lots of "fast carbs" can raise the risk of heart disease and diabetes as much as—or more than—eating too much saturated fat.
#4 80% RULE
The key to longevity is to limit your total calories, and that means knowing when to stop. Don't forget that it takes some time for your stomach to send the signal to your brain telling you that you are stuffed, so take your time during your meal to avoid overeating. The key is to stop when you feel about 80% full. If you feel like you cannot take another bite, you have overdone it. Once you make this a habit, then stopping your meal will come naturally to you. Your body is your best guide to your health so start listening to it.
#5 BOOST WITH A MULTIVITAMIN
Trying to follow all the studies on vitamins and health can make your head swirl. But, when it's all boiled down, the take–home message is actually pretty simple: A daily multivitamin, and maybe an extra vitamin D supplement, is a good way to make sure you're getting all the nutrients you need to be healthy. True, a healthy diet should provide nearly all the nutrients you need. But many people don't eat the healthiest of diets. That's why a multivitamin can help fill in the gaps, and may have added health benefits. The folic acid in most multivitamins helps prevent neural tube defects in newborns, if women take it before they become pregnant; folic acid may also lower the risk of heart disease, colon cancer, and breast cancer. Vitamin D from a multivitamin or single supplement can lower the risk of colon and possibly many other cancers, as well as other chronic diseases.
Of course, there can be too much of a good thing. It's important not to go overboard with vitamins. While a multivitamin and a vitamin D supplement can help fill some of the gaps in a less than optimal diet, too much can be harmful. In general, stick close to standard recommended doses in a multivitamin. And since your multivitamin will likely contain all the folic acid you'll need, stay away from cereals, protein bars, and other foods that are super-fortified with folic acid.
* Selected as Article of the Month Jul 2013*
You might also like: