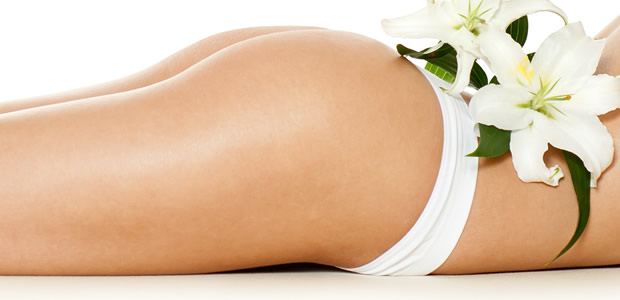 In a recent online poll conducted by Maxim, 300 women from the age group of 18 to 48 was posed with the question, "Do you like your butt?" Out of those surveyed, only 8% were pleased with their booty. 30% hated theirs while the majority of 62% think theirs is ok but they neither like it nor hate it.
However, a whopping 95% agree that they wouldn't mind a bigger or perkier butt! With the likes of Jennifer Lopez, Beyoncé and Kim Kardashian splashing their goddesses' curves all over the newsstand and internet; how can mere mortals like us not suffer from serious 'butt envy'? With "butt being the new breasts", it's time for us to take things serious from the rear and here's RSB top 4 ways to a kick-ass behind!
#1: Trim & Tone
In a nutshell, trim down the fats and tone up the muscles. You probably have heard this a thousand times but it's true that your diet remains a cornerstone to a firm behind. If you begin any routine by cleaning up your diet, firming your booty will be a lot easier, not to mention faster.  Kick out processed food, trans-fats and refined sugar while loading on fibres, complex carbs and lean protein. When it comes to butt building exercises, nothing does it better then lunges. Walking Lunges, Side Lunges, Front Lunges, Diagonal Lunges, Back Lunges.   You have to move in different directions to build your butt from every angle. Lunges are best performed with dumbbells in your hands by the side of your body and can be done either in the gym or the comfort of your own home. Don't forget your cardiovascular exercises. Skipping and biking are exceptionally great options to burn up those unwanted calories and whip the tushie into shape.
However, we are all too familiar with those unflattering stubborn pockets of fats around the butt that no matter how hard we diet and exercise, they just simply refuse to budge. Hands up those on the losing battle with 'saddle bags' (by the sides) and 'banana rolls' (under the natural curvature of the butt)? Fortunately, these areas can now be tackled and treated with CoolSculpting via the new CoolFit probe. While previously the original Coolsculpt probes are excellent for treating fats around the abdomen and flanks, it can prove to be a real challenge trying to get them to sit properly to address unwanted fats around the butt and tights, often contorting the patient into awkward positions with variable end results.
"The newly launched CoolFit probe with its longitudinal and flat opening is specially designed to tackle the butt, tights and arms; areas that were previously hard to treat with CoolSculpting," explains Dr Kenneth Lee from The Sloane Clinic. "It definitely provides better suction, increases patient comfort level and gives consistent results of up to 22% fat reduction in the area(s) treated after just one single session."
#2: Zap & Erase
Stretch marks rank way up as one of the aesthetics woes that affect up to 70% of women and mar the beauty of a firm behind. There are plenty of over-the-counter creams but unfortunately, no topical remedies have been medically proven to improve the appearance of stretch marks remarkably. Retin-A, glycolic acid, alpha-hydroxy acids all have been prescribed with varying and little success if any. To date,  laser therapy appear to be our only helpline as it has been proven over time to be by far the most promising form of treatment for these unsightly squiggles. Amongst those flooding the current market, it is no surprise that the premium FDA approved Fraxel Restore laser stands out as one of the safest with some of the most remarkable results to boot. Using state of the art non- ablative fractional laser technology, Fraxel Restore is able to stimulate collagen and elastin synthesis while resurfacing almost 20% of the undulating skin surface. This help to remove damaged tissue with proven accumulative benefits with each successive treatment. After a series of 4 to 6 treatments, the texture, diameter and depth of the stretch marks are noted to be visibly improved. If the stretch marks are red, treatment can be combined with a pulsed dye V-Beam laser for better results.
#3: Suck & Pump
One of the best ways to create a better shaped and fuller derriere is to transfer the woman's own body fat from a donor site to her buttocks. As this is first popularised by a Brazilian plastic surgeon amongst the South American ladies, this procedure is also commonly known as "The Brazilian Butt Lift". Augmenting one's booty with your own body fat is highly appealing as the results can look very natural, and with you yourself as the donor, there is no risk of donor rejection. Fat transfer is done by harvesting fat from more curvaceous and corpulent sites such as the love handles and thighs. The fat is removed via a very gentle liposuction device using a thin cannula, collected and purified before being injected back into the muscle layers of the buttocks through small, well hidden incisions.
"As with all fat transfer procedures, a percentage of the transferred fat cells will not survive the procedure," explains plastics surgeon, Dr. Tan Ying Chien from The Sloane Clinic. "Autologous fat transfer for buttocks augmentation is highly dependable on the skills of the surgeon and the suitability of the candidate. There will be a fair amount of swelling which will subside with time. As such, it might take up to 3 months before the permanent results are evident."
#4: Hide & Shape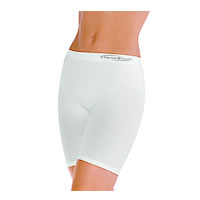 The quickest and most economical way to give the illusion of a bountiful behind is with the right type of body shaping garments. Gone are the days when women had to hold their breath and grip the bedpost as their maids cinched their corsets or strapped on cumbersome crinolines to form the framework to pad up a bootylicious behind. Thanks to modern day technology, women today have much more comfortable shapewear options that will have you stepping out confidently in a figure hugging dress, Herve Leger no less, in a New York minute! Created in a soft microfibre material that has a micro-massaging and "push-up" effect, the Farmacell Shape mini-shorts available online from The Sloane Shop is highly recommended, These lightweight garments has graduated-pressure bands incorporated into their lining for a butt-contouring and anti-cellulite effect to give you that very subtle yet significant lift. Farmacell Shape mini-shorts are specially treated to have anti-bacterial effect so it is easy to wash and maintain. It's so comfy that you wear it anytime, be it a casual date or a big night out to bring out that 'shake-a-booty' Venus in you!
You might also like: