[By Rebecca Tan]
Have you ever looked in the mirror and wondered how much better you would look without those dreadful zits staring back at you? You are not alone.
Acne, commonly known as pimples or zits, is a condition that affects almost 80% of the population. Letting acne run its course is not always the wisest as dark spots and permanent scars can appear on the skin without proper treatment.
Remember, a breakout is no cause for a breakdown. We give the lowdown on the treatments that will help you conquer those clogged pores and leave you with clearer, more gorgeous skin.
1. Smoothbeam laser
The Smoothbeam 1450nm diode laser is the first FDA-approved laser for acne treatment. The intense but gentle burst of light emitted from the laser generates heat in and around the sebaceous glands, altering the structure and thereby reducing the over-production of acne-causing sebum. The epidermis is protected during the treatment with the Dynamic Cooling Device, which sprays a cooling cryogen mist onto the skin with each laser pulse, increasing the comfort of the procedure.
2. VBeam Perfecta
VBeam Perfecta, an innovative multi-tasking laser, has a unique ability to selectively target acne lesions, blood vessels and open pores, reducing bacteria-causing acne safely and effectively. One thing to note is that this laser is best suited for lighter skin types or untanned skin.
3. I-Clear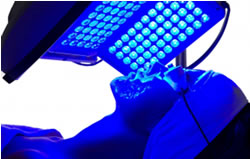 One of the main causes of acne is an abnormally high amount of bacteria colonization, mainly Propionibacterium Acnes (P.acnes), of the sebaceous follicles. I-clear is a pain free, non-invasive treatment that utilizes innovative Photo Dynamic Therapy to deliver a unique 408 nm wavelength blue light that creates a highly toxic environment for the targeted P acnes bacteria, resulting in bacterial death and clearing the skin from acne.
4. Intralesional corticosteroid injection
Preparing for an important function and horror of all horrors, you see a huge pimple on your face? Not only is a rupturing acne cyst an eyesore, it can often result in scarring too. Ask your doctor for an injection of a diluted corticosteroid to lower the inflammation and to speed up healing, reducing the chances of scars forming.
You might also like: