[By Julia Kang]
While some pregnant mothers are blessed with pregnancy glow and fuller bosoms, there are others like myself who are battling stretch marks and morning sickness.
After going through three nightmarish pregnancies and at least two dozen beauty products for my rapidly morphing body, I think I can lay claim to be somewhat of an expert when it comes to pregnancy skin. Here are some of the hits and misses when it comes to stretch marks.
Hits:
Hit 1: Epicuren Rose Otto
Among the myriad of moisturisers I tried, this Rose Otto oil really hydrated my skin and left it feeling visibly soft and supple. The moisturizing effect lasted for a good 12 hours and so twice daily applications conferred me round-the-clock protection. By lubricating my dermis, my skin was more elastic and less prone to breakage and stretch marks.
Hit 2: Fraxel Restore laser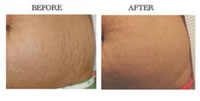 This is definitely a godsend post-pregnancy beauty fix. For those who did not escape the pregnancy unscathed, consider this fractional skin resurfacing laser that renews skin deeply enough to improve stretch marks. More superficial offerings from IPL to peels offered only limited benefits as they do not go deep enough into the skin.
– Read more about Fraxel Restore
Hit 3: Diet control
Eating for two is a myth that needs to be debunked for pregnant ladies. Steady weight gain without drastic weight fluctuations is the best way to ensure your body and baby gets enough nutrients without over-stretching your fragile skin. Opt for natural wholesome goodness of fresh produce instead of processed foods, and get plenty of vegetables and fruits in your diet to load up on vital antioxidants and minerals.
Misses:
Miss 1: Vitamin E
I read somewhere that Vitamin E is supposed to help speed healing of the skin but unfortunately, it didn't do much for my skin beyond acting as a skin moisturizer.
Miss 2: Massage
Massages may feel good but they did nothing for the state of my skin. So if you are opting for a massage to relax and de-stress, by all means, go all out. But if you are hoping to lighten stretch marks with this therapy, you will be disappointed in the long run.
Miss 3: Vitamin Supplementation
I have read so many conflicting reports about vitamin supplementation. The only supplementation a pregnant lad needs is folic acid and a healthy diet. I have not found any other vitamin cocktail to be beneficial for my skin, especially if one is already on a well-balanced diet rich in natural vitamins and minerals.
You might also like: