[By Tania hui]
We have all been there: Dark eye circles like a panda staring back at yourself in the mirror despite a full night of shut-eye. What actually are the causes of these wretched eye circles and what can be done to banish them for good? Do those eye creams really work or is it time for a little more?
Your plan of attack will depend on the colour of your circles. Beauties, look straight into a mirror and lower your chin slightly to expose the shadows under your eyes. What colour are they? There are 2 main types of dark circles – brown and blue.
POOR CIRCULATION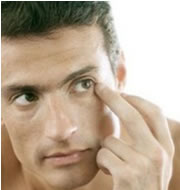 Bluish or purplish circles result from sluggish skin micro-circulation. Skin around the eye region is very thin, which allows the bluish blood vessels to peek through. These bruise-like dark circles can be worsened by insufficient rest, stress, smoking and nasal congestion. Ageing also worsens the appearance of the dark eye circles as your skin gets thinner over time.
OTC treatment:
Try topical creams with stimulating ingredients like caffeine, which can constrict blood vessels and temporarily boost circulation. Relieve your nasal congestion with anti-histamines from the pharmacy. And to help reduce puffy eyes, try cold compress with a chilled metal teaspoon, teabag or cold eye mask.
To combat thin skin, try using a collagen building cream. Retinoic acid creams (like Sloane Inc Vitamin A Eye Renewal Cream or RoC Retinol Correxion Eye Cream) thicken the outer layer of the skin to conceal shadows. Top the retinoid with a rich eye cream that will reduce potential irritation and further fortify your skin.
PIGMENTATION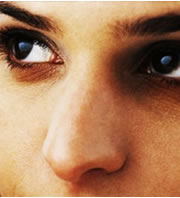 Brown discolouration that may affect the entire eye area is caused by excess melanin pigment. Genetics, UV damage and frequent eye rubbing are common causes of hyperpigmentation.
OTC treatment:
Apply sunscreen (like Clinique Sun Broad Spectrum SPF 50 Sunscreen Face Cream or Sloane Inc Sunblock SPF 70 70.1) right up to your lower lashline every day and invest in large sunglasses for further protection. Avoid rubbing your eyes as friction causes darkening of the skin especially in the delicate undereye area. You may also try eye creams with lightening ingredients like hydroquinone, licorice and kojic acid.
Professional treatment:
To enhance results, there are lasers like the Q switched laser which destroy pigment cells, activate new collagen production and improve local microcirculation to even out the skin tone with a beam of light energy.
HOLLOWS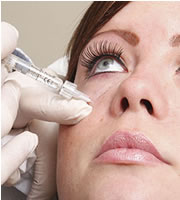 Beauties, try this test: Tug your undereye skin gently in front of a mirror. If your dark eye circle looks better when you push your skin and fat upwards, you might have what we call a tear trough deformity. This anatomical congenital depression below the inner corner of the eyes cast shadows that are resistant to the best of eye creams. As we age, the fat in our cheeks start to descend due to gravity, worsening the appearance of these shadows.
Professional treatment:
When dark circles are created by hollowness under the eyes, the only long term solution is the injection of tiny droplets of hyaluronic acid fillers like Restylane. Results are visible instantly and last many months.
As a combination of problems frequently co-exists in the same person, you may want to try The Sloane Clinic's Eye Revival Program which combines laser toning to promote circulation, and Revitalift micro-injection therapy to diminish dark circles, illuminating your undereye skin to shed years off your eye area.
You might also like: