Nothing makes you feel as confident as having glowing and radiant skin. Some win the hereditary lottery when it comes to good skin but others have to work a little harder at it. Also, beautiful skin is all about good skin habits practiced day in and day out. So go on and learn the secrets to stunning skin, as you deserve to look and feel fabulous.
1. Get your antioxidants
Antioxidants such as Vitamin C and Astaxanthin have the ability to neutralize free radicals and stop them in their tracks. Free radicals are unstable molecules that cause a chain reaction within your body, resulting in cell damage and DNA mutation.
With the help of skin products that are rich in antioxidants, your skin is protected against fine lines and wrinkles from sun damage, and your skin appears more supple and youthful.
We like:
(L) IS Clinical Skincare's Pro-heal Serum combines Vitamin C with Vitamin A for brightening, anti-aging and healing effects
(R) Sloane Inc's Skin Superfood Red Algae contains astaxanthin, the world's most powerful antioxidant, with ceramides to boost your skin's health, restore dermal elasticity and prevent the formation of wrinkles and lines.
2. Wear sunscreen daily
A major cause of pigmentation is exposure to the sun's ultraviolet rays. And once pigmentation starts to appear on your skin, you will no longer look bright and glowing. Be sure to protect your skin by wearing a sunblock of at least SPF 30 daily.
Already starting to see spots of pigmentation? Not to worry, you can get treatments with the pigment laser to help deal with those unsightly marks.
We like: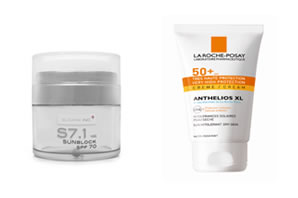 (L) Sloane Inc. Sunblock SPF 70, a 100% chemical and fragrance-free, water and sweat proof total blocker blends 3 antioxidant teas, an invisible shine-absorbing micro mesh and UV reflectors to help keep fine lines and wrinkles at bay.
(R) La Roche-Posay Anthelios 50 Mineral, a light formula sunblock, is absorbed quickly and has a mattifying effect on the skin.
3. Smoothen skin with AHAs
Alpha Hydroxy Acids (AHAs) loosen the bonds between the complexion dulling dead skin cells that accumulate with age. This allows the layer of dead skin cells to slough off, revealing a smoother and more evenly pigmented underlying skin.
AHAs also help to bind water to the skin, increasing skin hydration and resulting in a healthy glow.
We like: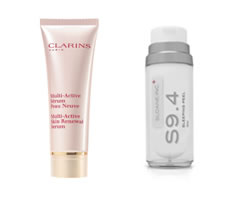 (L) Clarins Multi-Active Skin Renewal Serum exfoliates the skin using AHAs combined with antioxidant botanicals, resulting in less fine lines and wrinkles.
(R) Sleeping Peel by Sloane Inc. is an oil free aloe vera gel with glycolic acid that helps to increase the rate of natural dead skin exfoliation while helping to increase moisturization by renewal of native skin collagen to reduce the appearance of fine lines.
4. Eat well
You are what you eat. Certain foods have been found to shield your skin from damage from the inside out.
Load up on vitamin C rich foods such as strawberries, lycopene rich foods like tomatoes, and foods rich in omega-3 fatty acids such as salmon for more beautiful skin.
5. Visit your doctor's office
While your at-home regimen is vital for the daily maintenance of your skin's brightness, you can get a really big boost of radiance from treatments such as chemical peels, microdermabrasion and lasers.
One of the most popular laser treatments around for a radiance boost is the Nova 3R, which is a FDA approved treatment from Switzerland that uses triple wavelengths of light energy to deliver three beauty fixes in a single session. The 3Rs of Nova 3R include rejuvenate, remodel and renew, resulting in much brighter and beautiful skin.
You might also like: