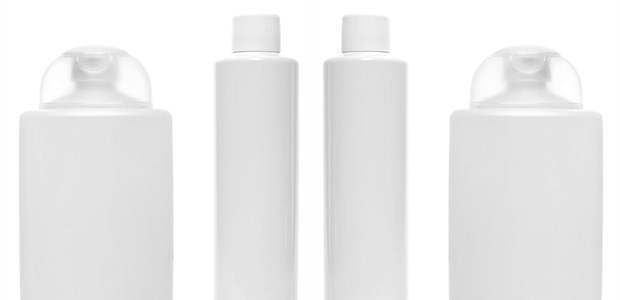 [By Tania Hui]
I don't know about you but my daily schedule had definitely gotten tighter and busier with each passing year.  From the single working gal to the new mum trying to juggle between her baby and some 'me-time' for herself, to maintain even a basic daily routine can be quite challenging and call for some major multi-tasking skills at the very least. In terms of our daily skincare and beauty regimen, the modern Venus definitely has even less time to devote. Thankfully, this is precisely what 2-in-1 beauty products were designed for.
If you ask me, the 2-in-1 shampoo/conditioner combo surely deserves a spot as one of the greatest inventions of the 21st century! True to its name, 2-in-1 beauty products combine the benefits of two different items into one single convenient pack. Just a few of these prized items can make your daily routine much smoother and leave you looking great with a makeup pouch that packs half its weight but double the punch. Check out my list of 5 beauty gems that I can't live without, when 2 is simply better than 1!
Sloane Inc. Anti-Acne BB Cream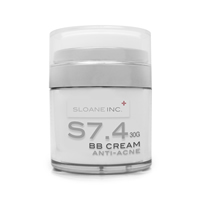 The BB cream is truly a godsend product from beauty heaven. First formulated by a German dermatologist in the 1960s to protect her patients' skin after surgery, the Blemish or Beauty Balm has come a long way since it was re-invented and popularised by the Koreans in 1985. As we speak, there must be hundreds of different formulations under every cosmetic brand, both big and small, touting to offer coverage and treat your aesthetic woes all in one go. My personal favourite got to be the Sloane Inc. Anti-Acne BB Cream available online from The Sloane Shop. This little gem is pure genius specially created for acne prone skin or those plagued with the occasional zit attack. Combining the duo power of Salicylic and Azelaic acid, it helps fight pimples and comedones while lightening marks left behind by inflamed papules. With an oil free formulation that controls shine and sebum production, it comes in a translucent nude base that gives my skin a much needed smooth matte finish that lasts throughout the day. To top it all, there's a sun protection factor (SPF) of 25 so strictly speaking, this is not just a 2-in-1 but a value for money, triple action 3-in-1 beauty aid that I cannot do without.
Lancome Renergie Lift Multi Action Eye Cream
You get two trouble-shooters in one spiffy bottle with this 2-in-1 eye cream that conceal and treat dark eye circles at the same time. To begin with, apply the peptide cream to hydrate crepey undereye skin and fill in the fine lines of these troubled areas. Follow up with the light and creamy concealer to brighten up the skin by camouflaging tired looking dark shadows.
Jurlique's Moisturizing Hand Sanitizer
Ever since my 4 year old suffered from a bout of incorrigible Hand Foot Mouth Disease a few months ago, I've been a little paranoid with proper hand sanitization. While most hand sanitizers are alcohol based, this wondrous product helps get rid of grime and germs without drying out your skin. The combination of Australian bush mint, a homeopathic, all-natural anti-bacterial and potent antioxidants leave your hands baby soft while offering maximal protection to keep those pesky bugs lurking around the home at bay.
Perricone MD More Than Moisture SPF30
A 2-in-1 moisturiser and sunblock, apply Perricone MD More Than Moisture SPF 30 each morning to moisturize, treat, and protect skin all at one go, perfect for busy urbanites like moi who are constantly on the move. Containing Vitamin C, this 2-in-1 star helper helps to even out discoloration and brightens up the skin while offering a sun protective factor of 30.
Sloane Inc. Cheek & Lip Tints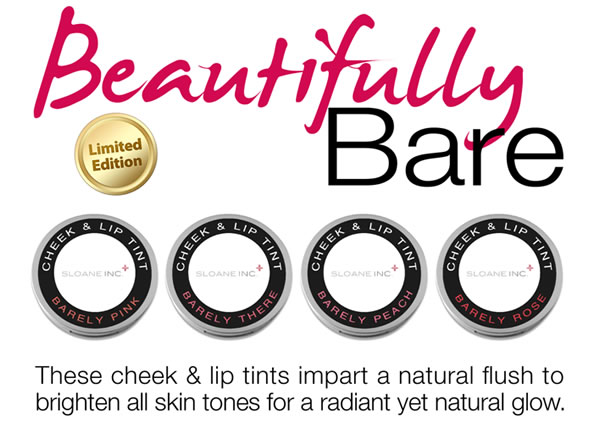 A revolutionary 2-in-1 make-up gem that gives an au naturel flush and tint of colour to cheeks and lips to lend you the "Beautifully Bare" look that's the make-up trend all summer and poised to carry on through Autumn/Winter 2013. Available exclusively from The Sloane Clinic, this limited edition timesaver comes in 4 delicious variations— Barely Pink, Barely Peach, Barely Rose and Barely There! A quick smear of this light rouge cum lip stain will definitely make heads turn as it lets your flawless skin takes centre-stage and your natural beauty shines through.
You might also like: