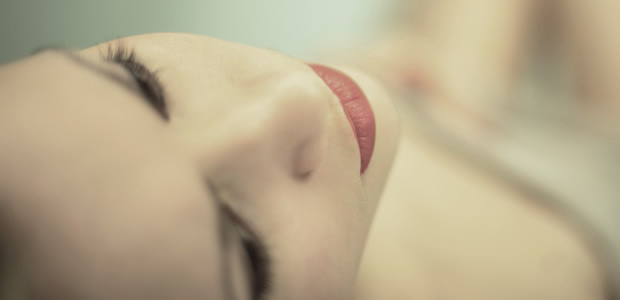 [By Claudia Lin]
While most models have a short career window, the legendary Carmen Dell'Orefice has been strutting her stuff for nearly 70 years (the knee replacement notwithstanding).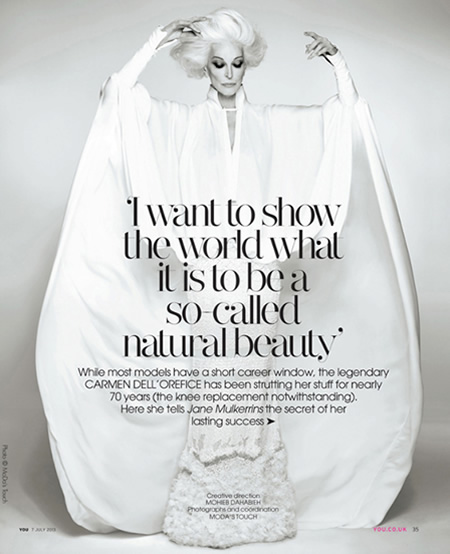 At 81, Carmen Dell'Orefice hasn't retired her heels: with her signature silver mane, sultry dark eyes and youthful elegance, the octogenarian model walked the Norisol Ferrari Spring / Summer 2013 show during New York Fashion Week and recently appeared along other mature models — including Beverly Johnson, Carol Alt, Isabella Rossellini and Jerry Hall — in the HBO film, "About Face: The Supermodels, Then and Now."
"I don't know if it's good or silly," she said of her current modeling career. "It's what I enjoy doing, and I'm able to do it."
In an industry which prizes youth, Dell'Orefice defies conventional beliefs on beauty and youth. However, Dell'Orefice isn't shy about getting some help with her looks. Unlike the countless celebrities who denies getting a little aesthetic help, Dell'Orefice admits to using fillers, with the philosophy, "If your ceiling was falling down, wouldn't you fix it?"
In response to her flawless complexion, she revealed, "The doctor used the finest wire brush, and he planed off my skin. It brings you right down to baby skin, and those layers of skin never grow back so you have to be so careful in daylight".
"If your ceiling was falling down, wouldn't you fix it?"
She is so pragmatic when it comes to taking care of her skin that she once said "I go to sleep with sunblock on, in case I forget to put it on in the morning".
Peterson, a celebrity photographer who has worked with Dell'Orefice said he rarely notices her age when he photographs her.
"She's the 'youngest' person I ever met and very, very inspiring."
You might also like: