[By Tania Hui]
Just like how everybody living in a temperate climate with changing seasons love the warmer months of summer, growing up in the tropics make me crave for days with dipping temperature. There's nothing quite like slurping down a steaming bowl of hot ramen in a side street of Sapporo in mid-January; or sashaying down Bond Street in London wrapped in my Burberry Prorsum trench paired with some Stella McCartney's thigh-high killer boots. What better way to do so but to book myself a nice long cross- continental winter holiday?
Bliss.
However, one of my greatest pet peeves of a winter holiday next to sweating under skin-tight leather pants (eww….) got to be the havoc it can cause to my skin.
During the winter months, we typically experience drier skin due to a number of factors, including cold and windy weather and central heating. This can cause our skin to become dull, lackluster and blotchy. To further worsen matters, the accumulation of dry, flaky skin cells can result in clogged pores leading to eventual breakouts known commonly as "winter acne". Although people with blemish prone skin will be more susceptible to winter acne, even those with normally clear skin can have problems with spots as the temperature plunges. However, all is not lost as winter skin can be easily treated and prevented by making some tweaks to your daily beauty regime. The trick lies in nourishing and hydrating your skin through and through. These little changes can make a huge difference to the skin and help you get through your winter holiday without suffering from embarrassing spots that threaten to cull your Instagram followers. Armed with these great tips, your skin will find its natural balance and be flawless right through the year end festivities!
Keep yourself well hydrated
There's a lot of walking to be done on a winter holiday and many of us find it hard to remember to drink enough water either because you are not sweating and thirsty or hate peeling off layers of winter garb to take a pee. However, keeping your system well hydrated is pertinent as the drop in outdoors humidity combine with the advent use of indoors heating system result in a much drier situation that tend to dehydrate your skin. You can also opt for warm lemon water, honey or organic herbal tea infusions to soothe your system and help flush out toxins for great, healthy skin.
Switch to a cream cleanser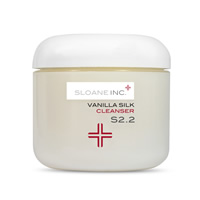 A gel cleanser might work just fine for you in the tropics to keep shine and sebum production in check. But when the humidity dips, it's time to switch that out to a creamy cleanser that doesn't strip your face of essential oil and this might be all that is required to keep those pesky winter acne at bay.
Choose something gentle such as Sloane Inc. Vanilla Silk Cleanser, a light foaming delight that effectively lifts away dirt, make up, and other impurities to thoroughly cleanse your face without removing the essential lipids of the skin and thus help to keep your mien healthy and well hydrated with its potent blend of French sea waters, botanical extracts, gentle seaweed and sugar based exfoliants. Available exclusively online from The Sloane Shop and an absolute must-have in my travelling toiletries bag.
Use a good moisturizer
Your skin definitely needs extra hydration in the colder climate so make sure you bring along a good moisturizer that gives your skin the much needed boost and protection. Go for serums Sloane Inc. Vitamin C Elixir and lightweight moisturizers Sloane Inc. Multivitamin Booster S9.2 to pile on and lock in the moisture without clogging or weighing down the skin with thick creams.
Oils are good too as they double up as 'eye cream' to nourish and keep the undereye areas supple and crease-free for those close-up holiday selfies. My personal favorite got to be the Bulgarian Rose Otto Oil from Epicuren. Made out of natural rose oil, this little beauty gem hydrates the skin without clogging pores as it permeates the skin in a unique way that allows it to breathe easily. In fact, in the unfortunate event of winter acne, this is an excellent antiseptic and acts as a healing tonic to soothe and calm down active blemishes while locking in moisture and keeping the skin well hydrated at the same time.
Continue to exfoliate
If past experience sound off alarm that you're prone to unsightly spots in winter, it is good to exfoliate once or twice weekly even when bikinis and sundresses are traded in for turtlenecks and woolies. Dead skin automatically clogs up you pores which means that oil and dirt will get stuck underneath the surface of your skin, sowing the seeds of evil to a "winter acne wonderland". By exfoliating regularly, you are helping your pores stay clear which minimize the risk of breakouts greatly.
Opt for a face scrub that is gentle and contains nourishing ingredients such as jojoba beads such as Sloane Inc. Pineapple Enzyme Scrub which releases nourishing jojoba oil into the skin. This process produces improved skin texture and leaves the skin well moisturized with a luminous glow while effectively getting rid of grub that threatens to clog up the pores. Ski passes for Whistler, any takers?
You might also like: